Technical issues to blame for slow migration of features from Wunderlist to Microsoft To-Do
Backend technical issues appear to be the culprit behind Microsoft's slow migration of features from Wunderlist to To-Do, according to comments from Wunderlist founder Christian Reber.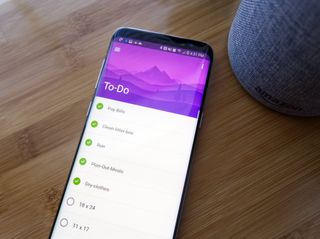 (Image credit: Windows Central)
Early last year, Microsoft launched its new To-Do app, announcing plans to eventually retire Wunderlist, which the company acquired in 2015, at the same time. Microsoft didn't provide an exact timeline for Wunderlist's retirement, but the company did confirm it would occur once it had "incorporated the best of Wunderlist into To-Do." To-Do hasn't evolved much since then, leaving users frustrated. However, recent comments from Wunderlist founder Christian Reber, first reported by Dr Windows, have given some insight into what's holding things up.
According to Reber, who is no longer with Microsoft, the original goal was to have Microsoft To-Do ready within one year. However, the team has run into issues porting Wunderlist's API from Amazon Web Services to Azure, throwing a wrench in the works. "Wunderlist's API runs on AWS, and should then be ported to Azure," Reber says. "But that was extremely expensive, so everything had to be rewritten (also for Exchange/Office integration). But it's easier said than done, so it takes so long."
Reber also noted that the process "was not a pleasant experience," but wished the To-Do team success.
It's still not entirely clear when the full breadth of Wunderlist features Microsoft wants to port over to To-Do will be integrated, but the company has recently made some of its plans a little more concrete. In February, several features, such as Cortana integration and list sharing, were confirmed to be in the works on the Microsoft To-Do UserVoice page. However, for now at least, Wunderlist arguably remains the better option.
Dan Thorp-Lancaster is the former Editor-in-Chief of Windows Central. He began working with Windows Central, Android Central, and iMore as a news writer in 2014 and is obsessed with tech of all sorts. You can follow Dan on Twitter @DthorpL and Instagram @heyitsdtl.
The good thing is if they do that they will end up with the start of a good tool to convert AWS users to Azure.

Have a friend that often said "it's a simple matter of programming". Doesn't that apply here? :-)

What a load of BS. They couldn't even implement a live tile on their own platform? The only issue they have is called Nadella .

How can you call it's a load of BS, do you have insider knowledge or do you work there or something? They're obviously prioritizing MORE IMPORTANT things in comparison to having a live tile.

ha! .. if you're not aware of how badly Satya Nadella has Fuxxored MS, while he writes his own self congratulating books..and goes on book tours... then you're just not in the the know, which means you don't know.
- The entire issue of a backend being the troubles..is because their Satya Nadella Backend is basically an invasion of privacy on every level(like windows10) .. but no worries, as the EULA will have stipulations that prevents anyone form actually doing anything about any nefarious'ness found done by MS intentionally or "accidentally(like a zucker-f*cking"). Wake up Real0395.. smell the BS.
Do you REALLY think that a Todo app, that was already built and running as #1, is having issues for any other reason besides AI-Neural-nets/etc etc, which will basically track all your write, and perhaps say even when the app is not running ? .. or perhaps even after it is uninstalled but the EULA may state that you agree to allow them to do such things as keep a program on your phone to (but in much nicer words) sonic map, track, log and basically steal your everything for the sake of business..... mind you...as you pay them to log your lists, they'll be making more money off of what they take from people without their direct knowledge unless they read the multiple page legalese(with intentional blanbket statements) ..and are capable of understanding them.
--
No my friend, you are not awake. No my friend, you are not as smart as you think you are at this moment...and I am not =saying that to insult you, but I am saying that to ask that you wake up, and use logic, basic logic denotes and results in this being a reality(facts state this is reality as for many apps). Heck, Edward Snowden's released infos should be enough to dislike Nadella, as Nadella sits on the right side of NSA directors at government dinners. ..IMO; Windows 10 is the world's biggest spy net.
WAKE- THE- F- UP- BRO!
Satya Nadella is the worst MS CEO, yet. SorryNotSorry. I am entitled to my opinion.
Windows 10 has been a nightmare for so many, that they augmented the EULA to inslude no class actions and that you agree to not join a class action. I think that Nadella is a sociopath in a suit.

Someone mention Dan because he was asking about the reason in a previous article 😅

No longer at Microsoft & it was "not a pleasant experience" lol, way to bury the lead, wonder what happened there?

He took the payday, and thought he could still have autonomy?

There are job offers for To-Do, so hopefully ...

I wonder if Amazon did something to try to keep a customer from moving their data... AWS competes with azure 😅

Everything that Microsoft acquires goes down the drain

I'd be more excited for To-Do if Microsoft looked to tie it more into GTD principles. There are plenty of better task management tools out there, even better than Wunderlist, but only 2-3 GTD based.

If they're making money on Wunderlist, why shut it down ?
Answer: because they need to implement their spy tools... this way you can pay them to hold your lists, and then they can make more money from the data they take from us..
Double pay for a simple app. ::Facepalm:: .. I almost want to go to law school, to become a tech lawyer to protect the people from the tech world acting like Roman rule.
Windows Central Newsletter
Thank you for signing up to Windows Central. You will receive a verification email shortly.
There was a problem. Please refresh the page and try again.