Technostalgia: A look back at our favorite technologies from better days
At Windows Central, we spend most of our time thinking about the future, and the various promises it holds. But given the current world situation, we've lately been dwelling a bit more on simpler days past.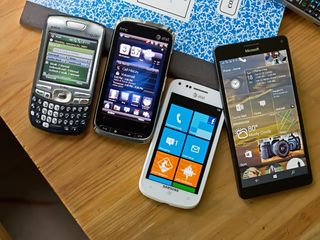 (Image credit: Windows Central)
Let's face it — 2020 sucks so far.
As a rule, I try not to dwell much on the past (or what could have been), and I put most of my brainpower toward the future (and what could be). But, man, the sunnier days of past years sure have a new appeal with everything that's going on today.
To that end, the editorial staff of Windows Central, along with our sibling sites Android Central and iMore, and our industry pal and brother in arms MrMobile, put our collective heads together to conjure better, brighter days — days in which we first found or built our love for the gadgets, systems, software and services that sparked our ongoing infatuation with technology. Thus, our 2020 Techno-stalgia package was born.
On the Windows side of things, we looked back fondly on OS versions that seem archaic today; we daydreamed about earlier Xbox consoles, with both sentimentality … and a bit of scorn; remember Zune? Yeah, we do too; and we couldn't leave out our love affair with Windows phones, the original inspiration for Windows Central, formerly Windows Phone Central.
The fine folks from Android Central similarly reminisced about the phones that first made them fall face over feet for Google's mobile OS; they yearned for the glory days of QWERTY keyboards (sort of); they debated the best of the best Android phones ever, and they put together an insightful look at the evolution of Android.
iMore remembered the early days of iOS apps and how it felt to first find one you truly loved; they basked in the glorious and game-changing simplicity of the iPod Classic, and the team's love for gaming came through clearly in stories about love/hate relationships with old-school Nintendo games and the joys (and regrets) of jamming quarter after quarter into massive game kiosks in arcades.
YouTube phenom Michal Fisher, a.k.a., MrMobile, is still working on his wistful and amazing nostalgia series on when phones were fun. If you haven't checked it out yet, you're missing out. For real. The first video in his series is embedded below.
We had a blast looking back and assembling what became our package of Techno-stalgia stories, and the project proved to be a much-needed respite from the pressures of 2020. You can find all related stories in the navigation menu on this page. We hope you'll take a few minutes to click around, immerse yourself in the past, and your memories of it, and hopefully get away from whatever worries may trouble you today, if just for a little while.
— Al Sacco, Windows Central managing editor
Put those rose-colored glasses on and embrace the past with more in our tech nostalgia series.
Windows Central
Android Central
iMore
Get the Windows Central Newsletter
All the latest news, reviews, and guides for Windows and Xbox diehards.
Al Sacco is content director of Future PLC's Mobile Technology Vertical, which includes AndroidCentral.com, iMore.com and WindowsCentral.com. He is a veteran reporter, writer, reviewer and editor who has professionally covered and evaluated IT and mobile technology, and countless associated gadgets and accessories, for more than a decade. You can keep up with Al on Twitter and Instagram.