Windows features we loved and miss from earlier OS versions
Check out some of these old Windows 95, ME, XP, and Vista features we wish were still around.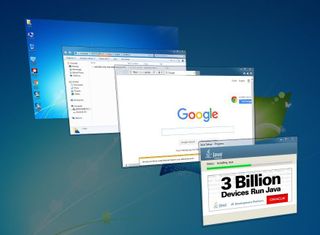 (Image credit: Online Tech Tips)
Windows has been around for a while, 35 years, in fact. It's come a long way since its debut in 1985 as a graphical user interface that was powered by MS-DOS. There have been so many different versions of Windows, many of which with excellent features that are no longer developed or part of the product today. Let's take a look back through history as some of the best features from older versions of Windows.
Windows 95: Space Cadet 3D Pinball
It's a classic, and one of the best built-in Windows games of all time. 3D Pinball was the pinnacle of fun when your internet connection was down or taking a long time to load. Introduced with Microsoft Plus Pack for Windows 95, and then preinstalled in later releases of the OS up to Windows XP, Space Cadet 3D Pinball was a simple, yet fun, pinball game to keep the ball from falling into a hole at the bottom of the table.
It kept track of your score, and you could even compete with friends on a leader board that was saved locally to your PC. The game was based on Cinematronic's own Full Tilt! Pinball game published by Maxis in 1995 and was ported over as a built-in game for Windows by David Plummer at Microsoft.
Windows XP was the last version of Windows to include Pinball out of the box. Subsequent versions of the OS, including Windows XP 64-bit Edition, had Pinball removed. The reason for this is that Microsoft had trouble porting Pinball to the 64-bit architecture. Today, you can find versions of the game that have been ported by third parties.
Windows ME: Movie Maker
Believe it or not, Microsoft used to bundle a video editor in Windows, and it was rather good for the audience it was built for. Windows Movie Maker was designed for editing together home video clips, allowing you to add title cards, text, music, and awesome video transitions to make little home videos to share with friends and family.
Windows Movie Maker was first bundled with Windows ME in 2000 and was updated and preinstalled on Windows XP and Windows Vista before transitioning to a standalone app called Windows Live Movie Maker that could be installed on Windows 7 and Windows 8 releases. Windows Movie Maker was Microsoft's version of Apple's iMovie for Mac. A simple, easy to use video editor that was free with Windows.
Many have been asking for Microsoft to bring back Windows Movie Maker, as the built-in video editor on Windows 10 isn't particularly good. Many early videos on YouTube were edited using Windows Movie Maker, including build video walkthroughs and screencasts from yours truly. It got the job done, that's for sure.**
Windows XP: Media Center
Windows Media Center was a feature not everyone needed but was loved by those who did. It allowed you to turn your PC into a hub for all your digital content, including photos, videos, movies, music, and even live TV. It was first introduced in a dedicated version of Windows XP titled "Windows XP Media Center Edition" and shipped on media-centric laptops and desktops.
Windows Media Center would later be included on Windows Vista, Windows 7 and the Xbox 360, before being made available as a paid add-on for Windows 8. Microsoft disbanded the Windows Media Center development team in 2009, shortly after the release of Windows 7, meaning no further work was being put in to maintain or add new features to Windows Media Center.
As a result, Microsoft discontinued support for Windows Media Center with the launch of Windows 10, not even allowing users to install it as an optional add-on for money. There are workarounds to install it manually, but it may not work as intended anymore. Those who used Windows Media Center back in the day swore by it, and it's a shame it's no longer around.
Fun fact, the Windows Media Center app included some of the earliest "Metro UI" designs that would later be seen in products like Zune and Windows Phone.
Windows Vista: Aero Flip
When Microsoft demoed Windows Vista for the first time, I remember being mesmerized by a demo that showed off a new 3D UI for switching between Windows. This UI would eventually be known as Aero Flip 3D and was the Win+Tab UI in Windows Vista for switching between open programs on the fly.
Aero Flip was simple, but it was so satisfying to use. Never has Windows had a cooler animation for switching between open apps. It seems like such a simple thing today, but back when Windows Vista first launched, it was nothing but futuristic. Aero Flip was also included in Windows 7, but Microsoft removed it when it moved to a flat UI design with Windows 8. Sad times.
Windows Vista: Start Menu
Windows Vista got a lot wrong, but it also got a lot right. Its Start menu is, for me, a contender for the best Start menu Windows has ever had. It was elegant, sleek, and was the first to include an integrated search that could also search the web. Search in Windows XP and previous versions of Windows was terrible, but Windows Vista's Start menu made the search so easy.
It was also first to move away from the flyout menu design for installed programs, opting for a simplified list that sat inside the Start menu instead. It was the first good Start menu that worked well and was intuitive to use. It was so good that Microsoft kept it the same on Windows 7, only updating its design and feature set slightly.
Microsoft would later remove this version of the Start menu in favor of the Start Screen on Windows 8, which did not go down well with customers. People wanted the Start menu back, and Microsoft eventually listened. Unfortunately, the Start menu we have today is not as good as the one we had with Windows Vista and Windows 7, as the Start menu in Windows 10 is a complete rewrite that doesn't have search built-in.
What features do you miss?
That's our selection of best old Windows features that we wish were still around. What would you put on your list? Let us know in the comments. And take part in our poll asking which classic Windows game is your favorite!
Put those rose-colored glasses on and embrace the past with more in our tech nostalgia series.
Windows Central
Android Central
iMore
Get the Windows Central Newsletter
All the latest news, reviews, and guides for Windows and Xbox diehards.