Remembering Windows Phone (RIP)
Alas, Windows Phone, we hardly knew ye.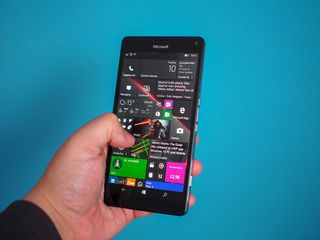 (Image credit: Windows Central)
Ah, Windows Phone, everybody's favorite third-place smartphone ecosystem, taken from us too young.
As part of our nostalgia celebration month, some of us from the ol' team at Windows Central thought we'd cast our hearts back in time, and remember some of the phones and devices that led us to fall in love with Microsoft's budding cross-device ecosystem.
Windows Phone as an OS may be gone, but the philosophy lives on with apps like Your Phone, and the upcoming Surface Duo. Nothing will replace the shiny polycarbonate body of the 2010s Lumia phones though, at least in our hearts. Now if you'll excuse me, I need to go and cry a little.
Jez Corden: Lumia 1520
The last phone I ever truly loved. Look at this absolute unit.
The Lumia 1520 was an absurdly large phone back when big boiz earned themselves the monicker "phablet," a portmanteau of phone and tablet, which almost seems quaint in 2020 where basically every phone is a phablet.
A gorgeous polycarbonate body (in various attractive colors), a truly awesome camera with industry-leading low light capabilities, and some of the most seriously insane battery life I've ever experienced in a phone. Also, this was arguably when Windows Phone as an OS was at its most polished before Windows 10 Mobile rolled around with all of its bugs and UWP jankiness.
The main thing I remember about this phone was never having to compromise on features or restrict programs to get truly amazing battery life out of it. When traveling, having to deal with external batteries and that sort of thing is a chore. On my Samsung Galaxy Note 9, I have to restrict the screen resolution, disable loads of features, and block background tasks to even get close to the sort of battery life I got out of my Lumia 1520.
Live tiles may be on the way out, and we may never see another true "Windows" phone, but it's not for lack of wanting, at least on my part. I expect I'll never love a phone as much as I did the Lumia 1520 ever again.
Matt Brown: Lumia 1020
While I jumped back and forth from the Windows Phone ecosystem over its existence, no phone personally embodies that era better than the Nokia Lumia 1020. This image-obsessed device dropped back in 2013, defined by its colossal 41-megapixel rear-facing sensor. While internally similar to the Lumia 920 before it, the groundbreaking camera configuration was unmatched for the time.
The 1020 shipped with a streamlined body disrupted by a distinctive camera bump, most eye-catching with its iconic yellow model. The inclusion of Zeiss optics and onboard Xenon flash established an overkill combination, commended for its oversampling, lossless digital zoom, and optical image stabilization. Nokia even bundled a wrist lanyard and sold a separate camera grip case, mimicking the signatures of a traditional point-and-shoot.
Even to an avid user, the Lumia 1020 was far from perfect. The design pursued the camera at the cost of the underlying phone, with a cumbersome in-hand feel. But it represented a drastic deviation from market norms, with that 41-megapixel offering overshadowing rivals like the 8-megapixel iPhone 5 and 12-megapixel Samsung Galaxy S4. I remember spending hours fine-tuning those camera settings and capturing the ideal shot.
It was a time when Nokia wasn't afraid to be fun. It experimented with a variety of unorthodox hardware, and the 1020 is one of few that holds up years later. I rode this phone from release through the debut of Windows Phone 8.1 — and to me, it's the epitome of what Windows Phone represented.
Sean Endicott: Lumia 930
The Lumia 930 was my first Windows Phone, and a device I remember fondly. Its boxy design felt nice in my hand and I loved the dedicated camera button. I still remember staying up as the Windows 10 Mobile update rolled out to my Lumia 930 and when I first played around with Cortana.
In addition to loving the Lumia 930 as a phone, it's also the device that welcomed me into the Windows ecosystem. I had used Windows PCs all of my life, but I didn't start caring about Windows as an OS until I grabbed a Lumia 930. Ironically, I also got into apps when I grabbed my first Windows Phone. Having to search for third-party apps for popular services led me to quite a few incredible apps, some of which have made their way up to Windows 10 PCs. Reading up on Windows and apps for my phone is what got me into tech writing as well. In a way, I wouldn't be a news writer covering tech news if it wasn't for my florescent orange Lumia 930.
Even though I haven't used it in years, I can't get myself to throw away my old Lumia 930. It's tucked away in a drawer nestled alongside my Lumia 640, Lumia 650, and my now-dead Surface Pro 2 (RIP).
Dan Thorp-Lancaster: Lumia 640
I'm a bit of a pariah around here when it comes to Windows Phone, as I didn't get my first big taste of the platform until very late in its life. Still, Windows phones were always alluring, particularly as I fumbled with ugly Android phones of the time. Unfortunately, because of the limited smartphone selection from my regional carrier at the time, picking up a Windows Phone during its heyday wasn't exactly an option.
Once I was able to get my hands on a Lumia 640 in 2015, I was pretty stoked. I was a huge fan of the design language established by Zune back in the day, and its evolution over the years only got more gorgeous. Live tiles may catch a lot of crap nowadays on desktop Windows, but they were absolutely a fantastic addition on mobile.
That said, the Lumia 640 wasn't quite as impressive as its forebears. Gone were the wild designs and camera prowess that were hallmarks of previous Lumia devices under the Nokia banner. In its place, as alluded to by my colleagues, was a stuffier Windows 10 Mobile and a much more generic industrial design.
Still, while I've since flip-flopped between iPhones and Android devices in the intervening years, there's something about Windows Phone's unique approach to both hardware and software that has me pining for a third player in the smartphone space again. Phones like the Lumia 1520 and 1020 were iconic and felt fun. Maybe we'll see that feeling return with the surge of foldables we'll no doubt see in the coming years.
Zac Bowden: Lumia 925
The pinnacle of premium Lumia design.
It's not a handset most Windows Phone fans would pick, but my all-time favorite Lumia handset was the Nokia Lumia 925, released in 2013 as a successor to the popular Lumia 920. It took everything great about the 920, and placed it into a slim, sleek body that could compete alongside other premium smartphones such as the iPhone and Samsung Galaxy series. I was never a huge fan of the blocky Lumia 920, so when Nokia announced the Lumia 925, I instantly fell in love.
It had an excellent camera, just like the Lumia 920 before it. But unlike the Lumia 920, it was super thin, with aluminum frame running all around the outside giving it an extra premium feel. It also featured a beautiful 4.5-inch 768x1280 OLED display, which looked amazing with Windows Phone's dark mode and punchy colors. I remember absolutely loving the Lumia 925, more than any other Lumia before or after it.
The camera was an 8MP shooter, and it was great. For the time, it was one of the best on the market, not including the massive Lumia 1520. There were a couple of downsides to the Lumia 925, however. It didn't have wireless charging built-in, meaning you had to buy a dedicated wireless charging case to bring back that functionality, and the color choices for the Lumia 925 itself weren't very vibrant Lumia was known for popping color choices, but the Lumia 925 was only available in grey or black.
It's fair to say that the Lumia 925 was a more sensible, streamlined, and refined version of the Lumia 920 that came before it. It was superseded by the Lumia 930, which I also hold close to my heart. But nothing comes close to the Lumia 925. It was the best of premium Lumia design.
What was YOUR favorite Windows phone?
These are our favorite phones, but what was yours? Would you like to see Windows Phone come back someday, or has that ship sailed? Hit the comments below, and let us know what you think.
Put those rose-colored glasses on and embrace the past with more in our tech nostalgia series.
Windows Central
Android Central
iMore
Get the Windows Central Newsletter
All the latest news, reviews, and guides for Windows and Xbox diehards.