Here's what Microsoft's Android apps can do on Surface Duo
A closer look at Microsoft's Android apps' support for Surface Duo and dual displays.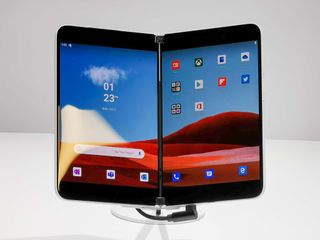 (Image credit: Windows Central)
Microsoft's Surface Duo is coming soon. We're getting closer and closer to an official launch, but we haven't yet heard anything about the software experiences we can expect to see when Surface Duo is ready. Microsoft has been working behind the scenes to update most of their first-party Android apps with support for Surface Duo.
While not all apps are ready, we've pulled together a collection of Microsoft's Android apps that do already have in-progress support for Surface Duo to give you an idea of what using these apps across two displays will be like. Support for Surface Duo isn't just about spanning, but the ability to ink, as well as drag and drop content between apps.
Surface Duo specs we know so far
Microsoft Launcher
Microsoft Launcher is the default home screen experience on Surface Duo and, as such, has deep dual-screen integration. By default, the user has access to two home screens and docks that can be customized with widgets and app icons, just like a normal launcher.
Swiping between home screens will move the content across displays, and revealing the Microsoft Launcher "shelf" will push the home screen and dock to the right display. The dock itself is dynamic and will move between the two displays when opening apps so that your dock icons are always available to you if you're not spanning or running two apps side by side.
The shelf itself has a sticky notes feature which supports the Surface Pen too, and will sync with the Sticky Notes app on Windows 10.
Image 1 of 3
Microsoft Launcher also has a new "group" feature that lets you pair two apps under the same icon so that you can open both on each display with a single tap. You can customize the name of this group, and even choose which app opens where. For example, I can set OneNote to open on the left, and Twitter to open on the right, all with one icon.
Microsoft Edge
The default browser experience on Surface Duo is Microsoft Edge, and it also has support for dual-screens. The UI will automatically adjust when spanning the app across both displays, putting the address bar on the left and the favorites hub in an icon on the far right on the right display.
Spanning Edge will also span websites, but most websites will be left with the Surface Duo's bezel cutting into the content. Web developers can choose to support dual-screens, but not every website will. Spanning Microsoft Edge makes more sense when using the app in portrait mode, as it gives you much more content at once without cutting down the middle of it.
Microsoft Edge also supports dragging and dropping images, text, and links from webpages into other apps that support drag and drop. For example, I was able to highlight text in Edge, open Word on the other display, and drag the highlighted text from Edge to Word and let go to paste it into a Word document, just like you'd expect.
Outlook
Microsoft Outlook is preinstalled on Surface Duo and is the premier email and calendar experience for the device. It's also what manages your phone's contacts, with hooks into the Surface Duo's settings app that lets you synchronize your contacts stored with Microsoft through the Outlook app.
On Surface Duo, the Outlook app has two icons for email and calendar by default. The calendar icon shows the current date and provides quick access to the calendar portion of the Outlook app. The main Outlook icon will take you to email, just as Outlook normally does on other smartphones.
Microsoft Outlook supports spanning, with your inbox on the left display and email contents on the right display. Tapping on an email when spanned will let you read the email on the right display without leaving the email inbox. Spanning when in the calendar will spread out the calendar across both displays. It also supports drag and drop.
OneNote
Microsoft OneNote is also preinstalled on Surface Duo and will be a key component in the Surface Pen experience on Surface Duo. The app supports spanning, which will put your notebooks and pages on the left display, and a selected page on the right. You can link directly into the page you've selected.
Microsoft Office
Image 1 of 2
The Microsoft Office app has support for drag and drop, as well as spanning across both displays. On the left display are all your recent documents that are stored in OneDrive, and tapping on a file will open it in its respective app on the right display.
To Do
Microsoft's To Do app for Android also supports spanning across both displays. When spanned, tapping a to-do item on the left display will showcase its contents on the right, giving the user access to different options for that specific to-do item without leaving the main to-do list.
OneDrive
OneDrive is also preinstalled on Surface Duo and has ties with the Surface Duo's settings app for things like the automatic backup of photos. It supports spanning, with files on the left display and a preview of a selected file on the right display. For certain documents, you'll be able to ink directly onto them with Surface Pen and save them as a PDF.
SwiftKey
SwiftKey is the default keyboard experience on Surface Duo and has support for dual-screens. You can drag and drop the keyboard across each display if you want to move it around, and I'm told the final product should also have a split thumb mode that works across both displays, too.
The unique changes to SwiftKey come when using the Surface Duo in compose mode like a mini laptop. When in portrait mode, SwiftKey will automatically full screen on the lower display when tapping into a text field, giving you a full-screen keyboard for typing.
Image 1 of 2
SwiftKey also has two exclusive themes on Surface Duo, which are cleaner versions of the default SwiftKey theme already available. There's a light and dark theme for SwiftKey that matches your system theme.
Settings
Surface Duo's settings app also supports spanning, with setting categories on the left display and selected settings on the right display. It will provide options for Microsoft Launcher, Outlook, OneDrive, Surface Pen, Peek Mode, and more, but is still distinctly Android by offering all the usual Android customization settings too.
General system behaviors
The lock screen places the time, date, and quick access to the torch and camera buttons on the left display. Notifications and missed calls are located on the right display. The right display is also where the user can swipe up to unlock the device with a pin.
Surface Duo treats its right display as the "primary" one for system tasks such as phone calls and notifications. It's unclear if this will be customizable, but it likely won't be as the speaker for phone calls is above the right display, and that's what determines which display is primary.
Surface Duo uses gestures for navigation, and they are an integral part of the dual-screen experience. To close an app, swipe up from the bottom just like an iPhone or Pixel device using gesture navigation. To span, an app across both displays, swipe the app up, but instead of letting go, drag the app over to the center bezel and let go there. It's very fluid and intuitive.
By default, all apps open in single-screen mode on the display where the app was initiated from. For example, if I had Twitter pinned to the left display and tapped on its icon, the app would open on the left display. I've not come across any apps that automatically span themselves upon opening, which I'm told is a deliberate user experience decision.
More to come
That's everything we've had the chance to test so far. According to my sources, most, if not all, Microsoft apps will support Surface Duo's unique capabilities at launch. I'm told to expect apps like Microsoft News, Skype, and Xbox Game Streaming to have spanning modes and drag and drop where applicable. Those new features aren't in testing just yet, but we'll update this article when that starts to happen.
Windows Central Newsletter
Get the best of Windows Central in in your inbox, every day!
Zac Bowden is a Senior Editor at Windows Central. Bringing you exclusive coverage into the world of Windows on PCs, tablets, phones, and more. Also an avid collector of rare Microsoft prototype devices! Keep in touch on Twitter: @zacbowden.
This teasing is terrible ;) how soon is soon?

This is really getting ridiculous. This thing has been delayed for over two years, but it's always "soon."

Soon, young pickle, soon.

Not in a hurry, I know I'll get mine

Soon, toilet seat cleaner, soon

Is this device still expected to launch this year?

Yes
Yep
Yepers
Sure
Uh huh
Si

So torn! I really want it based on form factor and UI, but I promised myself years ago I'd never buy another phone without wireless charging... All my chargers are all wireless -- by my bed, near the couch, on my desk, in my car... Argh! Oh, and when we're back at the office after COVID-19 work-from-home ends, I'll want to resume using my favorite vending machine, which I always pay via tap-to-pay w/my phone, another missing feature.

In my case, the lack of NFC is deal breaker for me. I'm pretty much decided to skip this and wait for next gen hopefully addressed the 1st gen limitations. Not to mention when the economy is weak these days due to pandemic. I rather not spend too much money on things I don't need.

My fear would be that if there are a lot of people doing what you're doing, then there may not be a next generation. Hopefully there are enough people out there that can overlook its shortcomings to make this one a success.

If somebody could promise me that there would be a Surface Duo with Windows 10X, I would definitely buy this one right away even though I would trash it the day the Surface Duo with Windows 10X was released. I am somewhat hesitant to buy this one, not because of any lack of hardware or capabilities, but because I don't want to encourage Microsoft to use Android.

I noticed that NFC is turned off on my Note 10 but I'm still able to use Samsung Pay. I just want to be able to pay with the Neo.

Microsoft's Android apps on other dual screen devices such LG's 8X or V60 are complete disasters. the Launcher preview and SwiftKey are unusable.

I think this has to do how Surface Duo and LG UX dual screen implementation is so different in the back end. I can say that LG is likely a proprietary, but not sure with Surface Duo if this is a native Android implementation or another proprietary implementation by Microsoft. We will see once there is another dual screen devices in the near future and if the gsesturs and dual screen implementation is similar. Sadly this is the Android fragmentation problem that we have to deal with Android users. Though this was largely been addressed for the most part, but with the rise of dual-screen and foldable screen devices. We are starting to see the first wave of fragmentation again, until Google officially baked a native implementation and UX for Android. Currently it is supported by OS but the UX is still OEM's control.

Remember during Duo's reveal, MSFT confirmed they worked with Goggle on this device, So, I expect high level of standards native codes wise plus MSFT plans and differentiation.
I predict that other OEM will copy MSFT on dual screen's implementation.

That's what I'm still observing if Google and Microsoft partnership with Duo project actually makes Android natively dual screen implementation that Duo use. I don't want to OEM to copy, I want Android itself have thus dual-screen UX in which any Android developer can tap that API for their apps. So the dual-screen capability of their apps works with any Android OEM's that uses native Android feature. We will see once their is another dual-screen Android and it has the same UX for dual-screen as Duo is and the dual-screen apps works as expected. Future is certainly exciting on foldable and dual-screen devices.

Already has better native app support than WP ever had before it even launches.

Dual screen Office apps look good. Swift Key full screen in the lower half seems like a brilliant move. Reserving judgement on having to go portrait with Edge until I can hold the device in my hands at the Microsoft Store though. Landscape Edge looks irritating with that big crack down the middle. Still wish Duo was available in Windows 10x; there are some UWP only apps I would love to run on it. I also don't have a Google account, and don't want to get one. Overall, think I'll wait a year or two and see if Microsoft puts Win10x on Duo. The dual screen Office stuff and full screen Swift Key stuff is cool, yes, but not sure it's enough to get me to go to google dot com and sign back up. Five years without a Google account now, and never felt better. BTW I'd happily get rid of my iPhone (and Apple) from my life too if Duo released with Win10x. Would be so nice to have just one OS in my life! But if I'm forced to have two, it's iOS and Windows for me. Unless Surface-droid is so smashingly cool I simply can't resist the temptation.

I generated a google account just as a formality but everything I use is practically MSFT centric on my Android phone. Android just plays better with MSFT than Apple.

Yeah I thought about doing the same. Still bugs me. The bigger draw for Android for me isn't so much dual screen phone apps, as much as Your Phone integration. I'd love to get texts and answer phone calls from my PC. To fix that I thought about just replacing my Lenovo with a Dell XPS and using Dell Mobile Connect, which plays nice with an iPhone. Now if they did some sort of an UWP container so that I could run UWP apps from the MS Store on my Android Duo, now that would put me over the top!

Yeah it might. But still the issue remains that the underlying OS is just horrible in every way.

Exact is my experience, to fully enjoy it, I went with Pixel for native experiences and instant updates.

But pixel isn't running vanilla

I think you pretty much said it all! Being a UWP developer that still uses a Windows Phone, I would do anything to be able to have a Windows-based phone! Every person that I have ever talked to has said that they like my Lumia 920 and it's apps & UI better than their Android or iPhone, but that they just don't have a choice. For anybody who would like to state their desire to have a Surface Duo with Windows 10X, please visit the following:
http://chng.it/c5h9YY5b7h

i wanna know how he got the emulator to do all of this

I kinda like what they are doing here. I really hate that middle empty space though. The hardware itself is pretty weak. But I do like what they are trying to do with the software. A video of this would be great

The hardware is 2019 bleeding edge. Yeah it isn't the new 865 but it is hardly weak.

While the processor is from 2018, the bezels are like a phone from 2012. Hopefully the price matches the old specs and design.

It's weak considering they are probably gonna charge a fortune for a 2 year old CPU by the time it comes out, weak camera, small battery, no NFC, no wireless charging, no 5G. I think the best attempt at something like this has been the Mate X (hardware wise)

Or... They could be taking the same position they did with the Surface Pro. They want to motivate OEMs to build similar devices. I could see Dell creating a similar device that would be gorgeous, better specs and offer more for the money. On the flip side of things, MS and Samsung have a pretty good partnership going. I'm going to wait to see what Samsung offers in the Note 20 line and possibly the Fold 2.

Why do they care if OEMs build hardware for Google's operating system? I don't think that is the point of Duo. They had the hardware and decided it was worth throwing Android on it.

I hear your point, but I disagree. This could very well be a reason, not necessarily THE reason. The reason for this belief is Microsoft's positioning of the Duo as a productivity device and how it could potentially make MS productivity apps more feature accessible, while providing a different experience. Microsoft will not make millions of units. They will be sparing and want to potentially motivate development of a form factor that utilizes their software, even if it's overlaid over Android. I personally don't mind the fact that it's dual screens. I think the problem lies with making the function of dual screen something that can stand on its own and not necessarily compete with single folding screen devices in the type of experience you can expect. As you've mentioned in a number of posts, you don't see a point of dual screen vs single folding screens. It's a matter of perspective and what one feels works best for what they want to use it for. I personally think the size of the bezels is the hindering issue with the overall design. The top and bottom bezels really need to be much thinner. There is no need for them to be that wide. For me, I will likely wait and see what a 2nd Gen Duo will look like and the features it will have, assuming the Duo shows enough growth to keep MS developing and improving the technology. I also understand that many Android developers have to make their apps work for dual screen, if it makes sense or they find new ways to add other features that could utilize the second screen.

I still don't think dual screens have a future. This isn't the first dual screen phone, there are a few to chose from these days. I think the strength Duo will have compared to them is not the dual screens, but how well it works as a single screen. If it is thin and easy to use as a single screen, then having the second screen will just be an added benefit with minimal compromise. I bet the second screen will rarely be used by most people.

What they need to do is sell it at something like 7.5% margin and only manufacture ~40% of their originally planned quantity. This way they have it out there for users to have a taste and release rev 2 full blast with all bells and whistle no hold barr.

I agree the effort is commendable, but yeah the hardware itself worries me. Two big bright screens, and multi-tasking combined? Wow! That's bound to soak up battery life like a sponge. And that's even if it had a decent battery in it, which the initial spec leaks indicate it does not. What's more. Microsoft keeps pushing this idea about inking. Well, where are we supposed to keep a giant Surface Pen when it's not in use, so that we don't lose it? That's where Galaxy Note and its rechargeable sPen garage built right into the phone seem to rule the day. Not only that but the sPen and its Air Actions are pretty impressive. Also, no apparent wireless charging. I could forgive these if Duo had something crazy spectacular to offer, but compare this hardware wise to Galaxy Note 10 and there's no comparison.

If it doesn't offer something significantly better than a Note 9, with the long battery life and now-tried and tested hotspot capabilities, there's no reason for me to bite until at least version 3, or a next-year Note. Got too much experience with the MS cut-and-run to fall for this before it becomes a truly significant corporate profit center. MS is still trying to get the early adopters to pay for MS experiments, while reserving the right to themselves to leave them high and dry with nothing but a "You screwed up, you trusted us!" ringing once again in their ears.

Never buy Gen 1. Leave that to the ardent ADHD "beta" testers. That aside this is super interesting. I will be watching avidly and may move on a Gen 2 or 3. I waited until the SP3 before getting my first SP. Lack of NFC is a deal breaker, here in Australia everything is tap n' go and Covid 19 just make it ubiquitous. I can grind my teeth and not have a dockable stylus and just use the one on my new SP7 but still, super handy to use the stylus on my Galaxy Note 9, I use it all the time because it's always in the phone. Between this and the Galaxy Fold 2, the android space is super interesting hardware wise, the UI support is still not getting it together though.. Apple's big innovation is a cheaper glass rectangle.

This isn't really Gen 1 though. Android is quite mature and the hardware is standard for the most part. The only issue with this is the old school hardware with those bezels and old processor.

Not sure if I've just missed it but due to the form factor what type of protective covering would we be looking at if any? All in all I've been waiting to upgrade my current daily device for this and will be pre-ordering it as soon as the option is available.

I was wondering that too. Most likely one case for each half of device.

But then how will you fold it 350° without the case interfering? I don't think cases or screen protectors will be possible if the hardware is as precise as it looks.

I haven't seen anything announced on this. There are questions in regards to how this would work on this hardware. It may be a case (no pun intended) of two cases, one covering each half. However, that would prevent users from folding it 360. That may just be a trade-off. Part of me does wonder how the design of the device impacts the need of a case though. One thought I had is that this device has less need of a screen protector. Close the device and both screens are contained. There's less of a chance other items in your pocket will touch the screen. Perhaps this design naturally protects it from typical issues related to fall damage. I doubt it but I'm open to the possibility.

My worry with the more than a year, close to a year and half old processor is for how long will Qualcomm support it? That have been the bane for most of androids update scheme, google may update android but Qualcomm will not update the microcode on older processors so they can not run the newer android versions. The duo will shave of close to a half of the normal lifespan of an android device by launching with a more than year old cpu. Maybe it is better for Microsoft to go directly to version 2 of the Duo and try to launch it in april/may next year with the newest cpu.

It'd be a question of how much REAL support the Duo has in the general management at MS, especially with Panay now not being completely dedicated to hardware, anymore. The Surface Pro X was a device that should have gone directly to the remainder pile, what with the poor real-life application support, the mediocre battery life, and no sd card support. To me, the Duo, in the above format, is just MS asking some too-eager Early Adopters to buy into a device MS will cancel once someone else perfects real one-screen tech, a device that will probably die on the development support vine well before that. That's just going on my past experience with MS losing interest and stranding customers. Once dual screen is no longer required, why would the team be kept together when the unit is a dinosaur and whatever is the "Next Best Idea" is coming down the line with a much longer developer career/resume entry tagged to it? I'm still waiting to hear Win10 and Surface has been spun off by Nadella like HP tried to flick all but the Business Centric units from their fingers.

Big empty bars at the top of the second screen with Edge, OneDrive and OneNote. Hopefully, they fix that.

I'm super-excited for the Surface Duo 2 (Surface Trio?). Once the structure is down pat and the hardware matches current-year flagships, I'm gonna be all about this dual-screen Surface Android shiz.

At one time my computers were Microsoft, my tablet was Microsoft and my phone was Microsoft. Never again. Have one Win computer and tablets and phones are all Android. Will never trust Microsoft because of their poor consumer support. They are fine if your are a business customer and forgotten if you are a consumer. Idont even use Microsoft apps on my Android devices. Just dont trust them, and never will.

To use it as a tablet, portrait mode (double landscape) makes most sense. Web browsing, reading, social media apps, basically anything that presents vertically scrollable content should work well in this mode imo.

I hope there is no restrictions on app spanning . Microsoft should allow anyapp to be spanned in full screen in portrait as well as landscape orientation.

Can anybody tell how emulator handles hinge gap ? Does it act as divider which splits content in both screens or it acts as part of display meaning content is hidden behind hinge gap like this screen shot of edge suggests in the article?

According to Microsoft's own blog on developing for Duo https://devblogs.microsoft.com/surface-duo/get-started-with-flutter-on-s... (look at Figure 4: A gif of the final project showing the debug output) the hinge covers content when the app is spanned, unless developers specifically look for IsDualScreenDevice and IsAppSpanned and format the content correctly. At least for many websites that are already optimized for vertical scrolling content, this is somewhat alleviated by turning Duo to Portrait mode, but for many apps, and some websites even, especially sites designed to be "webapps", that eye/brain trick may not work, or the app or site may not format well in Portrait for other reasons.

My next phone needs a good wide angle camera. I take a lot of photos in apartments of rooms. I sure hope the Duo has a good camera package. Might have to wait for version 2.0

Ugh. That clock is terrible. 09
38 Really?

I think they are positioning this first Duo iteration well for what they had to work with.
Look, Apple did worse with iPhone when Androids were 3-4 years ahead in features, HW etc. and they still sold boatloads. Apple took their time and started adding competitive HW and features. It is important to know that (Technically) this is MSFT's first Mobile phone (I am not talking Mobile Os). MSFT took their time to have a good presence on iOs and android. They are now using those presence to define a HW the way they want in a new category. The development of Duo took longer as seen on the HW/SoC used for their start (Please don't get me wrong, that should not have stopped them implementing NFC etc, Camera, I can forgive for this Rev-1), Still, should not be surprising because Duo is for a new category and it is important they are not late and also must participate in its early stage to better define it. From all account to date, none of the current 2 screens, flips etc. are doing anything new category defining. I bet they will benefit from massive MSFT Apps tweaked to truly do justice to these new form factors. Like I told my buddy Rodney, I am in hurry, but be sure that I will get mine. My Pixel 2 XL is currently fully MSFT, So, I can always imagine what MSFT made Duo will do my use case, I fully expect Duo rev 2 to show up max 18 months after this first Duo and that is when fun begins.

This is the perfect device and form factor for Live Tiles...

Good thing it will have Android's fully featured Live Tiles (widgets) instead of Microsoft's featureless Live Tiles.

I am calling it right now - They're going to sell no more than 1000 devices. Tops. Absolute useless trash. (If it ran 10X and had 2020 bezels, would be a different story)

You would prefer we have a different narrative to Duo like start yakiti yak about; No developer support, no apps Yabba daba doo all over again. 10X time will come. Just not now. When it does, I expect it to blow our minds away and dominate like a boss.

So instead they're focusing on a notebook-like device that has no built in pen, a likely half day battery life, no wireless charging, no NFC, and football field sized bezels, in a mature Android market, up against the likes of Galaxy series, Pixel, OnePlus and hundreds of quality premium, budget, and midrange options? It's only saving grace being that you can run your calendar on one screen and your email in another, so you can "multitask" while you're in line at the grocery? What's more, the worry of whether or not this is a giant experiment Microsoft is making early adopters finance, with a high likelihood of "re-focusing" in a couple years, is legit. Yes I would prefer yabba daba doo all over again to this. Win10x changes the narrative from native apps to PWAs anyway. As oraora pointed out these Surface-droid devices are likely not going to fly off the shelves anyway. I think they'd sell just as many devices with Win10x on it, focusing on growing PWAs and giving UWP developers a small-ish form factor device to target again.

I think my comment to the article in general which is above these ones fairly answered some of your questions and concerns, not all. It also addresses my response to oraora, please check it out and share your take

Windows 10x would be an immediate flop. We have seen it now and it isn't anything ground breaking. How would it compete with established players when it has zero advantages and a ton of disadvantages?

I agree. Being a developer and user of Windows Apps (specifically UWP), as well as someone who has continued to use & prefer Windows Phone over Android & iPhone, I think that not only would users like the device better if it had Windows 10X, but developers would be happy to jump in right away to optimize their apps for dual screen. Many of them will be doing this anyway for the Surface Neo, so there will, for the most part, be no need to worry about the shortage of apps that people believe. And if you are one of the many people that wants to voice your opinion to make Surface Duo available with Windows 10X, visit the following:
http://chng.it/c5h9YY5b7h

I think you would have to be crazy to think that developers would jump onto tech (Duo with 10x) that has zero support because of another device with zero support (Neo). I still use a windows phone too, but it's obvious that you're blinded by your bias.

I'm really looking forward to seeing what apps Microsoft install on this other than the usual suspects. I'm guessing Microsoft will have there own phone dialer software, messaging app, calculator, maybe Bing maps, photo gallery, file Explorer and contacts app to complement/complete outlook as well as baking in family safety.

This is all quite promising. I do have one lingering question and one lingering suggestion. The lingering question is how much Google will be on this device. Things like Outlook being the default for email AND contacts is promising. I'm hoping Google hooks are at a minimum and I have hope that it will. I've talked to a lot of IT groups and one of the main reasons I hear companies going iPhone for their mobile standard is they don't trust Google. The suggestion is around Outlook. One of the biggest complaints I hear about the mobile app is that switching from email to calendar is a pain. If one is writing an email about their availability and they switch to their calendar to confirm, when they go back to the email they're composing, they have to go into drafts. The email they were writing doesn't pop right up when they click back on email. It'd be nice on the Duo if there was the option to compose an email on one side of the screen with the calendar on the other.

The ideal of of having more screen space on a pocketable device is no doubt intriguing and it will give us an advantage in some situations but I feel something is off with the design. It just doesn't fit into a device of the next generation..

I just hope there is a dual SIM (or nano+eSIM support) version to avoid carrying 2 phones...

Do you know if there will be something like continuum or Samsung Dex on this device. If so I will be in line a week early.

That is the deciding factor for me. If you take this long for a surface phone and the hardware will be outdated. The software better be immaculate!

"To judge Duo it is necessary to start from different assumptions since different are principles and ambitions. If Microsoft wanted to make a smartphone, then, it would have started from the basics: muscular camera on the back, invisible frames on the front, very high profile hardware and really-Windows graphic interface". https://www.punto-informatico.it/surface-duo-futuro-microsoft/

I don't know how I feel about Microsoft releasing a new device that's already a year and a half old...

Speaking of Surface.. I know a lot of you here are also interested in the upcoming Surface Duo, and we really want this new device to become successful.. Nothing can help more than its presence on social media. Here is a link to our Surface Duo Facebook Group. We already have 399 subscribers, and I'm confident that we are already the go to SD group on Facebook. Please feel free to share the link, and spread the word. Like I said, this can only help SD. Please join! https://www.facebook.com/groups/397641020931176/?ref=share

Do you work for Microsoft, Rodney?

Now we have a date for the launch of the Note 20 and Fold 2 from Samsung, as in 5 of August. It would be very unfortunate if the Surface Duo would launch after.

When you think about it, MS is so clever! It ditched Windows mobile but on an android platform, you run its launcher, browser, outlookonenote and office apps. That should account for 80%, maybe even 90% of usage time for most non-gaming users! It doesn't need to maintain a separate OS, it's update and app ecosystem! What would have been better?
Windows Central Newsletter
Thank you for signing up to Windows Central. You will receive a verification email shortly.
There was a problem. Please refresh the page and try again.