Telegram Messenger adds mini-games to chats with latest update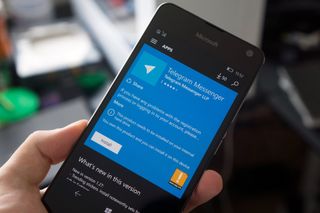 (Image credit: Rich Edmond / Windows Central)
The popular chat app Telegram Messenger has been updated for Windows 10 Mobile. It adds support for mini-games that can be played with other Telegram users.
While the app's change log has not yet been updated Microsoftinsider.es says the mini-games can be activated by typing in "@gamebot" in chats. There are two arcade games and one brain game available inside the app. The update also offers a list of the app's bots in the channel menu.
Download Telegram Messenger from the Windows Store (opens in new tab)
Windows Central Newsletter
Get the best of Windows Central in in your inbox, every day!
50 apps to update/download? Are in windows store 50 apps!? I thought less :O

Telegram Messenger obviously hasn't paid their internet bill for the past 24 months... Lol

That makes no sense, use it daily it gets frequent updates

No, it's a joke regarding the state of mobile.... Surprisingly, they still support Windows... Must have no service. Lol

Cool update, I should write a thank you email to them for updating the app and also sticking with windows mobile too.

Only updates and updates no new apps what a headache MS mobile store.Symbian had more apps in 2005 thru mobile9 site.Shame

The best with that case is that HP provide an changeable plastic cradle for the desk dock where the Elite x3 incl. the protective case fit for operation an charging

Cool, where @whatsapp ?? Actionable notifications??

They need to move to UWP for this. Might happen but their WP8.1 app is still really decent to be fair.

Love telegram also u can do a great business using telegram

Hoping this allows you to mute individual group conversations now, rather than the whole app.

Hope so, I have to mute all the massive furry groups cause they make my phone explode, lol

Yeah, it's basically /the/ social messaging app for furries. Because of It's free sticker functionality, many furries get their character commissioned in sticker packs, the best of which become popular in chats with others. SFW sample of stickers/sheet:
http://m.imgur.com/8pUxoV0

That's been available for a while

Umm.. it's already there.

Wait... This has been possible for a long time!
#furrygroups

This is one app I can't lose

We all have that one app. Mine is Cortana haha

user interface update and universal app would be nice ;)

For the windows phone 8.1 too

The games will open but I can't play them, anyone else with this issue?
Windows Central Newsletter
Thank you for signing up to Windows Central. You will receive a verification email shortly.
There was a problem. Please refresh the page and try again.