Telegram Messenger Beta updated with new animations, self-destruct option and more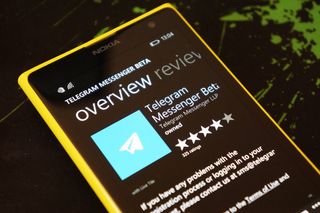 Telegram Messenger Beta has picked up yet another update for users to enjoy. Version 1.1.3.56 includes the ability to change the number, as well as some new Windows Phone 8.1 animations. There's also a handy new self-destruct timer setting. Head past the break for the full list of changes.
According to the store listing, here's a quick look at what is new in version 1.1.3.56:
Change your phone number
New background selection interface
New Windows Phone 8.1 animations
Updated tiles
New self-destruct timer settings
Screenshot notification in secret chats
Fixed bug with sending photos from the Photos hub
Fixed duplicate and disappearing messages
Increased stability when sending messages
Give the update a download from the Windows Phone Store and let us know how you find the latest version of Telegram.
Thanks, Pacific16, for the heads up!
Rich Edmonds is Senior Editor of PC hardware at Windows Central, covering everything related to PC components and NAS. He's been involved in technology for more than a decade and knows a thing or two about the magic inside a PC chassis. You can follow him over on Twitter at @RichEdmonds.
Let me fill in the blanks... S u c k s

Why is it still in beta ?

bcoz it came it won a little bit trend and users and in the end lost the battle again to WhatsApp. that's the sad story.

If it lost the battle that doesn't mean that it has to stay in beta :/

thst means its still have user base for alternate purposes. just like hike which comes as alternate to watsapp.

Cool ..but nothing beats hike

Screenshot notifications?? But how?

if this is true, snapchat now has no excuse to not give an official app.

Snapchat: Forces users to not use third party apps. Doesn't have official one for Windows. *facepalm*

Still needs to increase its speed and background reliability.... Msgs seem to be stuck after acting on a notification.... Great that they are regularly updating...

Huh! One more reason to Criticise WhatsCRAPP :D

how is screenshot notification done, if this works, then snapchat must be due soon (as i think thats whats holding them back). just saying.

The pseudo-trend to criticize everything that's popular is getting boring. I've been using What'sApp on Windows phone since it debuted, and it always served me well.

You know, when a machine explodes by itself.

Self destruct? When you opt to engage in a private chat session, you can set the length of time that elapses before the message disappears. A great feature if you want to annoy slow readers ;-)

This app just keeps getting better and better!

I'd be happy to jump on board with Telegram if I could find a privacy policy that specified what they specifically do with your telephone number and who they share it with. The one on the website leaves that subject out entirely...

Fixed bug with sending photos from the Photos hub Fixed duplicate and disappearing messages Yes, I can now forward images from the photos hub, which always failed in the previous version. However, Telegram still insists on rotating some images 90 degrees. Oh dear. Now my messages are randomly being sent in TRIPLICATE! Still, it's my preferred messenger. Good job to the devs. Incidentally, the Windows desktop portable version was also updated today.

Forever CONNECTING... Hmm.

I'd love to use this but could not convince any of my friends to use it. Greetings from WhatsApp and Line universe. *sob*

I personally prefer telegram over WhatsApp

For every update I get excited thinking this one will have the accessibility features. Please please add accessibility features the ability to increase font size. I beg you.

Still looks like fisher price in my 1520.

Wat is screenshot notification???

A notification if someone on the conversation takes a screenshot of it.

Cool update. However, I dont like the new Telegram logo on the tile. Loved the new background selection interface, which is similar to iOS version. I do use "Support - Ask a question" in the app to notify them about the bugs. Telegram team is listening :) Expecting multiple photos/files selection in the next update.

Thanks for your support! We hope you like the latest version and continue to report bugs to us if there is any. Thank you!

Many thanks, Jason94! :) You guys rock! Appreciate your hard work.

Y is it still beta, even the app is better...

Perhaps, they are looking for perfection ;) Well, still there are some minor bugs and they know that. It seems Telegram wont remove the "beta" tag till they make Windows version as good as iOS/Android.

they also updated their icon for the tile. previosly it used to look like you send it app

Can't wait for Windows 10 to finally bring WinRT to at least same capabilities as Silverlight 8.1 so all these awesome apps can switch to it.

Rich changed the header image for some reason.

The new icon looks like an manga anime character's nose.

Why did the logo changed? It now looks like a crooked arrow Before you could see it is a flying paper airplane. Change it back, please!

Is there option to choose photo quality for sent messages ? Now it is too much compressed and looks like junk.
Windows Central Newsletter
Thank you for signing up to Windows Central. You will receive a verification email shortly.
There was a problem. Please refresh the page and try again.