Telerik adds push notification support to cloud services; native SDK available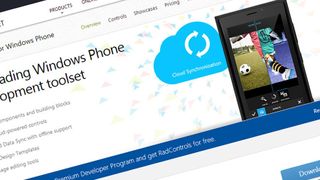 The Telerik team, the brains behind the popular developer tools for Windows Phone and other platforms, has announced push notification support for Windows Phone. Every feature supported by the Windows Phone OS is now implemented in Everlive, enabling developers to take full advantage of the functionality in Microsoft's mobile platform, while being able to fully support iOS and Android.
Because all this is included in the cloud service, there's no requirement to set up custom web servers externally since Everlive carries everything out in the cloud, which is handy for developers. With the SDK, those who are developing apps can get started with notifications without knowing the specifics. Carrying on the Telerik tradition in being efficient, yet user-friendly.
The native SDK for Windows Phone comes in two versions - one for Windows Phone 7.x and the other for Windows Phone 8. We've not covered everything, so be sure to head on over to the Telerik Blog to read the full article for screenshots and helpful information. If you utilise Everlive and RadControls, we're sure this improvement will be of some use to you.
Source: Telerik
Windows Central Newsletter
Get the best of Windows Central in your inbox, every day!
Rich Edmonds was formerly a Senior Editor of PC hardware at Windows Central, covering everything related to PC components and NAS. He's been involved in technology for more than a decade and knows a thing or two about the magic inside a PC chassis. You can follow him on Twitter at @RichEdmonds.
I'm sorry, I don't really know what all this means lol. Can someone explain? Does that mean that now third party devs can implement push notifications to their apps instead of being restricted to checking in the background every ~30 minutes?

I would like clarification also!

No that's totally unrelated. Telerik run their own back end service that developers use. So developers can now use the telerik service and implement push notifications without needing their own servers and what not. The way it is now, you currently need your own back end/server to push out the notifications

Were are u getting this ??

I've used the telerik cloud service before, and I'm a developer who has implemented push notifications. And from the article, pretty much covers it all. Their SDK just lets you run push notifications without needing to worry about your own back end services/servers. I haven't used the push notification side of the telerik service yet. My own back end runs it fine :) but a great addition to their offering

What's your app, dear humble forum-goer?

Wheel of wealth, Get High with Words, Card Arcade are the main 3 :)

Does the Push notifications SDK allow you to send notifications from one WP7.5 device to another? They have said that Everlive Backend Portal will allow sending notifications. But the app I am working on requires sending notifications from one windows phone app(logged in as admin) to same app on different phone(logged in as user). Will that be possible using this SDK?

You could do this now.
In a round-about way, the app (logged in as admin) would send an update to a server/service which would then send a push notification to the app logged in as a standard user.
Speaking without experience, I dont think there would be any other way as the apps would need to know about eachother which can only be done via a server/service.

Yeah if you don't use the telerik SDK its really easy to do. For my game I run a server with a PHP script. I store the notification channel data in my database. User send a message to the server, server sends out the notification. As for the telerik SDK, I haven't used the new notification part of it yet, so not 100% sure. If you need help doing it without their SDK, let me know :)

Actually, I would love some help. I have written the code for sending/receiving notifications and have built a simple web service. But I am somehow finding it difficult to implement it. This is my first app, so please bear with with my naivete. How do I contact you?
Thank you :)

Got a license for this last week. Not had time to play with all the radcontrols yet, but this interested me.

I'm really surprised Telerik has remained independant for so long. They do a lot of great tools and would fit right into either Google or Microsoft easily. I do hope they remain independant.

Can't have too many utilities. This is not the notification center I am waiting for though. My next phone I purchase must have it or my 920 will get old trying.

Or you could use Parse for free...

Or not...Everlive will have a basic free account as well ;)

What major WP8 apps use Telerik?

There's a showcase page on the Telerik site: http://www.telerik.com/products/windows-phone/getting-started/showcase.aspx

Facebook for Windows Phone does as an example. There are a lot of major apps. Telerik creates great controls and services for Web, Windows, Phone and now cloud Services. I use them in all of my apps. I'm Here, Windows Developer Show and Find Amber.