Telstra launches 24x7 Windows Phone app beta, calling on customers to help with testing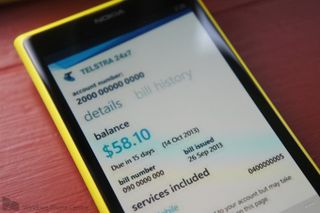 Australian mobile operator Telstra has been behind Windows Phone since the beginning, but the company is rolling out the beta for its 24x7 Windows Phone app. Customers are now able to sign up to the program and try out the features available in the solution. Just like other apps already available from other mobile operators, Telstra 24x7 will enable customers to check account usage and perform tasks.
If you've been waiting for an app to be released that enables you to log in and check out exactly how much of your account allowance you've used, the wait will soon be over with this early beta program going underway. The team is currently looking at ironing out bugs and seeing how the current set of features and functionality holds out against what customers both expect to see and demand from such an official offering.
A beta message board has been set up for Telstra customers to collaborate and communicate feedback with the team for improvements to be applied before the gold version is released. Some screenshots are teased in the official thread, announcing the beta program going live:
At first glance, the Telstra 24x7 app looks great, taking cues from Microsoft's Modern UI to offer a simple, yet elegant interface. Data is neatly presented and there's little clutter to prevent you from getting on with account management. This ensures you spend less time sorting through menus and more time enjoying the smartphone experience.
You can sign up for the beta (opens in new tab) via the Telstra community forum. Since this is a beta, be sure to leave feedback and suggestions for the team to look over. We'll look forward to seeing the app go live on the Windows Phone Store for all Telstra customers to take download and enjoy. As with all Windows Phone betas, have your Microsoft ID handy to be provided access.
Source: Telstra; Thanks, Chris, for the tip!
Rich Edmonds is a word conjurer at Windows Central, covering everything related to Windows, gaming, and hardware. He's been involved in technology for more than a decade and knows a thing or two about the magic inside a device chassis. You can follow him over on Twitter at @RichEdmonds.
signed up to give it a go


Third! Oops. Did I just do that? O.O

That's a nice looking app.

Interesting looking app. Wish more carriers could come up with similar apps. Representatives from Telia Sonera, are you reading this? (probably not... )

Do you get the email immediately?

I haven't got one yet, wondering this myself...

I signed up, just hope its not as bad as their other app.. which thankfully it doesn't look like it will be!

Yessss! I've been wanting this app for ages. Windows Phone is slowly but surely picking up lots of the official apps to the point where I'm starting to feel like I'm not missing any apps at all that I want. One year ago there was many apps I wanted for WP8 like Spotify, Pandora, Telstra 24x7, Whatsapp, Skype, proper Facebook, Instagram, etc. Still some work needed but it gets better every week.

I'm a Sydney taxi driver and WP nut. I can tell you from experience that you can expect a sizable increase in WP market share next reporting cycle. I rarely have customers with windows phones bit in the last coupla weeks, boom. Lumias everywhere, news reporters, students, gov agencies. Just this weekend I had a Sydney Water guy who said they are rolling out Lumia 925s to replace the BlackBerrys. Good signs.

Same here, I've been seeing more and more of them, you can't miss them haha.
920 owner.

Finally! To be honest the functionality of the third party replacement app Ttracker is fine, but god damn, it seems to cause me to receive 10-20 "sorry our account tracking service is unavailable" sms's from Telstra a day.

While it's awesome that Telstra are releasing this app, I can't help but be disappointed. The app has been in development for a while and was even delayed in June for 3 months, and they release a really buggy BETA where a number of users - including myself - can't even get past the splash screen.

But it will only get better.

Have to agree with the app being a disappointment, sure it looks quite good but I was expecting more it doesn't even offer live tile(s) for usage. I don't think Telstra have taken a look at what WP8 is capable of.

I haven't got the email yet and signed up as soon as this article went up.

Put in 3 applications over the last week; heard nothing in return.
Well done Te$tra.
Windows Central Newsletter
Get the best of Windows Central in in your inbox, every day!
Thank you for signing up to Windows Central. You will receive a verification email shortly.
There was a problem. Please refresh the page and try again.