Terraria launches on iOS; Android and Windows Phone to follow along with 1.2 update for PC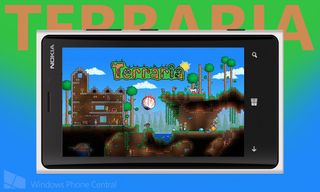 Terraria is a popular indie RPG (think 2D Minecraft with more focus on adventure) on its way to mobile platforms. Launching today on iOS (iPhone and iPad), the title is being ported by Codeglue who also plan to release the title on Android and Windows Phone. 505 Games (who developed the Xbox 360 version) has announced on fan website Terraria Online that both Google and Microsoft's platforms will see Terraria soon.
Never played Terraria before? It all began on Steam a few years ago. The game has gone on to ship millions of copies with fans producing new worlds (essentially custom maps), coming up with new gametypes for multiplayer (capture the gem, anyone?) and keeping the community alive while development has been in limbo for some time. It's good to see Terraria live on.
Windows Phone owners, you'll not have long to wait for the title to release on the store.
1.2 and the PC
What about those of us on the PC who are eagerly awaiting an update? If you've not been following the development progress, the original developer and his team have revealed over 700 new features and changes that are on the way in version 1.2.
From entirely new biomes being introduced to numerous improvements being made to the overall experience, Terraria 1.2 is set to make the 1.1 update (hard mod, etc.) look minor. If you've never played Terriara or caught the game at its initial release and haven't even tested the water with 1.1, I strongly urge you to hop on and give it a go on the PC. Here are some of the new mechanics in action:
We're yet to see how the game will play on Windows Phone, but initial reviews of the iOS version on the Apple App Store make us rather excited to be able to go cave diving while on the move ourselves. We'll keep an eye out and inform you all once the game is finally on the Windows Phone Store.
Source: Terraria Online
Windows Central Newsletter
Get the best of Windows Central in in your inbox, every day!
Rich Edmonds was formerly a Senior Editor of PC hardware at Windows Central, covering everything related to PC components and NAS. He's been involved in technology for more than a decade and knows a thing or two about the magic inside a PC chassis. You can follow him on Twitter at @RichEdmonds.
Any word on whether this is coming to Windows 8? I'd love to play Terraria on my Surface RT.

I also would like an W8/RT version. Xbox 360 controller support would make it perfect. Microsoft needs to pay devs to put more high quality releases in their stores. Cross-play is essential. Cross-buy would make every purchase a no brainer at launch. Pimp Xbox the brand.

Will it be live enabled (like the 360 version) on WP?

It better be live enabled... I'll still buy it, however that would be stupid not to include it. Apple has gamecenter, google has their game platform, Microsoft better realize Xbox integration is integral. It makes little sense that other mobile platforms are leading in social integration, extra perks and multiplayer.

I have this game on steam, will i get a copy for phone?

Lol, No. Seam and Phone OS' are two completely different systems.
Such a silly question.

I feel likee there's something wrong with me. I just... can't get myself into sandbox games of any nature.
Grand Theft Auto
Skyrim/Oblivion (Elder Scrolls games)
Minecraft

Just doesn't work for me unless it's a social experience. I got excited for The Elder Scrolls Online before they hit us with that dun dun.... errr, I mean $15 monthly charge. Mzybe Destiny will be the social sandbox experience designed for me (loved Ultima ONline)

There's nothing wrong with you. They just don't appeal to you. I'm like you, I don't care for games that are a free for all, not even social or mmos. I need more structure lol that's how I am in the rest of my life too so it makes sense that I'd need the same thing from my favorite hobbie.

Have u tried Order & Chaos online for WP8? U may enjoy that game since its a social online sandbox type game with no monthly fee as far as I'm aware

I'm not shot in the butt about paying $15 either for the Elder Scrolls Online MMO however it will ultimately make the game much better. Compare any free-to-play mmo with p2p- you have a much richer, better supported experience when your paying monthly and actively supporting the game.

I'd rather pay $15 instead of having a crap F2P game like 99% of the other F2P MMOs I've played.. And that's easily over 200+

I'm the opposite - it's far too much effort these days trying to rally my friends just to play a game, so I'd rather just have a solo experience. Yes, you can play online with strangers - but that's just as good as playing with NPC's, and you don't have to put up with douchebags or lag

Well, at least we got an alternative to Minecraft for WP8. But still looking forward for Minecraft though.

terraria really isn't anything like minecraft. The focus is on fighting and exploring. Anyways, have you tried Survival Craft? A LOT of people say it is better than Pocket Minecraft.

Yeah, I know that there's some big difference, but it seems like MineCraft 2D to me. And I think I'll try to get Survival Craft sooner or later. It was my HUGE mistake to choose Discovery instead of Survival Craft.

Can't wait! I saw Nerd Cubed to a let's play of it and it was great!

Awesome I loved it on xbla, can't wait!

Hope it has achievements. Already got 400/400 for Xbox version. Windows Phone games only have 200 GS, so maybe they'll leave out some of the more time consuming ones.

I can't stand imagine it would be easy to play on a phone.

If I put myself to imagining how it could be, it could work. You could select a tool and then click on tiles with your finger or something. I guess there's a way to make a touch interface out of everything after all, or they wouldn't do this. Let's wait and see :)

I agree. I've played the heck out of it on XBox, I don't see any way it could work on a touch device...... Especially for big boss battles.

If they can pull it off with the interface, this might be great news. It already is, with the unhoped-for 1.2 update.
Now, again, I'd play this game more if it had a better interface, if it supported gamepad, which is actually not that complex as a concept.
And yeah, after it comes for WP it well could have a touch version for Windows 8 and Surface, which would be nice because of the touch interface and the larger screen estate/processing power.

Hopefully this will work on 512mb devices. The iOS app is compatible with the iPhone 4 and above (512mb), so I hope it'll be the same for Windows Phone...

I'll buy it in a heartbeat if it's Xbox Live enabled.

It's a different situation for WP now.. We instantly know that a WP Version is coming, VS developers saying that they are thinking about, or refuse to, port their apps to WP...

Hopefully its got cheevos!

Super excited! Windows RT would be great too, my phone is very small.

is it just me or the lumia 920 from the title photo has always a mutch smaller screen than in real life? On mines the upper right corner is beyond the final a of that nokia logo... Just saying.

I dunno why it's iOS first though, Terraria's written in XNA.

Any chance it will be for windows 7 phones?

One year since this was announced and no signs on this :|
Windows Central Newsletter
Thank you for signing up to Windows Central. You will receive a verification email shortly.
There was a problem. Please refresh the page and try again.