Test your music knowledge with Tunely, a new game for Windows Phone powered by Nokia MixRadio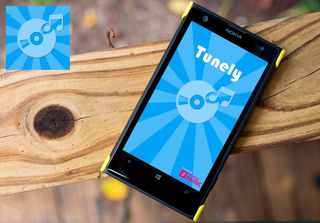 We're big fans of apps that combine a variety of services and novel ideas into one. Tunely is a new game for Windows Phone that does just that. It takes the huge music library of Nokia MixRadio and creates a fun game that tests your music knowledge. Let's check it out.
Tunely comes to the Windows Phone from Shayne Boyer, the developer behind an app we've covered before called I'm Here. He's also the developer behind the Windows Phone app for the popular podcast the Windows Developer Show. How's Tunely? It's awesome.
Tunely is a game for music fans. Load up the app and start playing. You'll be picking your favorite genre of music and a difficulty level. You've got three levels to choose from –Fan, Roadie or Tour Manager. The difficulty goes up between each level. When you play as a "Fan" you're only having to guess the name of the artist for the specific track playing. Play as a "Roadie" and you'll need to guess the name of the song. Want to really test your music knowledge? Then you'll need to play as the "Tour Manager" and have the options of either artist and/or song. The faster you make a selection the more points you get.
Games are fairly short, but that's a good thing. It allows you to quickly play games here and there. It's a very mobile game. After the game you'll be able to review all the tracks you heard and head to either Xbox Music or Nokia MixRadio. You can also share them if you want.
There are two updates currently coming out for Tunely. Version 1.1 fixes a volume issue with the player and a minor randomization issue. It will also address a bug with removing the in-app purchase which you can read about below. There's also a Windows 8 version of Tunely in the works that will sync your profile with the Windows Phone version of the app.
Tunely is a free game for Windows Phone 8. It's ad-supported, but you can remove those ads for just $0.99. However, there is a bug in the current version in the Store that will make the app crash after buying the ads. Shayne, the developer, has already submitted a fix. You might want to hold off on removing those ads until it has been fixed. In the meantime, pick it up in the Windows Phone Store!
Shayne, can you please publish your game here in Brazil? I can help with this.

@GuilhermeManso its available everywhere except China. Do you not see it in the store there?

I can see it but I cant download it... :S

Interesting I see a number of downloads in Brazil. Not sure why you cannot download it.

Here is working fine... by the way, great app!

Unless this is just for heavy metal, hard rock and classic rock, I would so fail at this game. :-/ The only pop artist I've cared for consistently over the years is Madonna, though I still have yet to hear her last release.

Its for all genres, you can pick either Rock or Metal too.

"Guess the Song" is better. :)

I like the concept - well, always love a good music quiz. However, would be good if it did more than 5 songs - perhaps something for the paid version, it could be a setting to choose how many songs in the quiz. Also, there is some funny back button handling going on when selecting the level of difficulty and genre - should be able to press back to exit the list, but it goes back to the beginning. All in all, I like it, just needs to last a bit longer!!

@daveh101 There is more on the way. Send any all suggesstions to tunely.at.live.com and be sure to rate the app. We do look at the comments there. Thanks!

Features similar to the Zune app 'Music Quiz' would be great! Such as guess the album art etc.

This is great! Fun game! Thank you!


Whoa whoa whoa, am I the only one that tasted salt in my mouth when he said "huge music library of Nokia MixRadio"?
Seriously I find myself skipping every track that plays cause you I've already heard it a million times and not in a good way. I like the UI of MixRadio but its catalogs just not there. But I will check this app out

Speaking of music.. (like how I did that) If you want a strobe light that uses LED and goes to the beat of the music and/or with this game (if that would excite you), check this out http://www.windowsphone.com/en-us/store/app/strobe-light/91c3f2c9-c374-4df3-b4b8-e7f0d6fc1dfd. Over 400 ratings, most 5 star.. (developer plug) eh eh? :)

Version 1.1 is now available - this addresses the inapp purchase issue noted in the article as well as increasing the randomization for questions and answers. http://bit.ly/tunelygame More features on the way - like our facebook page to keep up to date, make suggesstions on game content and more. https://www.facebook.com/tunelygame
Windows Central Newsletter
Thank you for signing up to Windows Central. You will receive a verification email shortly.
There was a problem. Please refresh the page and try again.