TextNow jumps from Android and iOS to Windows Phone. Unlimited text messaging for the US and Canada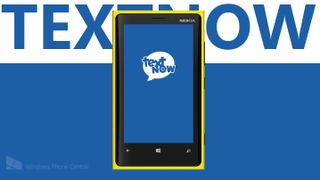 It seems like every few days we're getting some official new apps on Windows Phone. From small names to big names, everybody wants to stake out their spot in the Windows Phone Store. TextNow is the latest of those to make the jump from Android and iOS to the greener pastures of Windows Phone. How does unlimited texting sound to you?
TextNow is a fairly popular app on both Android and iOS. Since I haven't used either of those as a daily driver in nearly three years I'm just learning about how popular TextNow is on those platforms. In the iOS App Store alone it has over 155,000 reviews! The current version of the app is even hovering over a 4 star average review. Not bad at all. Clearly this app has quite the install base. So what's the deal with TextNow?
You get unlimited texting, your own unique phone number, and you can take it anywhere.
With TextNow you can send and receive unlimited text messages within the USA and Canada, free of charge. You get your own unique number that you can do the receiving for both calls and texts. It works on the web or a variety of mobile apps.
After you download the app you can sign in with either Facebook or by creating an account the old fashioned way – email. After that you select an area code and TextNow will give you your own unique number. It's an easy set up process. After that you can blast your new number to all your social networks to get people up to speed on your new digits. From there you can access your contacts within the app and text away.
You'll want to go into the settings to remove the signature that the app automatically inputs after your messages. Just delete the whole thing to have that "I-sent-this-from-a-phone-and-not-some-machine" vibe.
So who is TextNow for? Anybody that wants to stick it to the carriers by sending texts via data and not SMS. Or anyone who needs a burner number to text their locale dealer (you know who you are). The app isn't bad, it's clearly just not for me. But I'm stoked to see another big and popular app from the iOSDroid world hit the Windows Phone Store.
You can download TextNow for free (it's ad-supported). It looks like you can only grab it for Windows Phone 8. Hit up the Store, use the QR code below, or swipe to the right in our app. (P.S. Grab it for Windows 8 in the Windows Store!)
Thanks for the tip JD!
Get the Windows Central Newsletter
All the latest news, reviews, and guides for Windows and Xbox diehards.