There's a workaround for people who can't install Windows 10 due to low storage space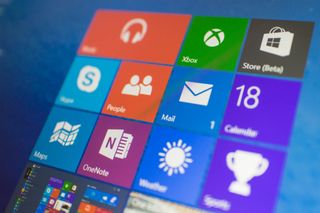 If you have had issues installing the 10041 and/or the 10049 builds of the Windows 10 Technical Preview due to low storage space, Microsoft has posted a workaround that might solve that problem.
Some Windows Insider members have been reporting that the two recent builds of the Windows 10 preview either cannot install at all due to "insufficient disk space" or that the amount of time needed to install the builds takes much longer than usual, with some taking hours to complete.
If that sounds similar to your experience, Microsoft says in a community forum post that your issues may be due to a bug that is causing some installs of Windows 10 to also include all of the operating system's language packs. The issues are also causing some files to appear on the desktop or in File Explorer.
Basically, the solution is simply to get rid of any language packs that you don't think you will need. Microsoft offers the procedure for this file deletion:
Open a command prompt as an administrator
Bring up the interface for uninstalling language packs by typing the following command and press Enter: Lpksetup /u
Select the language packs you want to uninstall.
Hopefully this simple workaround should solve the Windows 10 install problems.
Source: Microsoft Community (opens in new tab)
Windows Central Newsletter
Get the best of Windows Central in in your inbox, every day!
Works for me. I figured it out by myself, but thanks anyway.

You are commended :). Are you IT certified my friend? I would of never thought of this xD.

Mine installed, but took about nine hours to do it.

It took an eternity but it finally installed. Should I still delete unwanted language packs? Or should we assume that I will be ok going forward?

You can clean up the C:\Windows\SoftwareDistribution\Download​ before doing the update to free up a lot of space.

Can you tell us how you figured it out?

I tried this a few days ago when Gabe Aul tweeted about it. Still doesn't work :(

I can't upgrade my hp stream 7 or dell venue 8 pro from windows 8.1. Both get stuck at 30%. The above didn't fix it.

Wimboot install...it's not possible to update.

Some people in the forums have done it, so it is possible. It's just that the vast majority can't.

Its only possible if you faf about with USB OTG and keyboard etc. Not in normal sane way.

OTG isn't required. I used Rufus to create a bootable USB from the ISO and installed it on my 16GB tablet. Only had some issues with getting my wifi to work. Had a backup of all hardware specific drivers using Double Driver, and the driver for the wifi was corrupted. Just connected to my phone through Bluetooth and updated it and it worked fine. Win10 on my Sweden exclusive tablet beats Win8.1, which was preinstalled on it. Now I finally have some use for it xD

It's not that hard. I did a clean install on my Dell VP8. The upgrade install caused too many issues with drivers, etc. including Windows explorer constantly crashing and restarting every 2-3 seconds, so a clean install was necessary. I used an OTG adapter that I already had (and that everyone should already have if they have a tablet with only micro-USB), plugged in a 4-port hub, and put my USB drive with the ISO formatted with Rufus, my USB keyboard, and mouse on it and went to town. In fact, my description of the process might actually take longer than it took me to hook everything up.

I'll just wait for an updated build that fixes the issue.

You don't want it on a tablet anyway. Win 10 is a borderline disaster on devices without a mouse and keyboard.

Windows 10 is not near to final build.

It's near, alright. The plan is to have it go "gold" in June. So far, our looks like Windows 10 is going to be a total debacle. They better have some serious changes in very short order, or they're looking at an epic fail that'll make the Windows 8 disaster look like a smashing success. On both phone and PC, Windows 10 sucks as of right now. There's good ideas in there, but the interface is dreadful: inconsistent, ugly, and difficult to navigate with only a finger.

We only are seeing one branch of the build, Microsoft is not going to do another windows 8. It has to succeed otherwise all the work they have done will be useless. They can still delay it if there is enough complaints..

Update it from ISO on your SDCard. Disable your Wifi and Bluetooth before you start the update and you will get over the 30% Mark and complete the install. It is because of Wi-Fi driver issues this gets stuck. I've done this a few times on others tablets and mine (Encore). Works every time.

HOLY F*CKING S**T, THANK YOU!! I've been trying to get this working for a week and nothing happens. Tropolite, you're a genius. It was the BT and Wifi that kept screwing me up.

Still waiting for a solution for compressed OS tablets.

Cant install on Linx 8. Have 20GB free. It doesn't just work. So frustrated.

Wimboot install? You'll need to wait for another update.

wimboot were unblocked with 10041

Still waiting for a fix to the bootloop from forcing bad drivers on switchable gpu systems

Try also using Disk Cleanup from Admin Tools in Control Panel. That should clear a bit more space too...

They better hurry up and get rid of control panel.. I am still not sure how they plan to completely get rid of it

Just wait and you will know it. Just be patient.

I haven't even used Control Panel in the recent builds. Didn't even realize it was still there.

Also there is a "windows.old" folder with every new install it seems. 4-6gb of files you can remove there too.

I wasn't able to remove them... So I did a clean reinstall

Right click on the C: drive, properties, disk cleanup, and advanced button.

That's what enables you to roll back easily if you need to.

Is anyone having a trouble with hdd after the update, am seeing 100% usage for hdd in task manager all the time. Should I reinstall it or go to previous build? (I have enough space for the system)

I am seeing similar issue in 10061.

Mine says "Updates are available, but we temporarily need 0.00MB of space to install". Um....

That's exactly what mine says! Frustrating!

My problem too. Do tell if there is a workaround. I am on a VM.

Okay, I've found a workaround. This is a bug which is showing 0.00 MB needed. It's actually needing more memory. 1. Free up some space. Should be more than 10 GB. 2. Run cmd as admin and run "usoclient startscan". This is will re run the update and scanning. Re-download the update and it will install. Hopefully. :)

I just wish I could upgrade a build on a vhd

When will windows 10 be released officialy?

there is not date yet, just wait until they say the release date.

I'm unable to update but not cause of this. Goes to like 30% then reboots and restores to previous version, but some things are there, like the new sign in screen. Done a shitload of troubleshooting and binging the error code, but no working solution. A friend tipped me that it could be a UEFI issue, which requires a fresh install. And I had to do that on 10041, not so eager of doing it again :(

I had this issue when I first installed Win 10 and it was resolved by running all updates and clearing space on the older the older builds and then doing the update.

Just did a 'clean install', hardly 20 GB, so no probs at all (and I finally got my audio back)

I was able to install 10041 on my HP Stream 8 after removing all apps and personal data. It's nice, but I've had a problem--I have to reboot when it goes into standby because I don't have a keyboard to hit CTRL+ALT+DEL (WINkey + power doesn't work either). Trying a workaround by installing TeamViewer to send the key combo remotely. Trying to upgrade to 10049, but it takes forever to download...

You guys won't believe it but I am actually running build 10051 and, hard luck to you guys.

It is not an official build, and it has a lot of bugs.

As always for Beta programs personal experience greatly vary: 10051 installed by far faster than 10049 and it is much quicker.

Can't update past 9926, throwing up error 0xc1900101 - 0x40017 and reverts back... Pissing me off atm... Probably something simple but if anyone has any ideas feel free to sing out! :/

Download the new iso and use that to upgrade

Want to try to find a solution to the problem before I do that if I can... Eventually I will clean install but while it's still buggy I'd rather keep updating for as long as I can....

I had to resort to minimizing the page file, and running cleanup for system files in the C Drive to make space. I have 30gb partitioned for Technical Preview and recommend to have at the bare minimum 10gb of free space for subsequent updates

For me disconnecting the pc from net during the install process seemed to work.

What about Hp stream 7. It says you cannot. Suggestions

Yeah ok now find a workaround for 930 to be included in next w10tp round. Ya filthy flogs..... Last time MS fuck's me over again. Cant wait for Nokia to return without full of shit Microsoft.

How much the size of Windows 10 TP

I'm on build 10049 on my Surface Pro 3. It seems that my Pen is not fully working. The top purple button opens OneNote but the pen tip and the two thumb buttons does not respond at all.

Well I tried the trick On a W8.1 installation had only one language. On W10 I had a lot of language; after unistalling all "non latin writting" languages, surprise W10 freezes on welcome screen !! Have to re-install preview.

It finally got past the 0.00mb required stage and restarted to apply update after using a combo of these methods. disk cleanup deleted contents of software distribution download folder and re-downloaded update usoclient startscan using virtual box VM so disabled network adapter when it started the preparing update phase

How's it on a WP? I installed on my HP Stream 7 and it was terrlble, maybe because a 7" device needs the WP version and not a full desktop.

Low disk space. Yeah right. I had over 250GB of free space when it froze up for me. I saw a comment somewhere else of somebody who was 1.3TB of free space and the same thing still happened. It froze at 30%
Windows Central Newsletter
Thank you for signing up to Windows Central. You will receive a verification email shortly.
There was a problem. Please refresh the page and try again.