Third-party Reddit app Readit gets a brand new post viewer and more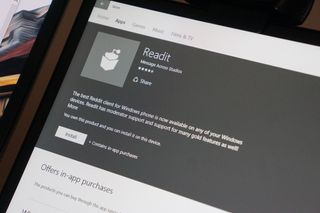 The team behind the popular third-party Reddit app Readit for Windows 10 and Windows 10 Mobile has pushed out yet another solid update. The new 3.8.5.0 build includes what the team is calling a "completely rewritten" post viewer among its additions, changes and bug fixes.
Here's what the Readit team has to say about the new post viewer:
Here's what else is included in the update:
General Additions
New Browsing setting: Enable Javascript - Default: Off - enables javascript in the embedded browser (performance will decline with certain sites when this option is enabled)
"Saved" is now an option in the subreddits list at the top. Clicking this will take you to the saved section of your profile.
When loading context in swipeview, the context will be loaded and inserted into swipe view as the next item. Swiping backwards will get you back to the OP before loading the context and swiping forward will continue swipeview from where you left off.
Desktop: Removed the margin from the left side of the page content. It now aligns adjacent to the hamburger menu bar/edge of screen
Performance
Major speed improvements in page navigation speed
Comments will collapse even faster
Low memory device optimizations have been applied and will prevent a lot of the out of memory crashing on those devices.
Bug fixes
Fixed the duplicate favorite bug on desktop when switching between accounts
Fixed losing accounts and account issues related to that
Fixed favorites related bugs
Any sort of page navigation will now cause the hamburger menu to properly close (on mobile, depends on desktop setting)
Fixed the subscribe/pin toggles not populating correctly when opening the sidebar
Fixed not being able to pin multireddits to the start screen/menu
Download Readit for Windows 10/Windows 10 Mobile (opens in new tab)
Source: Reddit
Windows Central Newsletter
Get the best of Windows Central in in your inbox, every day!
I feel like Readit and Baconit are in an arms race

Official Reddit app race. I was a baconit fan and user, readit came out and felt reluctant to try until baconit started crashing on my phone. Had no choice, downloaded readit, was kinda slow at first cuz baconit is damn fast. Now with lots of bug fixes and improvements, I doubt I can go back to baconit. Readit is just SUPERB.

They are.. switched from baconit to readit a few month back and was positively suprised how well readit is and the speed it adapted the UWP. Baconit made a strong comeback though as far as I read. Didnt try it yet.. still going stron on Readit

This is by far the most updated app in the store. I get an update every two days, sometimes many days in a row. The developers are very active

Just hope noone finds out about it and contracts him. Dont want to see the same fate as Rudy Huyns apps

Reddit is okay with 3rd party apps.

I wish the windows central app would update

Just got it its very nice :)

The dev of this app should also make apps for twitter & instagram. ;P Would definitely support you.

Yeah, it's not like we don't already have 6tag..

Readit is the leading Reddit app on Windows. Hands off.

Baconit is still smoother on both phone and PC.

Not that I don't appreciate the updates, but are you guys and gals at Readit in a race to see who can supply the most updates in a year for their app/... LOL Appreciate the work your putting into your Windows Apps.. Keep up the Great work.

Best reddit client on Windows 10. I tried Baconit, but went back.

Windows Central Newsletter
Thank you for signing up to Windows Central. You will receive a verification email shortly.
There was a problem. Please refresh the page and try again.