Third-party Sonos app Zonos for Windows 10 adds Cortana support and more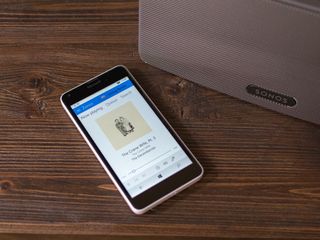 The developers behind the third-party Sonos app Zonos for Windows 10 have released an update for the UWP app. It includes new features such as Cortana voice control support.
Here's what's new and improved with the Zonos app (via Winbeta), which allows Windows 10 PC and Mobile users to control their Sonos speakers:
Voice control via Cortana in English or German
Pandora and Amazon added as sources
Full-screen mode
New volume knob for finer adjustment in the lower volume range
Improved TV support
New icons for various services
Easier switching between different players
Dark color scheme uses now in the entire App
Zonos is free to download from the Windows Store, but there is an optional in-app purchase to get rid of banner ads.
Download Zonos from the Windows Store (opens in new tab)
I am absolutely loving this app! The developer is continually updating and adding features. It wipes the floor with the desktop SONOS program. I paid to remove the adds to show my support.

Must agree, have only just downloaded this one, I have been using another and this is much better.... Hate to say this to the other developer but I'm going to have to switch to this one !!!

Extremely responsive developer and great UI. Worth a try of you have Sonos.

Great work from the Dev, but I don't by Sonos until they'll have a native UWP App for W10&Mobile! No App for W10, no product in my house... Sorry

Cutting off your nose to spite your face. The only thing your 1 person boycott hurts is your ears. Buy a Sonos, use one of the 2 third party apps (Phonos is better) and then go into the owner forums and vote for a first party Windows phone app like the rest of us.

Nope. There are other and better products also... Sonos is like Apple, the nose is too high...

Would be interesting to see a comparison of Phonos vs Zonos, looking forward to see what features of each app you think are best.

Amazing app and dev! Sonos has said they will release an official app for W10. No need, this fills the gap perfectly!

The good thing is that this app sets the bar on top, for the official developers of sonos. At least they need to integrate with cortana to be on par with this app. Official apps are always welcome, but this dev did great! I would definitely buy it if I had sonos, but I still don't get what do I get extra compared to a regular bluetooth speakers like the ones from bose.

It'd make more sense for Sonos to hire this dev and make this the official app, instead of working from scratch. That way we'll have a dedicated Windows UWP developer for updates and the developer earns more money (presuming Sonos pays the dev good $).

Great app. I prefer this one over Phonos or Chirp.

Not tried this one but will, the latest version of the Phonos Universal App is very very good and a massive improvement over the original, everything is so much more accessible and a few more things to add which may make it perfect.

Looking forward to hear whether you liked it!
Windows Central Newsletter
Thank you for signing up to Windows Central. You will receive a verification email shortly.
There was a problem. Please refresh the page and try again.