Third-party Twitter app Aeries adds video uploads and more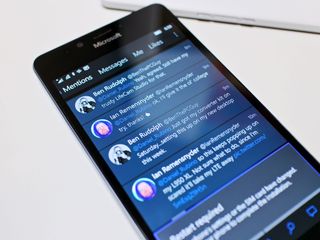 Aeries, the popular third-party Twitter client that's available for Windows Phone, along with Windows 10 PC and Mobile, has been updated to version 2.1. The developers say this is the biggest update yet and it has a ton of new features and improvements.
Here's the long list of additions, improvements and bug fixes in Aeries 2.1:
Added Nearby Tweets as a pinnable section and to the discover page. Now easily see the tweets around your current location!
Added the ability to find new people in the Discover page, now browse categories of recommended people to beef up you Twitter feed.
Added quick picker to compose for images, now quickly pick from the last images in your camera roll, or take a new image.
All new autosuggest experience for users and hashtags.
View Gifs in the app image viewer.
Easily select gifs to post in the Compose page :)
Upload videos to Twitter!
Now see attached media inline with quoted tweets.
Fixed a few memory leaks which would degrade responsiveness after running for a long period of time.
Vastly improved memory management when switching between multiple accounts, should make the switch much more seamless.
Improved smoothness of scrolling under various conditions.
Improved back and memory usage related to streaming.
Fixed issues where column navigation would not adapt to changing window size.
Fixed an issue where resized images could be unrecognisable.
Further improvements for read position restoration after some experimentation.
Stability and sync improvements for reading/firing notifications.
Fixed app version in about page.
Addressed two edge cases which could cause read position to restore at the same position.
Sync between device greatly sped up & will restore to positions that haven't been cached on the client yet.
Fixed an issue where deleting a tweet from Retweets could replace your home timeline with retweets.
Fixed a bug which could cause you press back twice to navigate backwards within the app.
Fixed some layout issues with discover page in mobile.
Fixed a crash when editing profile.
Retweet options now show up correctly next to retweet button.
Fixed an issue with the remove dialog for attached images to tweets would not display properly
In addition, the Aeries team mentioned on Twitter that it has been "working hard on a refreshing a lot of UI elements, which will be released in another update shortly".
Download Aeries from the Windows Store ($2.99)
Windows Central Newsletter
Get the best of Windows Central in in your inbox, every day!
Last read position still doesn't work *goes back to official app*

It does. https://twitter.com/AeriesWindows/status/689552324910542848

Yeah, that's me. Still doesn't work.

Yess. Aesthetically, Aeries looks the best to me.

I think Fenice is great actually. It's on point with the current Twitter and Windows 10 UI. Looking to try Aeries or Tweetium though.

Fenice doesn't show tweet replies. Useless to me, sadly. My main choice is Tweet It!

I'm with tweet it too.
But this one worth a try

I hear that it is, but it isn't as pleasant on 8.1 :(

I like tweetium. But really want official app to get updated first.

My favorite Twitter app for a while. Tweetium always had some more features, but I've always liked the looks and usability of this one more. Awesome update, keep up the good work!

But has he fixed the invalid media parameter error that has been there forever. I cant tweet a camera role image from my 1520. Fwiw, aeries has the same issue.

Just got it and looks good :)

I cannot believe that this feature rich app is missing the most basic of functions, a notifications feed -- where you can see all notifications including new followers or likes on your tweets

I still can't tweet, retweet, and favourite. It's like my app is on read-only. It's been like this for weeks now despite updates. I always receive the "Twitter has blocked this action" error. My account works fine in the official app, though.

The is happening with me... I don't know why :\

Apparently, the dev is still investigating. Also, it appears that only WP 8.1 is affected.

I like Aeries & Tweetium. Just wish there was an option for inline image size.

its crashing after you add section to the app :/

That is quite the changelog!

Woohoo! Can't wait to go give it a shot. Love Aeries.

I want to buy this app so badly. But won't buy it unless I try it coz I already own Fenice & Gleek. Why no trial dev?

Definitely my favorite Twitter app.
Windows Central Newsletter
Thank you for signing up to Windows Central. You will receive a verification email shortly.
There was a problem. Please refresh the page and try again.