This is my rig: where games and work coexist
Here's a closer look at the devices and accessories I use on a daily basis.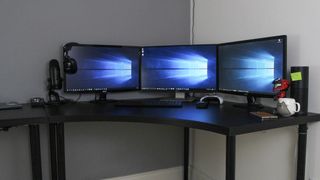 I've always felt that your office setup can have a huge bearing on your performance while working – with me personally preferring a much cleaner and minimalistic approach to my workspace. After recently moving and gaining a brand-new office, it's allowed me to not only start afresh but also build up a setup that suits my current workflow.
As a part of the Xbox team at Windows Central, my workstation and gaming setup have been interlaced into a central location. Although my setup is tailored to content creation, its gaming roots are still present and readily evident.
What's inside the rig
When building my desktop PC earlier this year, several factors drew me towards the higher-end hardware I eventually ended up using. At a time where several consumer virtual reality headsets had released and NVIDIA was debuting its first line of Pascal graphics cards, it felt like the perfect time to invest in a top-tier PC. Scouting other deals ongoing at the time, I brought together an amalgamation of components that fitted best within my budget (Saying that, I did manage to exceed that budget by several hundred dollars, as we gamers are wont to do).
Starting off with the case, I chose to go for Carbine Series 600C – an inverse windowed ATX case from Corsair. Although I've never been a huge fan of inverse cases due to their muddled presentation, this case fitted in seamlessly within my setup.
As for the beef behind my machine, I went for Intel's i7 6700K, being an unlocked processor perfect for overclocking. This was paired with 32 GB of HyperX's FURY Black Series RAM at 2400MHz and an NVIDIA GTX 1080 Founder's Edition. Although an aftermarket graphics card would've been a more suitable choice for this build, I ended up pre-ordering from the first batch of reference cards at launch. For other key components, I picked Corsair's Hydro Series H110i GTX for water cooling and two 500GB Samsung 850 EVO SSDs for storage.
Overall this build came out at £1,919.06 (or roughly $2,800 at the time) excluding shipping. Nowadays several of these items are significantly discounted, with some components having seen cheaper alternatives in the meantime.
Swipe to scroll horizontally
Monitors
For my monitors, I've chosen to go with a three-display setup, comprised of a Dell's UltraSharp U2515H QHD display (opens in new tab) flanked by two cheaper Acer S240HL (opens in new tab) 1080p monitors. Although I expect the two Acer monitors to find another home soon, they currently serve as a great way for quickly referencing other windows and material. As I also feed my Xbox One into the central monitor, these monitors are also great for live streaming over on our Beam channel.
Tasks on the go
When working on the go, my preferred laptop is the Dell XPS 13 (opens in new tab) – a compact ultrabook backed up by surprising power. Although a number of cheaper alternatives can provide much higher performance, the XPS 13 is a culmination of numerous outstanding technologies into a refined product overall. This model of the XPS 13 was the highest tier available back in 2015, with an i7-5500U and 8GB of RAM powering the gorgeous 13.3" QHD+ touch display. This is packed inside a slimline polished aluminum chassis, which can be easily be taken on my travels.
Gaming
While I sometimes use my PC for video games, a majority of my gaming hours are invested into my Xbox One S (opens in new tab). I use Microsoft's flagship console on a daily basis, not only for games but also general media consumption.
Being heavily tied to the Microsoft ecosystem, a number of paid services transfer between my PCs, Xbox One, and mobile devices. Among these are subscriptions for Groove Music and Xbox Live Gold, each with their own benefits on differing platforms. The recently introduced Xbox Play Anywhere initiative also helps cut down costs, allowing me to play some of this year's biggest releases on both my Xbox One and Windows 10 PC.
Image 1 of 2
Although my Xbox One S shipped with a new, redesigned controller, I always find myself coming back to the Lunar White variant (opens in new tab) released towards the end of last year. Sporting a flashy but minimalist white, black and gold design, the controller feels like a truly premium variant of the standard controller.
I also use WD's 2TB My Passport external hard drive (opens in new tab) to store my ever-growing library of games. Having switched to a digital-only games collection, suffering from a lack of storage space is the last scenario I hope to find myself in.
Topping off my main gaming systems, my HTC Vive (opens in new tab) is also constantly hooked up to my desktop PC. This is mostly used for creating content over at VR Heads but is also a great addition to my gaming platforms. Although I'm yet to be returning to VR on a frequent basis, being an early adopter has been an interesting ride, to say the least.
Accessories
Although I used a fair share of headphones in my lifetime, there's something about the Astro A40 headphones (opens in new tab) that keep me coming back. Whether their robust and comfortable design or their sound quality – I've never regretted my decision of picking up the headset.
The Astro A40's standalone MixAmp, a separate unit for controlling audio inputs, has only solidified my satisfaction with the product. More so than the headphones themselves, the MixAmp is a device I've used daily for three years at this point. Having mixed my Xbox One and PC audio seamlessly for years now, I honestly feel lost without it by my side.
For recording our gaming podcast or audio for streams and videos, the Blue Yeti (opens in new tab) has stayed as my companion in recent months. After stepping up from its younger sibling, the Blue Snowball, the Yeti has been an almost flawless microphone for crystal-clear recording. Sure, there are hundreds of microphones that produce a richer output, but the simplicity and affordability of the Blue Yeti make this a compelling and formidable choice for content creation.
So that's what I'm using — it's been a long road to this point and the tweaking process isn't going to stop any time soon. But for now I feel I've finally found my perfect devices among today's crowded electronics market. Do you have any suggestions for my setup? Want to share yours? Make sure to join me in the comments!
Windows Central Newsletter
Get the best of Windows Central in in your inbox, every day!
Matt Brown was formerly a Windows Central's Senior Editor, Xbox & PC, at Future. Following over seven years of professional consumer technology and gaming coverage, he's focused on the world of Microsoft's gaming efforts. You can follow him on Twitter @mattjbrown.
Having the main monitor being the highest resolution monitor of the three is a good idea, since it's the one you'll be using the most. I did that in my setup. The ideal setup for eyefinity or similar multimonitor gaming is of course that every monitor is the exact same size and native resolution. But even with mismatched monitors this kind of setup is great, very useful for gaming and productivity. IMHO, what this setup lacks is a Windows Hello enabled webcam like the Intel RealSense one.

I couldn't go that route myself. I decided to go with two identical minutes, just don't like it when it looks off from a different size or bezel or whatever.

Thanks for the input! I actually used to use three of those Acer monitors, but upgraded to a 1440p monitor at the center. Looking to phase out the others in the future, but the U2515H isn't a cheap option to begin with :P

After having 32GB of RAM I can't imagine going back to having anything less.

Why not? I had 32, and it was pointless. I sold half of it and use 16 now, still without any hiccups.

VM + RAMdisk. Because I have nothing better to do with my time. Also got the RAM on sale so there's that.....

Lol I usually use 16 GB just with browsers. Then I need to use more than that when I have Visual Studio open, SQL Server, Photoshop etc open. Or sometimes I like to game without closing all my browser tabs (simply because I don't need to). 32 GB is my new minimum (for desktop at anyway)

Looks great. Imagine two Asus 34 inch ultra wides though.

I can't wait to have a rig like this.

Looks like a 950 with Mozo zebra case. All in all, a pretty standard rig, except the 3 monitors.

Not bad at all Matt. Hoping to upgrade my set up through 2017. Bring on new AMD tech ;)

Kinda curious how you deal with having 1 nice monitor and 2 basic ones. When I have had multiple displays it drives me absolutely insane if there is any color/resolution difference between them. Became such an issue that I opted for a huge (at the time) 28" monitor 10 years ago, and more recently a 40" 4K display. It is just so much simpler and easier to go with one large display than to go through the process of returning and calibrating multiple displays until you find 2-3 that you like. 3 complaints I have about the 4K display that I picked up though:
1) 40" is actuially a bit too small, next time I will opt for something in the 43-48" range unless I want to mess with display scaling.
2) with a single large screen, having a curved display becomes important. The corners of the display are much further away than the center, and the eye strain is real at times. Having a curved display would help a bit with this.
3) I picked up a 4K display on a killer sale that I could not say no to... but the display itself (which much better than my last one) is not a full 4-4-4 chroma display. Most of the time this is not an issue, especially for movies and games. But text over certain backgrounds becomes unreadable because of the color smear of a 4-2-0 display. Next year I might spring for a better one, and pass this one on to my wife's rig as her PC also doubles as our home's TV. Anywho, just a few things to keep in mind as you find new homes for your little Acer displays.

For multitasking it's better to have multiple monitors than a single, large, ultrawide or high res monitor. Besides, the differences between monitors tend to be not so noticeable unless you're playing a game or looking at the same image or video on all three monitors.
In all, I think there's more to be gained than lost when using multiple monitors. Windows 10 has started to support it better, with things like remembering in which monitor you open each app.

"Windows 10 has started to support it better, with things like remembering in which monitor you open each app." Really? I'm constantly rearranging mine with a SP4 and two Dell P2416Ds. In fact, most of the time after I wake the computer, it only turns on the SP4 display and the Dells remain in standby. Are there any settings to improve this behavior?

"Really? I'm constantly rearranging mine with a SP4 and two Dell P2416Ds. In fact, most of the time after I wake the computer, it only turns on the SP4 display and the Dells remain in standby. Are there any settings to improve this behavior?" I too have a SP4 with two Dell Ultrasharp UH 24xx monitors. I think it is the best kept secret in the industry that the tablet to replace your laptop/desktop cant even figure out how to scale properly or manage multiple monitors. I also get to play desktop icon shuffle everytime i boot up since it randomly throws my icons all over the three screens at multiple different sizes/scales. Truly pathetic and embarassing if you ask me. This thing HAS become the ONLY device i use, however it is not anywhere near as good as it could be and i wish they would address these basic usage issues.

I will agree that working with a 1440p and two 1080p monitors can be really annoying. Issues with scaling and accuracy are something I'm constantly dealing with nowadays :/

I cannot for the life of me figure out why you have a GTX 1080 when you do most of your gaming on the Xbox One, it just seems like a waste of money to me. It's like garaging a Ferrari so you can take the Toyota out on the weekend.

I thought that myself. But it may be for video editing.

A 1080 doesn't really have the feature set to really affect video editing, it can certainly do it but it's not the purpose of the card. But hey, maybe he just wants the option, or maybe for revising or something.

Well the main reason I went for the GTX 1080 was due to a few factors. I was in a hotel room bored when the cards were about to go on sale, I needed a high end GPU for VR and I still want to play the odd games from time to time. In the end I pre-ordered the 1080 as it was a modern, high-end, future-proof option :P

That makes sense but you should really game on it more, all that potential, you can even still use your controller as I'm sure you're well aware of you prefer it.

I kinda built up the desk myself based on the size of my work space. It's made up of two desks from IKEA, where I purchased the table top and legs separately. Made it a pretty good fit for the room I had (:

I remember my three monitor setup. One of them was a CRT.

How do you connect and get your computer to recognize 3 monitors? I have two set up using an adapter (I dont remember what it's called) but don't believe it has the ability for 3 monitors. How can I look to make a 3-monitor setup ?

What graphics card are you using? My GTX 1080 has a surplus of DisplayPort connectors, but you might have to jump through hoops on older or lower-end cards.

It looks like I have an Intel Q45/Q43 Express Chipset (Microsoft Corporation WDDM 1.1). Chip Type: Intel 4 Series Express Chipset Family DAC Type: Internal Adapter String: Intel GMA 4500 Bios Info: Intel Video Bios Total Available Graphics Mem: 1695MB Dedicated Video Mem: 64MB System Video Mem: 0MB Shared System Mem: 1631MB

Depending on your GPU you may require two graphics cards to pull off three screens. All depends on the setup.

This websites' name should be 'Microsoft Central' as they only cover Microsoft stuff.

Nice setup, more pc gaming needed, however, I'm looking for zen next

Why did you mirror instead of extend the desktop across the monitors? Why would you want the same task bar replicated three times?

People want to reach apps faster, but forget the fastest way to access stuff is pressing the win-key. With alt-tab or win-tab, the only reason to have the bar always on display is the clock =)

The Dell 2515 is a superb monitor, I use one myself

This upside down GPU nonsense would drive me MAD. Matt, sort it out fella ;-)

Nice setup... I went with the i7-5820K and 32gb of DDR4 OC memory. The CPU is minor overclocked to 3.8ghz. I wanted go for more cores besides gaming, I run VM's on this machine (Vmware workstation) and I could be running 3 VMs (Win 7/8.1/10) and not feel any performce hit. I sitll have GTX780, it's still doing good, There is not a game out there that I have tried that I cant run in MAX that gives me a single studde(most games 70-80fps)r. So a GTX1080, is coming but, I might wait a bit as I dont need it RIGHT now. Stil only running 1 monitor (24" ACER IPS), I wanted to go to 2 but, that would suck for gaming, so it's 1 or 3 (FPS games, you would be on the split between the monitors)

Beam channel link in article is broken.
Windows Central Newsletter
Thank you for signing up to Windows Central. You will receive a verification email shortly.
There was a problem. Please refresh the page and try again.