Three new Microsoft Stores will open soon, no word yet on NYC flagship launch plans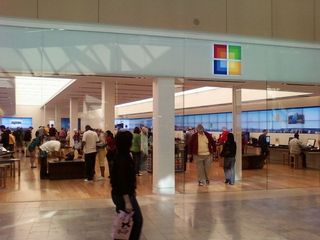 Microsoft continues to open new locations for its large retail stores in North America. The official Microsoft Store Facebook page was updated today with news on three openings that are happening soon. However, we still don't have any word on when the company's big flagship store, currently under construction in New York City, will open its doors.
On Thursday, June 25, the next Microsoft Store location will open at the Stonebriar Centre in Frisco, Texas, with the line to enter the store starting at 6:30 am. Microsoft says:
Microsoft will also open a store on August 6 at the Vancouver Pacific Centre in Vancouver, British Columbia, Canada and it will launch a store on August 20 at the Easton Town Center in Columbus, Ohio. Details about what will happen in those locations have yet to be revealed.
Microsoft first confirmed plans to open a big flagship store at 677 Fifth Avenue in New York City in September. In March, we went by the location and saw a massive green facade that covered up the construction. That was over three months ago, and Microsoft has yet to reveal the opening date for the location. However, there is a pretty major day for Microsoft that's coming up in just over a month. July 29 is the official launch date of Windows 10, and we wouldn't be surprised if the company also opened its big multi-story NYC store on that same day.
Source: Microsoft Store (Facebook)
In the Philippines there will be two stores to open i think. One in Megamall and in North Edsa.

Yes. I've heard about this as well. The Reseller store on SM North is this Saturday.

I work around the corner from the NYC location. The green fascade is still covering the building, but I walked by one morning last week when the door was open. It still looks like they have a lot of work to do. It is unlikely that it would be ready by July 29th, but I guess it is still possible. They would have to work some long days and weekends.

Dude, take some spy shots for us :)

Walked by again this morning. The door was open and it looks like they made some good progress inside. It is possible it could be ready in the next 5 weeks. However, not sure what they are doing on the facade. That might take some time. If they don't have it ready by the end of the July, maybe in August to be timed with a possible launch of a Surface Pro 4? Definitely by the fall with the launch of Windows 10 Mobile.

I work about 4 blocks from the NY location, I have been waiting for this to open so I can stop by.

Your avatar icon caught my eye. I loved Amused to Death -- great album. Roger Waters is a genius!

No word yet on U.S. flagship phone launch plans what? Lol!

I want a Microsoft Store in Amsterdam. But I want so many things in life.......

I like the dot in the BC. Like... That's so out of proportion lol

lol yea, try a little bit more in the corner haha But it's cool! Rarely get canadian mention nevermind Vancouver! Hopefully I can make it out to that one!

crap I'm away on vacation that day lol

When I saw the header, I thought that you got some rumors about when the new flagship phone where you also got some info about when they will show it! Someone who know when the next Microsoft event is? I'm "Bing'in it... lol

I need one really bad in Roseville, CA or in the Sacramento area

ZundleFire, the kiosk in the Galleria ain't all that bad, but yes, I'd love one in the plaza they are restructuring for the Kings downtown. Apple has stores in both Arden and Roseville and I'm in midtown.

I live in Bakersfield one of the biggest city's in California and we still don't have a Microsoft Store.Step up your game Microsoft ;)

I haven't had very good experiences at them anyway. I'm pretty all-in on Microsoft products, but just casually walking into Apple stores I've generally found their staff better educated. Brought my parents to the Microsoft store in Troy, MI last weekend to ask for information and the staff's opinions about the Lumia 640 and 640 XL and the rep said they were end-of-lifed and there weren't any more. My dad explained that the XL doesn't even launch on AT&T until this coming Friday; the rep walked away to talk with 2-3 others, then sent someone else over to talk with us, who basically just said to come back Friday and see if they have it. They did not have the regular 640, even though that is out on multiple carriers already. A few months prior at the Microsoft Store in San Francisco, I got in an argument with a store rep who insisted the HTC One (M8) for Windows had a 13MP camera and that the spec sheet was wrong :/

You know when would be a good day for NYC flagship store opening? July 29: Launch Windows 10, Surface Pro 4, free Lumia 640 with new laptop purhcase, and have a HoloLens Minecraft demo.

That'd be super legit. I can't wait for the news coverage for all that cool stuff at once.

This is what I was thinking as well. Since I work about 4 blocks away from it, maybe I'll see you there. :-D


Finally in Columbus! Saw the location for it when I went to see Mad Max. Didn't think it would taket that long to open.

I visited the Oakbrook, Illinois Microsoft store last week on a Friday afternoon and was quite disheartened at how empty it was. The Apple store nearby was packed :(

@antholyng That's no what I see in my area. You must have a lot of sheep in your town. Do you live on the mountain area?

I was only visiting Chicago. I live on the west coast, Vancouver BC. Apple people are everywhere though :D

Most of Microsoft's most profitable customers aren't retail, they're large enterprises and OEM manufacturers. Outside of the Xbox, Microsoft isn't really a retail brand most people have any feeling for one way or another. The Microsoft stores will eventually go the way of the Sony stores (most of the Sony retail stores shut down this past weekend, other than a handful of locations).

Unforutnately, your missing some very important information. The Microsoft stores represent MS' local connection to its users. The whole reason they exist is because places like Best Buy do a terrible job showing off Microsoft products. Everywhere there is a MS store, product and feature awareness goes up, so does customer satisfaction. There is a real value in these stores that goes beyond simply sales at the store itself. Don't get me wrong, sales are important, but just like the Apple stores, there is a big chucnk of value not related to sales at all. Plus, your claim about MS being more business focused and that being incompatible with their retail stores is off as well. MS stores are heavily involved with business customers small and large. Again, they are the local contact for support and products, giving companies much better access to MS. Retail stores make so many sales from business customers, allowing them to have such a consumer presence without as much pressure for sales. The idea being that consumer sales are the icing on the cake and they will grow over time thanks to the presence of the stores. Its all about changing the attitude that MS consumer brands are not popular. Well this is how you do it and it takes time.

That would be great if the New York flagship store opened on July 29th as I'm interning in NYC this summer!

I know where I'm going to be August 20!

RoTW needs some MS love too! How about in Regent Street, London... right opposite the Apple Store

I hope they open one in either Shelbyville or North Haverbrook!

That'll put it on the map

Finally moving back to New England soon and looking forward to hitting up the Providence MS store on a regular basis. A part time job there would be great for me!

So still no plans to build a store in Microsoft's birthplace. Like anyone even knows where that is (unless you live here.)

Yay, just moved to Frisco. Really want the HP Stream, what a steal!

Welcome neighbor! I live in Mckinney and plan on going to the store this weekend. No more having to travel down to North Park!

The first ever Microsoft Authroized Reseller Store in the Philippines opens on June 27th, 2015. ------------------------------------------------------ On that same day, Microsoft Philippines, will have an event on it's HQ called: "Windows 10: Unleashed"

I certainly hope this will help people see how wonderful all their products are, but it would still be nice to have a store near me. But I guess that's never gonna happen when I'm in a small town on the opposite side of the country...
Windows Central Newsletter
Thank you for signing up to Windows Central. You will receive a verification email shortly.
There was a problem. Please refresh the page and try again.