Flagship Microsoft Store on 5th Avenue in New York City inches closer to opening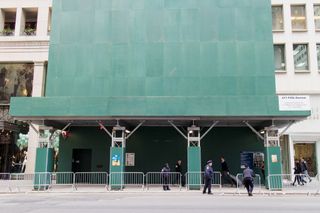 Back in September, 2014, Microsoft officially announced that their flagship Microsoft Store was finally heading to New York City. The location is to at 677 Fifth Avenue (Bing Maps) and is considered to be prime real estate in the city.
As expected, the site of Microsoft's soon-to-be-store is literally down the street – a six-minute walk – from the iconic glass cubed Apple Store.
The big question though for many is when will the store open up. No firm date is yet known, however, Microsoft is now listing the Store on its website (opens in new tab) as "coming soon".
The text on Microsoft's recently updated website notes:
Our own Mark Guim strolled down to the location to snap the photos for this article. You can clearly see the green façade covering the building as construction continues. However, it looks like all the heavy lifting is done with just tidying and setting up on the inside.
David Porter, the corporate vice president for Microsoft's retail stores, noted back in September:
The building at 667 Fifth Avenue was previously occupied by the famous Italian luxury fashion house Fendi in 2014 and it sports a reported 8,700-square-feet over two floors.
Back in June, 2014, Microsoft opened its 100th retail location. Since then they have added another dozen or so to their folio.
Needless to say, both the location and status of this store is massive for Microsoft. We are following its opening carefully as we are betting on an early spring ribbon cutting.
Thanks, Mak S., for the tip!
Windows Central Newsletter
Get the best of Windows Central in in your inbox, every day!
Daniel Rubino is the Editor-in-chief of Windows Central, head reviewer, podcast co-host, and analyst. He has been covering Microsoft since 2007 when this site was called WMExperts (and later Windows Phone Central). His interests include Windows, laptops, next-gen computing, and for some reason, watches. Before all this tech stuff, he worked on a Ph.D. in linguistics, watched people sleep (for medical purposes!), and ran the projectors at movie theaters because it was fun.
Unfortunately the slaves will still all go to the Apple store. In my mall hundreds of people are always in the Apple store and only a handful in the MS store. Although the MS one is better cause there's more places to sit and they give free soda and juice unlike the Apple store... Posted via Windows Phone Central App

The Stores I go to (Huntington, NY/Natick, MA) both seem to do a lot of business. Just depends on location, etc.

Idk, I see a fair amount in the 3 MS stores in Orlando, but apple is always packed, hard to navigate....maybe that is there idea.

I'm in Orlando too. :p Posted via the Windows Central App for Android

We could start a club ..lol

Up here in CT, The Apple Store in Evergreen Walk stays kinda empty. So location does matter.
Only 10-15 miles away, both Apple and Microsoft stores are crowded at Westfarms Mall. The one Windows Central used to post picture of when writing about Microsoft Stores, courtesy of me :P

The Apple store in the West farms mall is always packed.

Orlando here as well. Got my sp3 from Millenia and my band from Florida mall. Where is the third store?

Perhaps there is only two...I've been to both.

The question is how are their sales. We know that Apple is definitely making a killing, but how is Microsoft fairing in comparison?

Yep, same here in Dallas. The new Microsoft Store that opened at Northpark Center Mall last November had a fantastic opening and was fairly busy during the holidays. But if you go there now it's probably 1/3rd foot traffic compared to the Apple Store a few store fronts down the hall. The interesting thing about this is that this store is the biggest square footage of the Microsoft Stores in the country that is until the 5th Avenue Flagship store opens. While the Apple store at this mall has been listed as one of the higher revenue grossing Apple stores in the country and it's equally as big if not slightly bigger than the Microsoft Store at this mall. I live in a suburb just north of Dallas and I regulary visit the Microsoft kiosk at Stonebriar Centre Mall in Frisco. We're finally getting a full line store at this mall "coming soon". I'm interested to see how the traffic will be at this store because currently the Apple store at Stonebriar stays packed while the Microsoft kiosk is mostly visited by kids playing the Xbox demo. You'll see an occassional customer inquiring about the Surface Pro 3. However I feel once later this year when Windows 10 comes out, new Surface Pro 4, Window 10 phones and possibily Holo-lens are available that it should generate more foot traffic in the stores. Because let's face it; current Windows Phone aren't going to drive traffic. As for current laptops and PCs I feel that most people will think of their local Best Buy first based on perceived price savings. Same for Xbox One and Xbox 360. So that leaves the Surface Pro 3. Which I strong encourage my friends who are interested to visit a Microsoft store because I've seen how Best Buy reps handle customer inquiries about the Surface and it ain't good.

Bought my original Surface RT from that kiosk in Stonebriar. :)

Greg I'm in North Dallas and only have been to the Frisco Kiosk. Need to visit the Northpark location. I've seen/experienced positive customer service via best buy when asking about the SP3 though I have never asked about a Mac for comparison.

Well, I think I'm the only one holding a 41 MP into an apple store, and walk out in one piece xd

Get over yourself. Having a preference doesn't make people slaves.

So much doom and gloom. If you don't have a store then no one can visit it, but of you do them people can start visiting it. That's how you grow a business, getting your name it there's and having brick and mortar locations.

A bit dramatic, don't you think?

They are slaves because they choose Apple. What does that make you since you choose Microsoft? Lets leave the term slaves to peoples who have been enslaved, or are currently enslaved. Not based on which company an individual chooses to buy products from.

The one in Roosevelt Field mall (Garden City, NY) usually has a good amount of customers. Roosevelt Field also happens to be one of the biggest malls in the US (I'm pretty sure).

Yea Finally...Flagships to America:D

MS must be paying some crazy rent in this location. They should have a grand opening when W10 launches

Reportedly $3k per square foot in that area 0_o

That's crazy money, but they have it and will have more once the store gets up and running, I think it will really help in a huge way.

Reading the future never works out very well...

A store like this is never meant to make money, it is a marketing expense. It is hard to really value what it is worth.

Well, we can see Rodney's point...

Go and conquer New York, Microsoft!!

So what are they planning sell there???...last years flagship Lumia 930 and surface 3???

Whoa, nice zing man! Luckily they do not have OEM partners like Dell, HP, Lenovo, or Asus to lean on for dozens of new computers, the Microsoft Band, or that Xbox One crap!

Meh...i wanna see some flagships from Microsoft it self

It may disappoint you to know, then, that hardware is not a priority for Microsoft anymore. Nadella's words, not mine.

Oh..that sucks ..cuz I don't wanna walk around with an iPhone or an android phone

I'm convinced that in NYC, iPhone market share is upwards of 80-90%...... Literally, everyone I know has an iPhone..... But, I have managed to convert 3 people to windows phones, and I'm seeing a huge uptick in the adoption of SP3's across the Architecture and real estate professions. A lot of the people who have gotten surface pro 3's seem to be very interested in windows phones...... We just need a true cross platform flagship, that wipes the floor with everything else out there. C'mon MS, LETS DO THIS, TAKE OVER NYC!!

And yet MS is producing more hardware than any other time in their history...

Yep.
"Nadella said Microsoft doesn't think about mobile in terms of market share, or even a range of mobile phones; but about "mobility" instead. He continued, "If there's anything central about our vision, it's don't think of the device at the center, think of the individual, the people at the center."

Lackluster OEM PC that STILL can't get a trackpad right, fitness device that MS seems to be taking every possible step to prevent sales. Xbox is fine, but PS4 is better. Luckily they have a buttload of low end phones. MS news may pay your bills, but don't use the money to buy MS kool-aid. If MS doesn't do the hardware right itself, they will always be the punching bag on the consumer side.

No need to Be offensive. You tried all latest stuff? Probably not, chill out please.

I am not being offensive. I have tried "all latest stuff" butI look at the market as a whole. I was an MS engineer for 9 years, 3 of them on Windows Phone. I'm wearing a band, using a 1520. That doesn't mean that MS has a winning strategy. You can always get your brand enthusiasts to jump on board. Getting everyone else to join is the problem. Clearly MS has a problem that can be seen in their mobile marketshare. You can't just say "Go team" and expect it to solve all your product problems. MS has been making a half-hearted effort on the consumer side and it shows.

iOS still can't get an onscreen keyboard and cursor right (as of 8.3), how sad is that. Luckily they have a bunch of ill-informed mindless people who move at Tim Cook's slightest whim.
Gestures on Windows 8.1/RT/10 are miles ahead of iOS in UX and ease of use. The touch cover supports gestures too. I'm sure Apple will come out with their own lackluster version with the iPad Pro, but still manage to convince everyone that they invented it.

Well this is kinda a good point. All they have so far is last years' stuff to show off. I think a flagship store would have a great impact if it also kicked off flagship devices. Thus pointing out a flaw with Microsoft. Microsoft needs to start getting their timing much more synchronized, Surfaces should come late summer in time for Back to School sales, then Mobile devices maybe closer to the holidays. So far it's been pretty erratic, so no one really knows until MS says they're doing something. It would be amazing though if this store opened with a flagship devices to help get more attention. Make it the first store to sell that device.

Thanks!!..thats exactly what I meant ...but nobody seems to understand

Because you have no point. Lots of stuff to sell.

We were talking about high end stuff , not $100 plastic phones ...and yes MS has lot to sell , just not to a lot of people

Yeah, it doesn't make a lot of sense now but I expect it is getting ready to show off Windows 10 features. It could also be a very good showcase for HoloLens when that comes out. This part of Fifth Ave is near Central Park and is full of tourists - it is a great location if you have buzz-worthy products to show off.

They should have put it next to a TJMaxx in Newark and called it the affordable flagship store.

Haha and put the 930 in Tkmaxx as its last seasons stock...

No windows? Or is this a "cover" until they reveal the façade?

I mean...you need me to answer this? It is an exterior facade while under construction...

It'd be curious to see how the China stores are doing...

They don't have MS stores in China - they're only in 3 countries (2 major) which is an epic fail as Apple stores are all over the world in 16 major countries (http://www.windowscentral.com/ext?link=http2F%2Fclkde.tradedoubler.c... vs http://www.apple.com/retail/storelist/)

If they were closer to the Apple, Microsoft could've had Sick Puppies play "You're Going Down". The lyrics actually fit pretty well lol http://youtu.be/liW-kWFiXtQ

If not spring ish time, then I believe it'll open for a w10 event.

Nice! I think that people will start to see just how great the Microsoft OS's are for themselves, instead of listening to all of these clueless blogger's and idiots on YouTube..

The sign on the building says 677 not 667...

Wow! Next week I start working at NHL Headquarters in NYC and its only 6 blocks away! I'll definitely be there opening day! Daniel, will you come down for the event? I'd really like to meet you and your staff!

Yes, highly likely we will be there.

A job at NHL HQ? That's awesome, congratulations! Talk about a dream job. How did you score that? (Go Oilers!)

To be frank, I was headhunted. I'm a Senior Windows Systems Engineer with 18 years of work experience. I was working for a local college in Florida where I planned to end my career, but I've worked for NASA, Hughes, IBM, Ford, and did a lot of contract work for Federal agencies in D.C. A headhunter said someone referred me to them and they were interested in my experience. The next thing I knew I was on my way to NYC for an interview. 3 weeks later I had an offer in hand and started packing. Its a great opportunity and I feel really lucky to get the job. I'm going to prove my worth to them and hopefully be seen as a valuable team member. So thanks, I'm excited to start Monday.

Some day in the future I'll visit this store :)

One thing that baffle me though is why Apple can have store throughout most country and not MS store. And just look at MS band, do they only make a thousand at a time ?

I wonder too, but it's about location, and they have to scout those locations out, so I takes time. They're coming.

Apple started with the stores years before MS so they have a huge head start. Also, Apple is heavily dependent on their stores for distribution and support. MS distribution is mostly through OEMs and retailers so they are less dependent on their own stores. You can pretty much buy a Windows based laptop or Xbox anywhere. Apple products, not so much. Also, it is thought that MS band was mostly meant to be a proof of concept for the MS Health software platform (which is open to other hardware makers such as fitbit). MS Band was produced in limited runs for that reason. Due to it's popularity, they seem to be ramping up production now, but that was not the original goal.

MS needs more store fronts. Friggin everywhere. I mean there is a friggin Apple store in Halifax Nova Scotia of all the backwater places... Which is where I live... Come on!!

Europe needs it's Microsoft stores first anyway. The US got plenty.

"As our first flagship store", says Microsoft. I sure hope they open flagship stores faster than they release flagship phones.

Why rush it. Windows 10 is in Sept! They have lots of time to open the store.

Used to work around the corner from here. One things for sure: There are more than enough consumers to go around.

Let people go where they wish. Looking good Microsoft!

Come on Microsoft we need a store in the uk

Please hire employees who actually know what they're talking about. Been to a couple MS Stores, and one employee cited missing their Android phone because they can search their emails.... >.> Flagship store needs passionate, enthusiastic flagship employees.

Just like any store, you're mileage may vary. I've been to 4 MS Stores (Mall of America, Scottsdale Fashion Square, Christiana Mall, and Chandler Fashion Mall). All of the stores have been great for me. I stop in the AZ stores frequently. The people I've dealt with typically know their stuff surprisingly well (this is coming from a SysAdmin). It's the total opposite of many Best Buy experiences I've had (no upselling or making up details off the cuff). They know it or they'll get someone who does. It's a similar experience to an Apple Store and that's a good thing.

This reminds me. I was in my local Microsoft Store this past weekend, and working there was an employee with a severe hearing and speaking disability. But thanks to his handy-dandy Surface 2, he could still communicate and engage with customers. For me, it was a real life case of Microsoft "Empowering Us All." I thought it was super cool, and made me super happy that he could work retail despite having some disabilities.

That is awesome. Kudos to them on that. As a nerd, that would be about the most heart touching moment I could witness. I bet that employee was so excited to get that opportunity. I would like to work there on the weekends, myself.

I love Microsoft for this, great people, really.

I would love to get a job here. I dont mind working for a company I love.

one in Montreal Canada Please !!! I'd go for shure...

Grand opening to tie in with Windows 10 launch?

Please Microsoft, can you open a store in Paris on the Champs-Elysees.

Bring one to Montreal Canada

We need a Like Like button.

Open here in the Philippines. So most of our people would know that Microsoft not only within PCs.

Flagship store but no phone. Should wait until phone is out and available.

It would be nice to see a microsoft store in australia. We have apple and samsung speciality stores but no microsoft. It would be great to have a store where you could easily see all that microsoft has to offer rather than the limited offerings available at a few random stores. It sometimes feels like microsoft forgets about their users that are not in the US. My lumia still has not received denim.

Microsoft flagship store coming near you soon! I am waiting for a product announced @mwc that is coming.... Somethings never change!

The building has been boarded up since some time in January. It is around the corner from my office. They have to be targeting the grand opening for the official launch of Windows 10, so August - October timeframe.

I can't wait to visit the hollo-floor!

Windows phone is far more popular in India than in the US. Why not open one store here?

Its not just windows phone but yes I agree, they need to focus on the globe, they will get much more profit

If you think Msft doesn't support earopean countries you don-t even feel what it is like to not have access to Surfaces and other Windows Tablets, other Windows Phones not made by Nokia, they recently introduced Xbox 360 xD, and Office and Windows software being sold at a really expensive price. Such a terrible situation in Latin America.

Looks like I need to request a day off :p

It's the green store. All those nice windows are gone, I'm sure Micorosft could have used those windows for their store.

And still no flagship Lumia in sight. I know lets release w10 tp to an android phone.....

I'm sorry. I would like to be positive about this.
But people will always compare Microsoft's flagship store to Apple's cube and just going for a, relatively small, building that squeezes itself into a row of houses like that, will only do one thing for the brand: cement Microsoft's image as an also-ran.
But at least the green colour of the facade looks nice.

OH WHAT A LOVLY PLACE.... i hope i can be there!!! Microsoft Store in NY...

Hope it will be colorful!

Would be good to see one in London, especially one offering service and repair. The UK and eu need msft stores!!! But then I remember the Nokia store on regents street, London. It was opposite the Apple flagship store. It was empty most of the time after the Apple flagship opened ... Location is everything, msft can't compete head on with Apple. Put a funky msft shop in carnaby street, or maybe Neal street - somewhere funky but accessible. I trend to shop in Knightsbridge but that is far too high end and the consumer base is entrenched in the ios. Hmmm. Just come to the UK!!!

Ms shops are absolutely horrible here in Portugal. I Love the os but their customer service os awful

There's an Apple Store and a Microsoft Store at Chinook Centre in Calgary. Market Mall in Calgary has an Apple Store and is closer to where I live. I'd like to see a Microsoft Store in Market Mall too. Space is opening up now that Target Canada is closing.

What about Virginia, and Ohio?

any news on the open date?
Windows Central Newsletter
Thank you for signing up to Windows Central. You will receive a verification email shortly.
There was a problem. Please refresh the page and try again.