Microsoft will open its 100th retail store Saturday ... sort of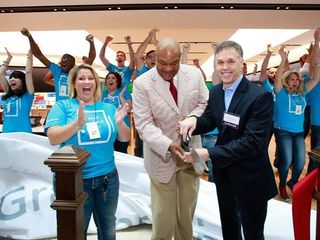 Technically, Microsoft will open its 100th retail store location on Saturday but that statistic combines the number of the larger main stores with the many smaller kiosk-like specialty setups that the company has opened as well.
Today, Microsoft celebrated the opening of its 98th store location at the Woodlands Mall in Woodlands, Texas. George Foreman was on hand to open the large store location. However, on Saturday, the company will open four more smaller specialty stores, and depending on how fast they open, one of them will be the 100th Microsoft Store. After Saturday, there will be 57 large store locations run directly by Microsoft along with 45 specialty stores, for a total of 102 locations.
For the record, the kiosks will open at the Staten Island Mall in Staten Island, New York, the Towson Town Center in Towson, Maryland, the Westfield Southcenter in Seattle, Washington and the Alderwood Mall in Lynnwood, Washington. Based just on time zones, it will be a race between the New York and Maryland locations as to which store will be the 100th Microsoft "brick-and-mortar" location to open.
All four of those stores will offer people who show up on Saturday a special sale on the 8-inch Dell Venue Pro 64GB tablet. It will be priced at just $129, while supplies last.
Microsoft opened up its first retail store in October 2009 in Scottsdale, Arizona and launched its first store in Canada in October 2012 in Toronto. So far, the company has yet to open any stores outside of North America.
Do you live near one of the four new specialty stores that Microsoft will open on Saturday and if so do you plan to show up on that day, perhaps just to get the cheap Dell tablet?
Source: Microsoft Store (opens in new tab) and MS Store on Facebook
Well, its hard to sell in-store only tablets outside of the store, after all.

Aren't all Nokia stores now Microsoft stores? Nokia stores are outside USA and MS stores are in USA.

MS, open a store in India please!

At least in Bangalore coz that's a Microsoft and Oracle city

Don't you guys have Nokia stores there? Aren't they now owned by MS?

Nokia Store will become Microsoft Store around the world?

Brazil Nokia's factory here changed their name and brand for Microsoft last month.

Is that George Foreman? It looks like he's cutting that other guy's hand.

Yeah it does. Ow. However, a thorough examination reveals that it's merely an illusion caused by the bottom of the guy's coat just happening to be positioned and shaded so as to look like the other blade of the scissors.

He should be grilling his hand.

lol, see what you did there...

Awesome. Just found out last week that Microsoft is rumored to have applied for permits for a 2500 square foot space in Lakeview Mall here in New Orleans. I hope the rumors are true!

Can't find one in Pakistan >_<

And some in key cities from Romania

How about bringing something to Columbus and Cleveland in Ohio. Both cities have had 2 Apple stores for years.

There's one here in Cincinnati... Don't know if it is just a kiosk or not... Just moved here, but waiting to have money before I check it out...I hate window shopping!

I've been to the one in Cincinnati. It is nice. Just kind of strange that it's the only one in Ohio.

There is one in a mall on the east side of Cleveland. I just visited it late last month. I will look up where exactly. Edit: It is at the Beachwood Place mall. Posted via the WPC App for Android!

You prefer Windows shopping?

I've been to the kiosk in Knoxville, Tennessee at West Towne Mall. They have two Xbox Ones, the Icon and 1520, and the Surface Pro 3 on display. Would love a full store in town, but hey, this is better than nothing.

Damn, that's a great deal on the Dell Venue Pro!
it'd be nice to see Microsoft open full retail stores around the world. As much as I like the kiosks, they never really have stock on hand. And, before someone says to just use the website, I move around too much to actually order anything online.

I will be going this Saturday to the one at La Cantera for the Summer Surface event. I'm so getting a Surface Pro 3 or the trip to Hawaii seems nice too

How come there isn't a MS store in the UK....

I was at the opening for the store in Garden City Long Island last weekend and they were selling a 4GB Xbox 360 for just $99! They always got CRAZY deals going opening day... Lol =P

Was there too! Way too long wait due to the cross promotional Demi Lovato concert which placed hundreds of fans in the same line. Ended up with two of the Dell tablets so mission accomplished.

You could buy Demi Lovato?!?!?!? Omg that would be fun

If you call fun standing in line for 4 hours (no sitting, security/fire marshal made everyone stand) for a parking lot concert for 10 yr old girls, who am I to judge?

I'm still waiting for Microsoft to open a real store in New York City. A mall kiosk in the largest city in the country is kind of sad, especially considering the 3+ stores Apple has in Manhattan alone. :(

I'm from Staten Island and see the advertisement outside the mall for the store, but I'm curious why Microsoft wouldn't reel in an artist like Demi Lovato for an opening in NYC rather than the other New York location... seems like poor marketing to me...

There's one in San Juan, P.R. In plaza Las Americas.

Oh yeah, and that's.. Hum... Yes, on USA..

shame on you MICROSOFT for not having a store in most other countrys... its sad very sad. wake up there's billions of people waiting! at least an online store for the whole world...

Why are there STILL so few stores? :'(

There's not even one outside of North America.

Why not KoP? The largest mall in America is expanding, and I would expect MS to apply for a store in the new expansion area.

How about bringing a store in downtown Detroit, so I won't have to drive an hour away to the Microsoft store in Troy,MI

I wish they would open a full store here in Pittsburgh. Apple has 3 in the area. I had thought the Microsoft speciality store in my area had closed but it appears to be listed again now so that's good if it reopened.

NYC is basically the most important city of the americas. and MSFT only has a crappy kiosk there. what gives?

My guess is they want the right location, and good retail space is real hard to come by in NYC.

Hey, will you edit this article, and change the name of the city to "The Woodlands" not "Woodlands". The original editor changed it once, but he still forgot "The".

Oh, and it's "The Woodlands Mall", with an uppercase "T". Thank you.

I always think "Poor Mary Jo Foley" when I am reminded of this.

The Woodlands is a township in the Houston metropolitan area, and is a very wealthy one at that. Don't underestimate the potential of this new store, and it's location. With The Woodlands becoming a center for entertainment in the Houston area, and informally labeled by some as a second "Hollywood", it is an ideal location for a Microsoft store in one of the nicest malls around Houston.

http://woodlandsevents.com/stage-screen just a cool read.

That should be The Woodlands Mall, and not the Woodlands Mall. The area itself is called The Woodlands. :)
Yes, I know because I'm only a few miles south of it.

Right on. I notified Daniel above. Hope he gets the message. They can't butcher our wonderful township's name!

Will the Nokia stores become Microsoft stores? If so, we would see a couple Microsoft stores around the world and not only in North-America

Yes, they should absolutely do that but I don't think they will. I think the Nokia Stores will only become Lumia Stores not Microsoft Stores ;-((

Wanted to buy my Surface 3 and Accessories at the Microsoft store in Indianapolis. I walked into the Best Buy right by my house and I explained I was Military and Microsoft would give me 5% discount on the Surface and 10% on all accessories. Best buy price matched as best they could. I walked out of Best Buy with the 128Gb i5 Surface 3, black keyboard, Arc Touch Surface edition mouse, and soft case for $1268 after taxes. The county where the BestBuy is 2% less sales tax than the MS Store as well. For example, my receipt showed that I paid $86 for the keyboard instead of $129.

When will it come to other country...

Look at all these stores I can't visit. Like, if this happened here, I'd have waited in line and I would grab a couple of those tablets.

Now I'm waiting for a George Foreman grill that will be Internet connected to my Windows Phone. We'll always know where the beef is.

Need one in Jamaica ASAP as Samsung is already here!!!!

Samsung Stores are already all over the globe. Sad thing about it is, you can't seem to find Samsung Windows Phones and Samsung Windows Tablets in them, just Android ones.

Microsoft store for rest of the world is still missing! WE LOVE YOU MS!

Why is the pictured shown photo shopped

Fat people... Burger maniacs... Of course USA :D

So, europeans pay more, buy more, then the us citizens, but they still get all the attention...

Bring em to the UK kick some arse!

I'm sorry but those"specialty stores are a joke. Why don't they just open a regular store in the mall. I went to one of those stores and all they were selling was Xbox and Surface machines. That trip was a complete waste of time and effort. Microsoft open real stores especially when there is a Apple store in that same mall that is fully featured.

There is one opening in Northpark mall in Dallas.

Not that it matters, but the city name for #98 is actually "The Woodlands, TX" not "Woodland, TX". #WeirdButTrue

I really enjoy the Newark, DE store.

That being said I wish there was one closer for the Philadelphia suburbs, like the Exton Mall or Concordville Mall.

Another store in the US ? Microsoft please open stores all over the rest of the world . Much bigger market then the US ....

Germany needs one of those Stores!

Good to see. And real people too. Not these brainless fashion victims with nasty attitudes that they use in the apple stores. Ever spent nearly three grand in a store and been treated like poo on a shoe for asking a tech question? No? ..go to an apple store.

It's "The Woodlands" Texas, not "The Woodland". I know because I basically live there.

It's very sad to see how poorly MS stores are doing compared to Apple stores. Like 10 to 1 in business.

Even before Microsoft started opening up stores in the U.S., Windows has always been dominant there. It seems all these new shiny stores haven't added anything to increase the figures of Windows at all. And they haven't added to the increase of WP sales either. Maybe they should change direction and start opening these stores off-shore instead of the U.S. and maybe it might greatly help the sales of WP overall. After all, Microsoft is really doing better elsewhere than in their own country.

Can i use PayPal to buy Microsoft products?

Anyone know how many is typically included in that "while supplies last" disclaimer? I mean, is it 20? 30? #crowdbait
Windows Central Newsletter
Get the best of Windows Central in in your inbox, every day!
Thank you for signing up to Windows Central. You will receive a verification email shortly.
There was a problem. Please refresh the page and try again.