Three UK adds carrier billing support for the Windows Phone Store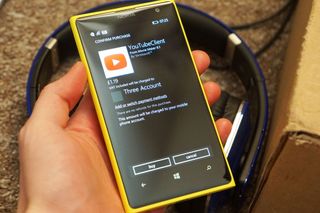 Carrier billing is a useful feature for those who wish to purchase content from the Windows Phone Store and be charged through their operator. Three UK has added support for Microsoft's mobile platform.
The company confirmed the addition of carrier billing on Twitter earlier today.
Check out the changes on the Windows Phone Store, and be sure to let us know how you're getting on with carrier billing in general (should you be using the feature).
Thanks, Dan M., for the heads up!
Rich Edmonds is Senior Editor of PC hardware at Windows Central, covering everything related to PC components and NAS. He's been involved in technology for more than a decade and knows a thing or two about the magic inside a PC chassis. You can follow him over on Twitter at @RichEdmonds.
This feature is my favorite, even though it is not yet available in my country :(

Right? It's a brilliant feature. Just wish Idea wasn't the only telco doing this in India.

Hello "Maroc Telecom" can anyone hear me ?!

It may as well not be available on Three - they have become the worst WP carrier of all the UK networks and major MVNO's. They don't even stock anything higher than the 635 now, it's been a few months since they dropped the 735 and 925.
I love three and have no intention of ever leaving but their support for WP is appalling to say the least...

Totally agree and actually did leave Three because if this!

Precisely, I am leaving them as well as they don't stock 930 and they are very slow to update windows phone software. They were the last carrier in UK to update BLACK and last one to update DENIM, just got it few days ago.

Just got denim on my 920 ;) Does this carrier billing feature only work if I have a 3 simcard? I have a 3 UK 920 (unlocked) with a different sim

I presume you will have to have a contract with 3 and pay monthly fees as any purchases you make using this service will come through your monthly bill.

I agree. My contract for my 1020 ends in a few days with EE, and I think I'm going to buy a sim only one from Three. How is the service? It saddens me that they do not have many WPs, in case I do decide to buy a phone from them.

Do what I do - buy your own, unlocked phone and have a SIM-only contract. It can work out cheaper and is certainly more flexible.

Agreed! Same here. Worked out more than £200 cheaper for someone I knew (if they kept their phone for 24 months)

Cool. This is a great move. UK folks are gonna find it useful.

ChickenTikka
Naam mast hai bc :P:P

Off point... I know. I just want a windows phone with a finger print scan. It will be gorgeous with windows 10.please Microsoft...

Well I need lights like in Xperias. Everyone needs something.

This was confirmed in winHEC conversation..

I want one with a rocket launcher

This actually showed up on my phone last week - between two purchases!! I bought one app and it didn't come up as a pay option, bought another about 45 minutes later and there it was.
This is good to see and I much prefer this way of paying for things.

I have a 3 UK 920 but it doesn't show up. Do I have to have a 3 sim? Coz my phone is 3 UK but I have a different sim

Yes, of course you need a 3UK SIM; otherwise, how would you be billed for the app purchase?

I misunderstood how the system worked. I thought it had something to do with your phone rom, not sure why. Thanks anyway :)

Wow three done something for Windows phone, they have none of the new phones since the 735 Posted via the Windows Central App for Android

They are absolute garbage for windows phones. However, they have just bought out 02 and having looked at their site I have seen other Nokia phones, so hopefully!

when in Ind....ops. I mean Malaysia. this might be useful to people that doesn't have debit/credit card.

We need carrier billing in Malaysia, definitely.

I use DIGI Prepaid to buy apps since N8 era

Its already in India... Sometimes we Top the CHART

Indonesia have it since wp7 lol

Can i get a prepaid card with them and have all you can eat data abroad for lets say - a month

Is this related to the O2 buyout? O2 have been doing this for a while, they started sharing development already?

Install Paypal app and add it to your wallet apps. Works a treat and you get your email confirmation from Microsoft and PayPal so you can keep track of your purchases (can also be checked via your app history, I know).

Awesome. It's a shame that Three in my country is the worst nation-wide mobile operator. Can never expect to get same quality and service as Three UK or Australia.

On my place telkomsel is the best. They support all platform equally. Most of it share owned by goverment anyway

I hope it comes to third world countries the soonest...just like the Philippines...where most people like me could not avail of credit cards.. It is whats hampering my wp experience, aside from the lack of apps like CoC... But im a wp fanboy so i could take it. :D

Will it affect other countries? If so, i get back to use three

It's so nice they finally introduce carrier billing in lesser developed countries...

Finally.. Had carrier billing with O2 and was missing it after moving to three.

Wish we have same in Ghana with MTN

Maybe they could add some bloody phones :( due upgrade March and no 930, no 8 series, all they had was 735, 635 and 535.... And now 735 is gone and 635 is out of stock online... So only phone they can offer is 535. And guess what????? 640 hasn't arrived on three (its on the other UK providers).... So pissed off as all other retailers inc smaller ones like talk talk had 930. Three better smarten their act as if no arrival of 640xl and I'll walk with my 920 and just get a giff gaff sim... Come on three sort your act ;)

Just get you phone from Carphone Warehouse and put a 3 sim in it. Posted via the Windows Central App for Android

You do realise a high end phone from Carphone warehouse costs quite a lot of money so isn't really comparable to an upgrade. If I was gonna do that I'd just go to giffgaff but tbh looking after a disabled son full time means very little money so its upgrade or nothing ;)

Ok I lied 640 has landed today so hopefully XL will follow.. Now if they would just add visual voicemail ;)

Be nice if three enabled WiFi calling like EE have

Three already have three In touch WiFi calling feature on android and iOS windows phone version coming soon... Posted via the Windows Central App for Android

Here in Philippines, some games offers in-app purchase using carrier prepaid/postpaid load.. Maybe it's just a matter of time when they fully utilize these kind of feature..

Where for you get the skin for the headset??

On Brazil, just Claro have it. :(

I can't seem to pay for anything using my three account, I tried to get tubecast pro but it came up with a message saying something along the lines of "sorry were having trouble connecting to Microsoft store right now". Can somebody help
Windows Central Newsletter
Thank you for signing up to Windows Central. You will receive a verification email shortly.
There was a problem. Please refresh the page and try again.