If you're planning on heading outdoors and hitting the trails at all this summer, one thing you should always keep in your pack is a water filter straw. These handy devices are packed with filters to remove 99.99999% of waterborne bacteria, making water you find in lakes and streams safe to drink whether it's clean or dirty at first. You've probably already heard of the LifeStraw if you're an avid outdoorsman (or woman), but if you're looking to save a bit on the purchase of such a device, then it's time to consider the Etekcity Water Filter Straw. It's usually priced right around $18 just like the LifeStraw, but today you can snag one for only $9.99 by entering promo code YKIL47JL during checkout at Amazon. That's a small price to pay for something that could end up saving your life one day.
H2Oh Yeah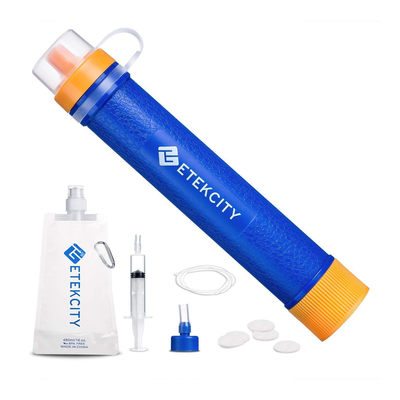 Etekcity Water Filter Straw
This compact device features three integrated filters which work to eliminate 99.99999% of waterborne bacteria, and using the code below can save you nearly 45% off its purchase.
$9.99 $17.99 $8 off
This tiny water filter straw is equipped with a pre-filter, an activated carbon filter, and a hollow fiber UF membrane inline filter which help to remove waterborne bacteria such as E. coli, salmonella, and cholera. It's been tested by the Tavy SD Institute to ensure it meets EPA Water Quality Standards and comes with a foldable water pouch, a longer straw attachment, and a syringe for cleaning. It's easy to set up with standard hydration packs too and can provide up to 1500 liters of safe drinking water before needing to be replaced.
Nearly 450 customers have left a review for this product at Amazon resulting in a rating of 4.4 out of 5 stars.
Cyber Monday Deals:
Check out more Cyber Monday deals:
We may earn a commission for purchases using our links. Learn more.