Throne Together goes full Xbox Live on Windows Phone and Windows 8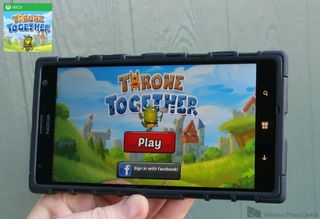 Just last Tuesday I lamented the lack of Xbox games for Windows Phone, and the hurdles that led to their scarcity. Maybe somebody up in the clouds at Microsoft heard gamers' prayers, because today we have a new mobile Xbox game to play! Coincidence? I think not.
Throne Together from Rogue Rocket Games (who love answering emails) and Microsoft has fully launched on Windows Phone 8 with Xbox Live features at the ready. The game soft launched in certain territories in January, but without Xbox Live support. The Windows 8 version picked up Achievements about two weeks ago, and now both versions are all caught up. They're also free to play, so they won't break the bank. Impressions and Store links after the break!
Game of Thrones
Throne Together is a block-stacking puzzle game. Each level starts out with a partially constructed castle. The player's job is to add various shaped pieces to the castle without causing it to fall down. Put too much weight on the lower pieces and they will develop cracks or even break, so you need to distribute the weight evenly.
To place those pieces, tap and drag them down from the top of the screen. Tapping without dragging will rotate the piece. Let go of a piece and it keeps falling on its own. The pieces come in many shapes and sizes, not just squares and rectangles. Players will also unlock special pieces like doors and windows that provide bonus points when placed in specific locations.
Initially you'll have only one piece to choose rotate or place on the structure, but eventually you get to choose from several pieces at a time. Only pieces that touch the castle's throne or connect to touching pieces will contribute to your score.
By completing a level's objectives and reaching different score milestones, players will beat the level and earn up to three stars. Some of the early objectives include reaching a target size, reaching the target score, and using a specific number of blocks. You'll need to earn three stars in all 65 levels for an Achievement, by the way.
In-app Purchases
Throne Together is monetized in a few different ways. It uses the same life system found in Frozen Free Fall and Candy Crush Saga. Failing a level makes you lose a life. Lives take time to recharge. Run out and you'll either have to wait for more or pony up for an In-App Purchase. Thanks to Facebook integration, players can also ask their friends for extra lives.
Players can opt to purchase limited-use boosts in order to make levels easier. These take time to unlock. The first one you'll get, cement, strengthens structures and reduces their chances of crumbling.
Also, the Windows 8 version has ads that players could pay to remove. But I haven't seen them in the phone game yet. Maybe they show up farther into the game, or maybe they're gone.
Facebook and cloud support
When you first start the game, you'll be asked to sign in to Facebook. The Facebook connection allows players to send each other lives and little notes about who likes who and how mean the teacher is. Well, maybe not the notes. Unfortunately, the Facebook feature (for me at least) is broken at launch. I get an error message when I sign in, so I can't connect to it. Shouldn't the soft launch have caught that?
On the plus side, Throne Together does support cloud saves – just like every Xbox Windows Phone game should. Even better, progress is shared between Windows Phone and Windows 8. That's how you dual-publish a game.
Throne Together – Windows Phone 8 – 29 MB – Free – Store Link
Throne Together – Windows 8 and RT – 42 MB – Free – Store Link

(opens in new tab)
Thanks to TNTJudbud and "John Lampard" for the tip!
Windows Central Newsletter
Get the best of Windows Central in your inbox, every day!
Paul Acevedo is the Games Editor at Windows Central. A lifelong gamer, he has written about videogames for over 15 years and reviewed over 350 games for our site. Follow him on Twitter @PaulRAcevedo. Don't hate. Appreciate!
What's the difference between Xbox live integration in WP games & apple game center ? Thanks :)

If your fond of earning achievements clearing the stages of the game then ppl prefer xbox live games. If u able to clear stages u might get some gift coupons to enroll for gold multiplayer membership which is outstanding feature of xbox. While game centre is also the same on iPhone but its not that fascinating compared to xbox live games. So #savexboxwp.

Clear stages to get gift coupons...what? Xbox Live has never done that before. At least not as a regular feature. The closest thing you get is if you manage to get something like over 50,000 gamerscore (the equivalent of at least 50 fully 100% completed retail games) you'll get a measly percentage back from what you spend in the future. It's barely worth it.

I noticed that on Windows some days ago. A nice surprise indeed!

Want assasins creed pirates with Xbox live. Ill definitely buy whatever may be the price. Such genre of game is a blast on WP compared to modern combat which is meant for consoles and PCs.

Which is the phone on the first image?

Defo 1520 i think too. Once you view/play games on that beast nothing else will do ;).

Yep, it's a 1520 in a MiniSuit case. :)

Lumia 635 launched in India with wp8.1.Im getting such rumours

Can you ask the person who said this to jump off the terrace?

I guess I'll have to check it out.

Haha,nice article Paul(as usual),you put my tipster name in inverted commas by coincidence??I think not. :P (Though you spelt it wrong,no matter,like I told you it isnt my real name anyway. :D ) EDIT:-Thanks for fixing it :)

Heh, I was in a hurry to take my son to school. Yep, those are quotation marks. ~ ~

MS released many Xbox Live games in the Windows 8 in the last couple of months.
Hope some find your way to WP8 as well... And I still dreaming with Tipetiles become a WP8 title.

Installing now. looks interesting. Paul, you are on fire lately with the reviews, please keep them coming!

Game launched in January and for Xbox Live it took 2 months....

No, it soft launched in January. Big difference. It's just a way to test bugs before fully launching. The delay was not because of Xbox integration. This game was published by Microsoft Studios.

Fb works for me. It has always been flaky though. On both versions. I also noticed the game is very sluggish and laggy on my phone (1020) while It runs buttery on Windows 8...

Do you have to use Facebook to swap extra lives with friends, or can you simply use your Xbox Live friends list? If only the former, that is odd, no? Microsoft should be encouraging use of their social networks, not Zuck's--especially since everyone playing this game technically has an Xbox gamer tag but doesn't necessarily have a Facebook account.

It has to be Facebook, which stinks.

Yep, will never get that achievement, this whole Facebook stuff is just annoying and makes no sense.

In fairness, it's easy to create a Facebook profile that you just use for games and offers that require it. I'm just annoyed with this one because the integration is buggy and won't work for me.

Regardless of how easy this is, you still need 5 friends...my point is, they should just use the Xbox friends list, which makes a lot of sense obviously.
Will never get that achievement, don't love it!

Facebook sign-in works fine for me. However this game looks shitty on a 480x800 screen.

Does the achivements sync between both versions?

The Achievements stack, so you plan get 200 Gamerscore from each title. The Star-related Achievements will pop automatically if you've earned them in another version, but the rest have to be repeated.