Microsoft soft launches Throne Together for Windows Phone and Windows 8, Xbox features to come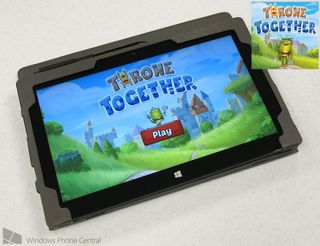 If there's one thing Microsoft hates, it's for consumers to know about an Xbox Windows Phone or Windows 8 game before that game is released. You'll recall that a slew of Xbox-branded games for mobile Windows platforms popped up at the end of 2013, most of which had never been announced or publicized by the platform holder.
Still, a sharp-eyed tipster has discovered a game that could be the next Xbox release for Windows Phone and Windows 8.1/RT: Throne Together from Rogue Rocket Games and Microsoft Studios. Throne Together has already soft-launched in certain countries. At first glance, it appears not to be Xbox-enabled. But Windows Phone Central has confirmed with the developer that Xbox is definitely in this game's future.
Throne Together is a fun and free little puzzle game. Head past the break for instructions on how to get it, plus our hands-on video!
King of the castle
We haven't written about Rogue Rocket Games before, but the indie developer has previously released a few games you might recognize: Xbox-enabled Gunpowder for Windows 8 and non-Xbox SushiChop for Windows Phone and Windows 8.
Their latest game involves building castles. Each level starts out with a partially constructed castle. The player's job is to add various shaped pieces to the castle without causing it to fall down. Put too much weight on the lower pieces and they will develop cracks or even break, so you need to distribute the weight evenly.
To place those pieces, tap or mouse click and drag them down from the top of the screen. Tapping without dragging will rotate the piece. Let go of a piece and it drops straight down. The pieces come in many shapes and sizes, not just squares and rectangles. Players will also unlock special pieces like doors and windows that provide bonus points when placed in specific locations.
Initially you'll have only one piece to choose rotate or place on the structure, but eventually you get to choose from several pieces at a time. Only pieces that touch the castle's throne or connect to touching pieces will contribute to the player's score.
By completing a level's objectives and reaching different score milestones, players will beat the level and earn up to three stars. Some of the early objectives include reaching a target size, reaching the target score, and using a specific number of blocks.
Free to play mechanics
Being a free to play game, Throne Together is monetized in a few different ways. One of those is advertisements, which will show up during menu screens after players have completed the first few levels. No biggie. The ads will presumably be removable via an In-App Purchase, though the option to do so doesn't work yet.
The game also uses the same life system found in Frozen Free Fall and Candy Crush Saga. Failing a level makes you lose a life. Lives take time to recharge. Run out and you'll either have to wait for more or pony up for an In-App Purchase. Thanks to Facebook integration, players can also ask their friends for extra lives.
Finally, players can opt to purchase limited-use boosts in order to make levels easier. These take time to unlock. The first one you'll get, cement, strengthens structures and reduces their chances of crumbling.
Prince Charming
Even though Thrown Together is a relatively simple puzzle game involving stacking blocks together, the developers have managed to instill the game with more style and personality than you'd think. The dragon assistant Fidget always sits above the score box at the left side of the screen. Not only is he very well drawn, he also animates according to whatever happens on-screen – sort of like the Peggle Masters in Peggle 2, though not as silly.
Upon completing a level, the game tallies up various bonuses based on the castle structure and then awards an overall star rating. During that tallying process, a delightful cartoon monk pops up and performs the calculations. The style used on the monk and dragon reminds me of French cartoons like The Triplets of Belleville.
To Xbox or not to Xbox?
Look at Throne Together's Store page and you'll notice a distinct lack of Xbox branding on the game's icon. Play the game itself and you won't run into any Xbox dialogue or Achievements either. So like I said, it certainly appears not to be an Xbox game.
Appearances can be deceiving though! The Windows 8 Store page clearly shows a screenshot with an offline Xbox profile at the top corner of the screen. That alone proves that the game either will be Xbox-enabled or was planned to be at one time.
Remember also that Microsoft is publishing Throne Together, just like they did Rogue Rocket's Gunpowder – a game with Xbox features. Microsoft requires most indie games to be published by either the Microsoft Studios label or an existing major publisher in order to be Xbox-branded.
The big MS also seems to have funded this game's development on top of publishing it. Throne Together is very likely the publisher-funded game that the developer blogged about back in August.
That's enough beating around the bush. We contacted the developer, who responded: "[both Windows Phone 8 and Windows 8.1] will get Xbox Live-enabled versions of Throne Together very soon." So Xbox Live is definitely happening!
That leaves a question, though. If Throne Together is destined to be an Xbox Windows Phone and Windows 8 game, why doesn't it have Xbox branding on its Store icons and in-game right now?
Earlier I said that Microsoft doesn't like for (non-console) Xbox games to be announced or outed prior to their release. That way, nobody can get excited about a game in advance. Seriously, their mobile gaming PR is so messed up.
Soft launching the game without its Xbox features could certainly be a strategy for keeping that Xbox status under wraps. When the official release rolls around, the game can be updated with the Xbox features that so many gamers crave.
Soft launch
As we explained back when AlphaJax soft-launched on Windows 8, a soft launch is when a game releases in smaller territories prior to its official release. This is done to bug test the game in a live environment and gather player feedback ahead of the official launch.
The Windows 8.1 version of Throne Together is currently available only in Canada, whereas the Windows Phone version soft launched in Sweden (according to one of our readers). So you'll need to change your Windows Phone or Windows 8 device's region to one of those countries in order to download it. Because the game is free, you won't run into payment issues.
On Windows Phone 8, you can find the Language + Region menu under Settings. On Windows 8, you can choose Settings from the charm bar. Then select Change PC Settings/Time and language/Change Region Settings. Don't forget to change the device's region back to your actual region after downloading the game.
Throne Together is quite a unique and clever puzzle game. Fans of the genre should definitely grab this one when it becomes officially available. If you can't wait, here are the Store links. Remember, you'll have to use region-switching trickery to get it before the proper launch.
Throne Together – Windows Phone 8 – 28 MB – Free – Store Link
Throne Together – Windows 8 and RT – 41 MB – Free – Store Link

(opens in new tab)
Thanks to TNTJudbud for telling us about the game!
Windows Central Newsletter
Get the best of Windows Central in your inbox, every day!
Paul Acevedo is the Games Editor at Windows Central. A lifelong gamer, he has written about videogames for over 15 years and reviewed over 350 games for our site. Follow him on Twitter @PaulRAcevedo. Don't hate. Appreciate!
Xbox for WP is dead, accept it.

I guess u can say that when even the company that implemented it doesn't use it. Then again, the article did say more to come....

Even Microsoft releases games for WP8 without Xbox live...that's the final hit for Xbox on WP. (btw I didn't read the article so if there will be a future update that is mentioned in the text about getting this feature, sorry for complaining)

Surely the headline itself isn't that hard to read. :-\

Lol, i think you may need to expand on soft launch Paul ;)

Regardless of future plans, releasing the 'beta' version without Xbox support under the Microsoft umbrella just does not look good no matter how you spin it.

It's definitely a little weird, but the developers confirmed it has Xbox support coming, so...

Oh my God... I really embarassed myself ...need more sleep...and sorry guys :)

I'm in Canada and when I go to download it I get the dreaded no permission to download error

Weird, the Canadian region worked fine for me.

Note the Version is Beta 1.0

Hey Paul, which kind of skin are you using?

MoKo Detachable Rotary case - I reviewed it a while back.

Weird. I am running the GDR3 preview on my 920, maybe I'll give it a shot on my wife's 8X

I swtiched my region to Canada and still get the no permission like you... trying Finland.... UPDATE: No dice on Finland either.

Which device did you use, and which country did you switch to?

No luck with 920, pre-black, in US tried Canada, Finland and Sweden.

Worked on Surface RT 8.1 Canada region.

I don't have permission to download the app apparently.

My god, your hands/forearms are hairy.

Hopefully it will be Live enabled!

With no Xbox support I guess you can say that this game... (•_•) ( •_•)>⌐■-■ (⌐■_■) was thrown togther.

Yeeeeeeeeeeeeeaaaaaaaaaaaaaaaaaaaaaaaahhhhhhhhhhhhhhhhhhhhhhhhh!!!!!!!

Hahahahahahahahahahahahahahahahahahahahaja

It says I don't have permission to download it in the US

No one who read the article could have predicted that.

missed that section sorry

Forgiven for what? Sorry, I didn't read his comments. :P

No permission to download app in either Canada or Finland,dunno how you downloaded it,Paul.

Which device and OS version are you trying with? I downloaded it via a Surface Pro with Windows 8.1 just last night.

NL 620,wp8 gdr3 dev preview.

Nice work! =) "a sharp-eyed tipster" lol

WP app is available here in Sweden, but not the Win8 app :/

Cant download..lumia1520 uk

Nice game. Any news about tr2 and san andreas for 512 MB devices??

I'll be waiting until it gets XBL added. Wouldn't want to play the game for awhile and find out that achievement progress doesn't count.

I downloaded (so it shows I own it) but, I will uninstall it till we see Xbox achivements for it... #SaveXboxWP

Not licensed for Pakistan...annoying

Hmm, I am located in Canada and I don't have permission. Using a Lumia 1520. Bummer

"View in Windows Store" doesn't link to game. D'oh.

Getting word straight from the developers that this will be Xbox enabled should calm my nerves, so why am I still worried about it? Perhaps because this is the first time that Microsoft Studios has soft launched a game without Xbox branding from the get-go, right? Unlike some of their other soft launches like Hexic (Win8), Bingo (Win8), and WSOP: Full House Pro (Win8). I suppose Paul may be right that they did it differently this time because, for some odd reason, they don't want gamers to know about an upcoming Xbxo game until it actually launches--although, if the developer is free to confirm it is Xbox enabled then that kind of defeats the purpose of that. #SaveXboxWP

Actually just like alphajax soft launch by microsoft studios no-xbox live. then later the full release still just published by MSS. Keyword being Published by: not devoped by..

Interesting. Didn't know AlphaJax soft launched without Xbox. Glad to know there is precedent.

Downloaded fine on my L521 in US, just kidding. No permission.

Its on its on there death bed if they don't do something but Microsoft can do anything with it so give it some time but defiantly throw some ideas out there like fore example they could just give all games Xbox title and allow achievements through verification to make sure I can't make a game and get 10000gs from my own app lol im sure there working on it man....

always such dumb games :/

Always such dumb comments...

I am in the US and I too do not have permission :-(

I can see this game in the UK store but it tells me i don't have permission to download the app.

Where is the problem ? I have changed my region from US to Canada,restarted and then just go in store ,tap ''Throne together'' and download the game.I HAVE LAUNCHED THE GAME AND IT WORKS FINE USING L620.please try like i have said and post if you success .For me it works !

FWIW - Microsoft.Xbox.dll is located in the installation folder: C:\Program Files\WindowsApps\Microsoft.UglyCastles_1.0.0.4_x86__8wekyb3d8bbwe.

In Canada, region set to Canada, getting no permission on L920 with latest updates

Xbox features to come? Count me in for sure!

PC 8.1 > Set to Canada > Downloaded Befor you change back, don't forget to DL "MS Bingo" and "Glacier Blast"

Need to have some sort of permission?? What to do ?

Why, you read the last section of the article, of course. We're having trouble figuring out exactly which country the WP version is available in, though.

The game stops at Level 23 for me. It states a new challenge is ready, I think the 2nd in the game, but it won't open. It also has options to continue by adding Facebook friends or paying around 1USD. The IAP option stays loading even in background, nothing. This must be as far as the limited release version goes.

it's like candy crush,you can ask 3 friend to send you pass and unlock the ''new level pack'',you can buy it for 0,99$ or you can play each day one level to unlock the level pack (3 days,each day 1 level) ,so don't worry ,you don't must pay anything really ...i'm also on 23 level,played the first ''unlock level'' ,tomorrow the second and then the third...after that the ''level pack '' will be unlocked and you can countinue playing....

Can't get app You don't have the required permissions to download this app This app is coming to the US right ? As I am not interested in it till it has Xbox Features, I guess I will just wait.... I did read it and No real interest unless it has xbox.... For people with the same thing, READ the last bit of the review, you need to change your region. Reading does wonders...it really does..