Halo: Spartan Assault briefly launches on Trinidad's Windows 8 Store. AlphaJax and Ty still available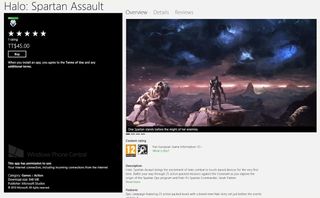 Xbox gamers have been eagerly anticipating Halo: Spartan Assault ever since Microsoft announced the Windows Phone 8 and Windows 8 game at the beginning of June. Many Windows Phone gamers especially look forward to it since Spartan Assault is likely the only Xbox Windows Phone game that will be released this month (we hear next week, in fact). Be that as it may, Windows 8 users got the first shot at the first mobile Halo game today, however briefly…
For a few hours, the tablet and PC version of Halo: Spartan Assault became available for purchase in the Caribbean island nations of Trinidad and Tobago. People from outside of those countries were able to buy it too, thanks to a little regional trickery and the magic of PayPal. Unfortunately, Microsoft quickly pulled Spartan Assault as we were in the process of writing this story to tell you about it, just hours after the game first appeared on the Windows Store.
Good news though: AlphaJax and Ty the Tasmanian Tiger are still available early via the same method!
Why Trinidad and Tobago?
Microsoft routinely "soft launches" Xbox games for Windows 8 in non-US countries a week or two in advance of their official worldwide release. They do this in order to test the games in a smaller environment before releasing them into the wild.
It's also a common practice with iOS games; Gun Bros 2 (which has yet to come to Windows Phone) soft launched in Canada months before its official release. When Windows 8 games launch early, they typically do so in either Canada or Trinidad and Tobago.
How does it work?
First off, you don't need anything special in order to download FREE Windows 8 games like AlphaJax. (By the way, there's a Windows 8 version of AlphaJax. There! Now you're all caught up.) However, games that cost money prove a little more challenging. The Windows 8 Store expects a credit card from the nation you're buying a game from, so your US or European credit card won't work by default.
That's where PayPal comes in! Before you start buying a game from the Trinidad and Tobago or another country's Windows Store, make sure you add a working PayPal account to your Microsoft profile. That way PayPal can handle the currency conversion for you.
Region switching
To change your Windows 8 device's region, first head to the Control Panel. If you don't have a great Start button app like Start8, the easiest way to reach the control panel is: head to the desktop and press the Windows Key + I on your keyboard. Now select Control Panel from the menu that pops up on the right.
After launching the Control Panel, select View by: Small icons to see the full list of icons. Go to Region.
From the Region panel, select Location and find the desired country. Hit Apply and OK to complete the switch.
Now that your device is set to Trinidad and Tobago, the following Store links will work for you:
AlphaJax – Windows 8 – 23 MB – FREE – TT Store Link
Ty the Tasmania Tiger – Windows 8 – 275 MB – 32 TT Dollars ($4.99) – TT Store Link
Don't forget to change your region back after grabbing the game(s) of your choice!
Note that AlphaJax currently suffers from two broken Achievements, but those are extremely likely to be fixed by the time it launches worldwide. And yes, if you buy one of these games, you'll retain ownership when the title officially launches.
The Spartans are coming
It's a real bummer that Microsoft pulled Halo: Spartan Assault from the Trinibago and Tobadad Store so quickly. 9 gamers have started playing it at TrueAchievements – head over there to see the full Achievement list. The rest of us will have to wait until the game officially launches within the next few weeks. On the plus side, we did learn that Spartan Assault is an 848 MB download on Windows 8. The Windows Phone 8 version will likely clock in at a slightly smaller size.
Thanks to TNTJudbud for the tip!
Get the Windows Central Newsletter
All the latest news, reviews, and guides for Windows and Xbox diehards.
Paul Acevedo is the Games Editor at Windows Central. A lifelong gamer, he has written about videogames for over 15 years and reviewed over 350 games for our site. Follow him on Twitter @PaulRAcevedo. Don't hate. Appreciate!