Halo: Spartan Assault briefly launches on Trinidad's Windows 8 Store. AlphaJax and Ty still available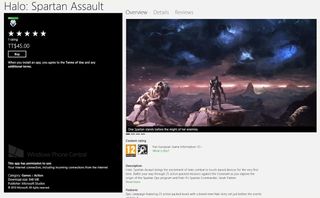 Xbox gamers have been eagerly anticipating Halo: Spartan Assault ever since Microsoft announced the Windows Phone 8 and Windows 8 game at the beginning of June. Many Windows Phone gamers especially look forward to it since Spartan Assault is likely the only Xbox Windows Phone game that will be released this month (we hear next week, in fact). Be that as it may, Windows 8 users got the first shot at the first mobile Halo game today, however briefly…
For a few hours, the tablet and PC version of Halo: Spartan Assault became available for purchase in the Caribbean island nations of Trinidad and Tobago. People from outside of those countries were able to buy it too, thanks to a little regional trickery and the magic of PayPal. Unfortunately, Microsoft quickly pulled Spartan Assault as we were in the process of writing this story to tell you about it, just hours after the game first appeared on the Windows Store.
Good news though: AlphaJax and Ty the Tasmanian Tiger are still available early via the same method!
Why Trinidad and Tobago?
Microsoft routinely "soft launches" Xbox games for Windows 8 in non-US countries a week or two in advance of their official worldwide release. They do this in order to test the games in a smaller environment before releasing them into the wild.
It's also a common practice with iOS games; Gun Bros 2 (which has yet to come to Windows Phone) soft launched in Canada months before its official release. When Windows 8 games launch early, they typically do so in either Canada or Trinidad and Tobago.
How does it work?
First off, you don't need anything special in order to download FREE Windows 8 games like AlphaJax. (By the way, there's a Windows 8 version of AlphaJax. There! Now you're all caught up.) However, games that cost money prove a little more challenging. The Windows 8 Store expects a credit card from the nation you're buying a game from, so your US or European credit card won't work by default.
That's where PayPal comes in! Before you start buying a game from the Trinidad and Tobago or another country's Windows Store, make sure you add a working PayPal account to your Microsoft profile. That way PayPal can handle the currency conversion for you.
Region switching
To change your Windows 8 device's region, first head to the Control Panel. If you don't have a great Start button app like Start8, the easiest way to reach the control panel is: head to the desktop and press the Windows Key + I on your keyboard. Now select Control Panel from the menu that pops up on the right.
After launching the Control Panel, select View by: Small icons to see the full list of icons. Go to Region.
From the Region panel, select Location and find the desired country. Hit Apply and OK to complete the switch.
Now that your device is set to Trinidad and Tobago, the following Store links will work for you:
AlphaJax – Windows 8 – 23 MB – FREE – TT Store Link

(opens in new tab)

Ty the Tasmania Tiger – Windows 8 – 275 MB – 32 TT Dollars ($4.99) – TT Store Link

(opens in new tab)
Don't forget to change your region back after grabbing the game(s) of your choice!
Note that AlphaJax currently suffers from two broken Achievements, but those are extremely likely to be fixed by the time it launches worldwide. And yes, if you buy one of these games, you'll retain ownership when the title officially launches.
The Spartans are coming
It's a real bummer that Microsoft pulled Halo: Spartan Assault from the Trinibago and Tobadad Store so quickly. 9 gamers have started playing it at TrueAchievements – head over there to see the full Achievement list. The rest of us will have to wait until the game officially launches within the next few weeks. On the plus side, we did learn that Spartan Assault is an 848 MB download on Windows 8. The Windows Phone 8 version will likely clock in at a slightly smaller size.
Thanks to TNTJudbud for the tip!
Windows Central Newsletter
Get the best of Windows Central in your inbox, every day!
Paul Acevedo is the Games Editor at Windows Central. A lifelong gamer, he has written about videogames for over 15 years and reviewed over 350 games for our site. Follow him on Twitter @PaulRAcevedo. Don't hate. Appreciate!
I still can't wait for HSA!

Hehe. Spartan Assault will be a day one purchase for me as well.

Halo briefly appeared on the store this weekend (US) but all links to the details were broken and you could not purchase the game.

Tell that to my surface pro, just change region....

For a second I thought my Lumia 521 woldnt bevable to download it because of the 525 mbs..... That better nit be the case.

Microsoft told us it will be compatible with 512 MB phones, so you should be fine.

microsoft told us wp7 would be migrated on wp8 and they also told us updates would be pushed out by them :)

They never made any such claim about the wp7 to wp8 migration :)

So jelly of those that got to download it.

Question guys....i thought I read somewhere that you can change your region only every so often. I would hate to change it to Trinidad but ve unable to change it back to us.

That IS a real an Xbox 360 limitation. It doesn't apply to Windows 8 or Windows Phone 8.

Yeah in the case of Windows 8 its a PC setting that your changing that reports to Microsoft when you connect to their store. On the 360 its changed within your LIVE profile itself not on the hardware.

It's for Xbox Live account region .. U can change it once every 3 months .. This is different , u can access the store of a different region

Got this earlier, loving it so far.
Wish it had co op though.

Woot. Guess who is from Trinidad and Tobago. Yup. You guessed it. Meeeeeee

First time I have ever been jealous of Trinidad! :)

I was thinking the same thing lol.

didnt they play in the world championship in football a few years back

If I had only checked here, I'd have purchased it earlier. :/

Awesome. Now I can play AlphaJax when away from my phone

How often are you away from your phone. I freak out when its not in arms length.

I read this article as "something cool is available somewhere else and you can't have it yet" ..and there I was getting all excited with no underpants on :(

Payback for all the us exclusive firsts

I'm in Aus so normally have to wait until after everyone else.. market not small enough to test in but not big enough for exclusives.

I thought Halo would have more than 200 Achievement points, guess not.

"Trinidad and Tobago" is one nation.

I came by to say the exact same thing

Sweet, just downloaded alphajax. Didn't realize how easy that was!

Can you use a Microsoft gift card to purchase things from a different region since my American card wouldn't work? Similarly to Paypal?

+1 for Trinidad & Tobago!!!

Sadly no... I don't have a PayPal account.

Also... In Windows 8 the easiest way to get to control panel Windows+I and click Control Panel? I just start typing cont... And when it pops up in the live search I tap/click... Just sayin' if I'm going to install a metro app I am in all likelihood already in the Modern UI.

Wow that came out if know where. Sweet sweet T & T. Oh how I love up meh country! Can't wait to get it!

Am I the only one who can't create matches in Alphajax?

Trinidad and Tobago is a twin island state lovingly shortened to Trinbago. I have no idea where you get Trinibago and Tobadad from. Lol, like really did you invent that? Lol.
and to those who don't know much about the country, a good thing to know is that most if not all things that people consider from the Caribbean or the tropics was invented or reinvented here. Carnival, limbo, steel pan, stilt walking, calypso etc etc. Also Microsoft has their Caribbean division located in Trinidad and I believe Microsoft is very cozy with institutions here as well.

Thanks for educating me :) As for where did Trinidad and Tobago come from? That's the wording used when you change your region.

Wasn't Spartan assault supposed to available to people on the 8.1 preview?

848mg that's me out b4 its out!

Uh oh, it's time to clear up some storage space for Halo. Even 32 GB is not enough for game lovers like me using a L920. I feel really bad for people getting that 16 GB L925. When will there be a 64 GB WP8 device??? It would still be cheaper than a 32 GB iPhone.