Tile Me! adds Twitter background creator with Nokia devices in latest update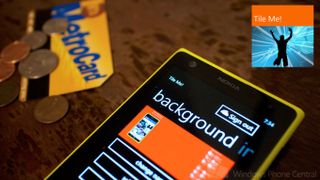 Tile Me! just got an update that makes Twitter profile pages for Windows Phone fans more interesting. In addition to creating a 'Me tile' as your profile photo, version 2.7 now has a Twitter background creator. We like the new feature and we think you'll like it, too!
Are you curious? We'll show you how Tile Me! looks in a video after the break.
When you first open Tile Me!, you see the image section. This helps you create a profile photo with a name or caption on top to simulate a Windows Phone live tile. The next section to the right is the gif generator. It gives you an animating profile photo. It's pretty cool, but Twitter unfortunately stopped letting you upload animated gifs. Those who already have animating photos are in luck, but they won't be able to upload new animated gif's.
The latest addition to Tile Me! is the background generator. This changes the background image of your Twitter profile page. Enter your name, select your phone and color, and then choose a screenshot from your phone. You can also change the background color of the image. Click upload when you're happy with the final image. For best results, the Tile Me! reminds you to go to your Twitter settings using a desktop browser and change the background position to center.
The right side of the background shows off some of the specifications for the phone you selected. For example, it shows the Nokia Lumia 1520 features a 20 megapixel camera, 6-inch 1080p display, Snapdragon 800, 2GB memory, and LTE support. It also mentions notable Windows Phone features like Office, HERE maps, and Skydrive.
Here's a screenshot of a Twitter profile page with the background creator from Tile Me!.
One thing we don't like about this new feature from Tile Me! is that it automatically makes our Twitter account tweet each time we change the background:
Tile Me! is available at the Windows Phone Store for 99 cents. There's also a free version available with limited color selection, missing SkyDrive integration, and lower image quality output.
Share your Twitter profile page in the comments below if you're showing off your Windows Phone device using this app.
Let me know what you think :)

Thanks for the article Mark. The next update will definitely ask the user for permission to tweet :) Also, I'd like to thank David V. Kimball for the initial idea about this feature. The next update should add more phones (HTC, Samsung) so, don't worry, we will show some love for those users as well :)

Good job brother. I hope gif images become a possibility for all social networking sites. I just love the idea of a me tile flipping as my display picture.

Yeah, unfortunately that's not up to me :(

I know that mate. I was just expressing my wish..you already are doing a lot.. ;)

Why not give the ability to save the image it creates?

Coming in the next update.

Tried it already. I asked them to give us the option to save the background and they are also working in adding more phones for the background as well as make it facebook-cover compatible.

Well, good to see you again! :)

Well I'm about to give this a try

Great, let me know what you think :)

Hey thats a very nice idea . i dont have twitter so it would be great if we could save the backround to use it in FB or G+

Saving to phone wil be added in the next update.

Another cool feature for a very cool app. Will be waiting for the ability to save the background without uploading. (and I would love if it allowed any phone from any brand regardless of the OS. But I know that ain't gonna happen :P)

Aw yeah! Great update! :))

tried the twitter background.. gives me an error. Oh dear... An error occurred. Please try again.

Did you try relaunching the app? If it doesn't work, try signing out from twitter, and signing in again.

yup tried everything, relaunched the app, signed out, even restarted my cell, still gives the error... Will try a couple more times tomoro, lets c...

Interesting. Try uninstalling and reinstalling again. If that does not work, see if you are able to change your background to something else from the official twitter website on a desktop browser. Please let me know what happens. Thank you.

Reinstalled the app, still nothing, same error, and ya i can change it from the browser, even upload custom backgrounds. btw gr8 app, maybe a an option to save the background manually and a facebook cover pic will be nice in future updates.

Hmmm, you are the first to report such a problem. Yes, saving to phone will be added in the next update. Also working on Facebook Cover support. Does the problem happen when you tap the upload button? Does changing a Me Tile via the 'set avatar' button work?

Just Checked and No even Me tile can not be set via the 'set avatar' button. The Error occurs after entering the authorization code for twitter.

Aha, so uploading is not the problem. Logging in is. Are you sure you are entering the correct PIN? Also, try the following: Go to your Twitter account on a desktop browser..Settings -> Apps and look for Tile Me! in the list. If it's there, revoke access. Then, try logging in again in the app.

There is this same problem with me.....error shows after entering the pin

Now this is sweet! I love this app and it keeps getting better and better. Way to go!

Thank you Brian! Glad you like the new update!

Love the way how a basic Display pic app evolved :D .. Best $0.99 investment by me :P

Thank you Zeeshan360, very happy to hear that!

Great app from a great developer ......unfortunately i don't have a twitter account ,would love to see features like this for Facebook also :)

Thanks! Working on adapting this to Facebook Cover :)

I did something similar long time back :) https://twitter.com/backlashsid/status/237795668985528320

next step if possible allow people to take a screenshot of their startscreen and use it instead of instagram picture keep up the good work

This is already possible. You can take a screenshot of anything. Just press the Start (Windows) button and the Power/Lock button at the same time. The OS will capture the current screen you are looking at.

sorry i didn't see it first time good job :)

I love how @ertaysh is replying to every message. Shows discipline and dedication. Love it.

Why would you do that? It's just a phone!

Thanks for your comment. Here are a few reasons: 1. Shows support for the platform. 2. Looks good. 3. Good for people who don't know what background to put.

It's just a phone, not a religion. And it looks like an advertisement twitter - that's kinda gross.

Thats why you have an option to not use it :) Some people like it some dont

Well, okay, nothing new for me. I mean there's no such option as background. Probably associated with the fact that I'm an alone 7.8 user?

Sorry Filipe, this is a Windows Phone 8 feature only :(

Yet another reason to go to WP8 already.

And another reason is that WP7 is apparently unable to view animated gifs shared via SkyDrive link, as my wife just found out.

Nicely done. Great update to a great app. btw, follow me @jamesdax.

Great job on the app. As long as it never makes me sign into any social media accounts, I'm happy.
Curious why the SkyDrive login gives the app access to all sorts of things totally unrelated to SkyDrive, like my age, contacts, etc., etc.

Unfortunately that's how the SkyDrive api works. In order for the app to be able to upload to SkyDrive, it needs the info (even though it does not use it). Don't worry though, this information is encrypted by Microsoft and I can't use it to harm you. If there was anything shady going on, MS would not certify the app and publish it to the store. So, don't worry, you're safe :)

Hey, I want to pin the animated pic on the homescreen...is there any way? :) Love the app otherwise btw! Totally worth it <3 Phillip
Windows Central Newsletter
Get the best of Windows Central in in your inbox, every day!
Thank you for signing up to Windows Central. You will receive a verification email shortly.
There was a problem. Please refresh the page and try again.