TipRanks lets you track the record of analysts, launches exclusively for Windows Phone 8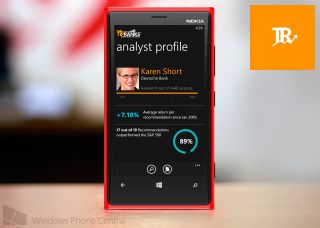 Whether you're aware of it or not, you're all investing in the stock market one way or the other. Whether you do so as an individual investor or participate with mutual funds and hedge funds, we're all in this together. TipRanks is a new app for Windows Phone 8 that's aimed at all investors. It's now available for you to download in the Store, so let's check out what this app is all about.
It's pretty hard to ignore sound bites offering you advice on whether or not to buy stocks. Even if you're not an active participant in the stock market you'll come across advice from analysts in newspapers, television programs, social media, and elsewhere. Although they claim to be experts in finance, how can you measure the worth of their advice? With TipRanks.
Hindsight is 20/20, or at least it was until TipRanks came along. This is a platform that gives users insight into the track record and measured performance of financial analysts. The platform was founded in 2012 with the goal of giving individual investors more power to make informed decisions. It started as a browser application, but is now going mobile with Windows Phone. Here's a video giving you an overview of how the platform works:
TipRanks offers users three plans when joining the platform. Basic is free and gives you access to the accuracy report of an analyst, one analyst integration with finance report, and three day turn around for technical support. There are premium ($14.95/month) and ultimate ($24.94/month) plans that offer a ton more features. Definitely check out the plan selection page at TipRanks to see which profile works for you. We'll focus on the basic plan, because that appears to be the functionality you get with the Windows Phone app.
View analysts profile with information on their average return, ranking, and recommendations
View analysts portfolio
View opinion on specific stock
First impression of TipRanks? It's pretty wild. We're not big day time traders over here, but certainly see the appeal in the data that TipRanks provides to consumers. We can rank and review restaurants, now we can do the same with financial analysts and the advice they give.
TipRanks is exclusive to Windows Phone and you can thank AppCampus for that. AppCampus, as you may or may not remember, is the mobile accelerator program that's jointly funded by Microsoft, Nokia and Aalto University in Finland. Apps that are funded by AppCampus agree to become Windows Phone exclusives for Windows Phone for 90 days. After that they can join other platforms like Android and iOS. It's a killer program for startups looking to join the mobile space, but want to remain independent. Neither Microsoft nor Nokia take a share in the company, all they ask for is Windows Phone exclusivity.
Want to try TipRanks for yourself on Windows Phone 8? The app is available for free and you can grab it in the Windows Phone Store. You can also use the QR codes below or swipe to the right in our app.
Get the Windows Central Newsletter
All the latest news, reviews, and guides for Windows and Xbox diehards.