Titan Quest Anniversary Edition hits Windows Store to turn you into a hero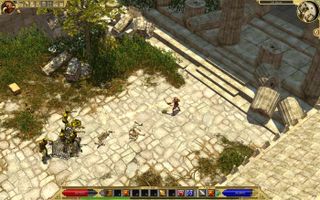 Titan Quest has turned 10 years old and to celebrate THQ released an anniversary edition of the popular adventure title for Windows 10. It's now available on the Windows Store. If you've yet to fire up the original game and battle your way through hordes of monsters, now is a good time to pick up your sword and shield.
The anniversary edition combines both Titan Quest and Titan Quest Immortal Throne in one game, and has been given a massive overhaul. Titan Quest is also the product of Age of Empires co-creator Brian Sullivan and Braveheart writer Randall Wallace. The story sees the player take on titans who have escaped their eternal prisons and determine the fate of both men and gods. So, what's new in this edition?
Restored and improved multiplayer functionality, including new features like a built-in voice chat and NAT resolving for best multiplayer connectivity
Support for more resolutions, larger camera distance and scaleable UI size
Improved performance and general stability
Support for modders through new modding options and a fully integrated Steam Workshop
Complete balance rework with improvements to all Masteries, damage types, unique items and sets
Countless bug fixes and other improvements, including ten years' worth of community fixes
Increased challenges and rewards for larger parties and on higher difficulty levels
Dozens of new heroes and bosses to encounter
Improved enemy and pet AI
Quality of life features like higher stack limits, quick item pickup, a larger stash and a speed setting
Reduced cheating with curbed exploits, removal of test items and mod comparison in multiplayer
Steam Friend Invites
Steam Achievements
Steam Trading Cards
Hit the link below to grab a copy off the Windows Store for $19.99. It's also available on Steam.
Windows Central Newsletter
Get the best of Windows Central in in your inbox, every day!
Rich Edmonds was formerly a Senior Editor of PC hardware at Windows Central, covering everything related to PC components and NAS. He's been involved in technology for more than a decade and knows a thing or two about the magic inside a PC chassis. You can follow him on Twitter at @RichEdmonds.
Ok, I did not see this happening. Very cool and for anyone that doesn't know, they've fixed and added a lot to this game to better support modern things like widescreen, high DPI and more. Give it a try if you like these styles of games.

Again no touch support...

Keep your hands to yourself!

why in god's name would you want touch support for a real game like this?? Go play your cell phone "games"

Cuz it is on Windows Store and 95% apps are touch friendly. And Windows tablets can hold this game as well.

this is an OLD pc game, not developed for touch support in any way...

I can understand your frustration but this game would be absolutely terrible with touch support.

WAY COOL!!!!!!!!!!!!!!!!! I've played many many hours on the Titan Quest games. They are the only true competitors to Diablo II ever made IMO and in a lot of ways even better. Very excited to pick this up again!

IMO, Path of Exile is also a good game in the spirit of Diablo 2.

Just in case, are you aware of Grim Dawn?

So, what's new in this edition?
> Steam Achievements

Wait, you're saying this is now a game in the Windows 10 Store and it has Steam achievements, not Xbox achievements?

"It's also available on Steam"

The article title: "... Windows Store ..."

The intro: "now available [in] the Windows Store"

The body: "So, what's new in this edition?....Steam achievements...."

The conclusion: "Hit the link below to grab a copy off the Windows Store for $19.99. It's also available on Steam." That all makes it seem like the entire article is about the Windows 10 Store version, not the Steam version, particulary because the "what's new" section was merely copied and pasted without adjudication, which is where the confusion arose. And I'm still confused, actually: what is the status of the Windows 10 version in terms of achievements? None?

I'm going to take a stab in the dark here and say that the blue text is a quote from somewhere else, possibly the developers own page, so it's literally just a list of what they have included, I'm guessing that doesn't include Windows Achievements, only Steam.

Loved, loved, loved this game when it first came out and have bought it mulitple times - sorely tempted to pick it up again so my son and i can play over the home network. Anyone else played this new version via the Windows Store and can confirm that multiplayer over home network works well or would you recommend picking it up over Steam for multiplayer? Still haven't joined the 19th century and used Steam yet lol
​Game and devs are definitely worth the $20 for this game with all the fixes and improvements mentioned - Thank you for updating the game and making it available again!

In about a week steam will start a massive sale. I'd recommend to get it there then.

Thx Vargson, appreciate the heads up! Especially since I'll be buying for two lol

This game is awesome, great setting and a really good Diablo clone.
Windows Central Newsletter
Thank you for signing up to Windows Central. You will receive a verification email shortly.
There was a problem. Please refresh the page and try again.