Titanfall adding four player co-op mode, Frontier Defense, in update on Thursday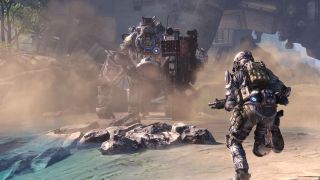 Developer Respawn Entertainment isn't done yet with its first person shooter Titanfall. Today, it announced a bunch of upcoming features and improvements it has planned for the game for the Xbox One, Xbox 360 and PC, including a new four player co-op mode called Frontier Defense that will be released for the Xbox One and PC tomorrow, October 23.
Here's the bullet point list of what will be included in Frontier Defense:
Join forces with up to three other players in this cooperative game mode to defend a vital objective from increasingly intense waves of AI combatants.
You and your team will face down familiar foes as well as the IMC's newest combat units: hordes of Grunts and Spectres, stealthy Sniper Spectres and Cloak Drones, explosive Suicide Spectres and Nuclear Titans, ranged Mortar Titans, and even melee-resistant Arc Titans!
Supplement your firepower by earning and deploying stationary turrets around the battlefield.
Leverage your full arsenal against the IMC without skipping a beat by using the new Loadout Crates near the objective to switch loadouts at will, while refilling ammo and ordnance.
Pilots who fall in battle are flown back into the fray in a dropship that circles above the action before touchdown. Experienced Pilots always maximize their impact on the struggle below by firing from the side window of the dropship on approach.
Seasoned players can challenge themselves to beat their best score. Try to earn 3 Map Stars on each map!
Play in every corner of the Frontier, including the maps introduced in IMC Rising and every previous Titanfall expansion!
The update will also include Ranked Play for the first time, a full screen mini-map and lots more. Two more new gameplay modes are coming in November: Marked for Death Pro for November 26 and Deadly Ground, where the ground "is covered in deadly electrified fog" for November 5.
Are you happy that Respawn continues to support Titanfall with new features and modes?
Source: Titanfall website
Get the Windows Central Newsletter
All the latest news, reviews, and guides for Windows and Xbox diehards.