Titanfall adding four player co-op mode, Frontier Defense, in update on Thursday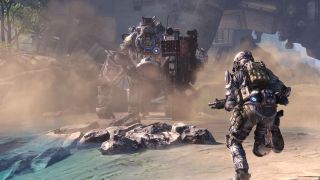 Developer Respawn Entertainment isn't done yet with its first person shooter Titanfall. Today, it announced a bunch of upcoming features and improvements it has planned for the game for the Xbox One, Xbox 360 and PC, including a new four player co-op mode called Frontier Defense that will be released for the Xbox One and PC tomorrow, October 23.
Here's the bullet point list of what will be included in Frontier Defense:
Join forces with up to three other players in this cooperative game mode to defend a vital objective from increasingly intense waves of AI combatants.
You and your team will face down familiar foes as well as the IMC's newest combat units: hordes of Grunts and Spectres, stealthy Sniper Spectres and Cloak Drones, explosive Suicide Spectres and Nuclear Titans, ranged Mortar Titans, and even melee-resistant Arc Titans!
Supplement your firepower by earning and deploying stationary turrets around the battlefield.
Leverage your full arsenal against the IMC without skipping a beat by using the new Loadout Crates near the objective to switch loadouts at will, while refilling ammo and ordnance.
Pilots who fall in battle are flown back into the fray in a dropship that circles above the action before touchdown. Experienced Pilots always maximize their impact on the struggle below by firing from the side window of the dropship on approach.
Seasoned players can challenge themselves to beat their best score. Try to earn 3 Map Stars on each map!
Play in every corner of the Frontier, including the maps introduced in IMC Rising and every previous Titanfall expansion!
The update will also include Ranked Play for the first time, a full screen mini-map and lots more. Two more new gameplay modes are coming in November: Marked for Death Pro for November 26 and Deadly Ground, where the ground "is covered in deadly electrified fog" for November 5.
Are you happy that Respawn continues to support Titanfall with new features and modes?
Source: Titanfall website
Sounds pretty cool, kind of surprised that they're still supporting it actually.

Finally some updates that arent just more maps. I love TitanFall and have been hooked on Destiny lately, however Destiny is now a grinding game. TitanFall is more of a firehose of action and fun, that horde mode sounds awesome. "Your Titan is ready"

I have a difficult time moving back and forth between the two.

Basically its modern warfare's 3 spec ops mode, sounds nice but it very difficult to find people playing lately, It's takes forever to find a server cause nobody's playing and when it does find one there are only 6 players.

I loved this game and I wish they had this stuff at the start. However the community in new Zealand is dead and I can only find games in certain game modes.

Oh hell yeah, I was waiting for a coop mode ever since TF was released! My prayers have been heard! Woohoo!

Titanfall got to repetitive.....

Destiny is getting somewhat stale; I might be getting back into Titanfall soon.

I'm FH2 now, but will Ing to play TF. GT: simphf

Played TF right up until Destiny. It was alot of fun but doubt I'll be going back. Destiny still has some things to do and with new games coming in Nov...? Dont see much TF in my future, esp hearing how dead its become

Tried to get into Destiny, but I couldn't stop thinking about titan fall, compared to titan fall destiny is like watching grass grow, everything is like watching grass grow compared to titan fall!

This is great news. Haven't played in the longest time but destiny is getting old so I might have to play again

If this were in the game from the start, there might still be people playing it.

Wow, I thought they were done supporting this game. It's good that they continue to add new features and game modes.

Yes yes yes!!!!​. I love titanfall but it was too hardcore for a bunch of friends. They would love a horde mode!!!! Thank you respawn!!!!! My friends and I still play gears of war 3 because of the awesome horde mode.

Yes! Back to Titanfall I go. ​

Local multiplayer is what this game needs. Playing online all the time can get boring. Rather have friends over and get a tourny going.

17 new achievements, whohooo!

If they had this kind of content from the beginning, Titanfall would have been received a lot better. Here's hoping Titanfall 2 blows our minds!

By far, one the absolute best multiplayer game experiences, period.

Destiny is over for me. So boring, how many times can you run the same strikes for useless blue gear. Maybe in a year I will give it a try again. Maybe it will be more of the 100$ game we paid for. I stopped playing titanfall for destiny but it looks like titanfall will be going back in my Xbox. Also only a few more days till Sunset Overdrive!! Destiny is so dead in a matter of days.. I hope Bungie realizes how bad they blew it! Even tho they made all their money back in a day. I dont think they care if anybody ever plays it again. To much time and nothing new.. Oh yea wait til December the doc is coming. Well so is 7 other games.. Good luck Destiny. I will make sure I dust you off every once in a while while I'm playing actual games!

I was excited for a minute, thought it meant split screen :(

This is a game I almost gave up on because of horrible matchmaking. I'm so happy I didn't, this is now my favorite fps. It's not even close to the game that launched. I have gone back and tried black ops 2, and it seemed slow and confined. This game may have ruined fps for me going forward. :)
Windows Central Newsletter
Thank you for signing up to Windows Central. You will receive a verification email shortly.
There was a problem. Please refresh the page and try again.