Toca Kitchen and Hair Salon, two toys for Windows Phone 8 and Windows 8 (Hidden Gems)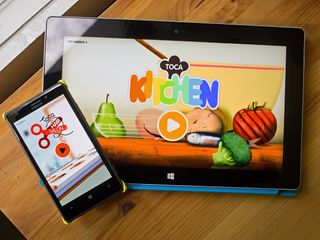 Toca Boca is gaming studio that makes digital toys for kids that are designed to let the kids play, have fun and learn a little along the way. Toys in the sense that you can play the game without worrying about scores or time limits. The only restriction is with your child's imagination.
Toca Boca has released two of their toys in the Windows Phone and Windows Stores that allow your children to tap into their creativity and imagination in the kitchen and beauty salon. Both games or toys have plenty of features, child friendly interfaces and nice graphics.
Toca Boca has seen plenty of success over on iOS and Android platforms and Toca Kitchen was a Parents Choice Awards Gold Winner in 2012. These two titles may not land on everyone's Windows Phone or Windows 8 device but they are two good titles to add to your Windows Phone Kid's Corner.
Plus being Hidden Gems, if you leave a comment below you will automatically qualify to win a new Windows Phone or tablet.
Both Toca Boca titles are available in both the Windows Phone and Windows Store, which are essentially identical with only slight differences in layout. We'll split things up with this review focusing on Toca Kitchen for Windows 8 and Toca Hair Salon 2 for Windows Phone 8.
Toca Kitchen
Toca Kitchen is a creativity toy that lets your child explore the kitchen without making too much of a mess. You have a refrigerator full of ingredients and shelves full of kitchen equipment to prepare culinary delights for one of four colorful characters.
The main menu for Toca Kitchen has options to jump into game play and a link for parents to view the about screen. You also have a settings cog (side menu bar on Windows 8) where you can mute the sound and switch to a vegetarian menu (no meat or fish in the refrigerator). Before hitting the kitchen, you will need to choose which of the four characters you'll be cooking for. You have a boy, girl, cat and a cow that you can cook for.
Cooking is easy, just pick/tap on an ingredient from the refrigerator (accessible by swiping right) and it will be placed on your dinner guests plate. You can either let your dinner guest eat the item raw or prepare it with one of the many kitchen items that are accessible by swiping to the right of the screen. Just tap/drag your food item to the kitchen item you want to use.
Ingredients include broccoli, carrots, steak, fish, eggs, hot dogs, pears, lemons and more. You even have a bundle of hay in the refrigerator for the cow to enjoy. Kitchen equipment includes a pan to fry your items on, a blender, a pot of boiling water, a microwave and a cutting board. Items can be prepared in a traditional sense (pan frying a steak) or more on the creative side (microwaving and blending a pair). There are over 180 different ways to prepare a meal.
Whatever the method, when you are through cooking an item, tap on the character icon (upper corner of the screen) to plate your food. When you have the meal complete, just tap and drag the item from the plate to the mouth of your dinner guest. As they eat, your dinner guest will react accordingly to how good your kitchen skills are.
The educational side of things comes into play with asking your children questions about their own eating preferences as well as some of the reactions the characters have. Some will refuse to eat certain items or get more excited over other items. Toca Kitchen gives your child a chance to play and you the opportunity to teach.
Toca Kitchen is available for both Windows 8 and Windows Phone 8 devices through the links below.
Toca Hair Salon 2
While Toca Kitchen will let your child explore the kitchen without making too much of a mess, Toca Hair Salon 2 will let them experiment with hair styling without traumatizing anyone.
Toca Hair Salon 2's menu is also on the simplistic side with options to jump into game play, access the parent's section (about screen) and access the game's settings. Hair Salon 2's settings include options to turn on/off the sound and save photo clips to your Pictures Hub (more on this in a minute).
You can style one of six characters and your salon has seven stations (just swipe at the bottom of the screen to move from station to station). The seven stations, from left to right, include:
Accessories: Here is where you can fit your subject with a nice assortment of hats, eyeglasses, and what I believe are earrings.
More Accessories: This next station includes bow ties, chokers or bands, earrings, and buttons.
Photo Studio: Care to preserve your beauty creation? Tap the clipboard to change your backdrop and tap the Polaroid camera to snap a glamour shot. You can tweak the settings to save your snapshot in your Windows Phone Pictures Hub.
Hair Cutting Station: Here is where you can cut, shave and comb your guest's hair. If you take a little too much off the top, don't worry. A 'grow-back' potion is at the left side of the screen that will miraculously grow your guest's hair back.
Styling Station: Two curling irons and a crimper are available in this station.
Color and Highlights: Want to add purple highlights? Or go all out and dye your guest's hair pink?
Wash and Dry Station: Does your guest need a shampoo? Here you can give their hair a bubbly cleaning and either towel dry their hair or crank up the hair dryer.
The user interface is simple and very kid friendly. Just tap on the item you want to use and tap on your guest to apply. Accessories need to be tapped and dragged to their destination. If you have second thought on an accessory, just tap on it to remove it.
The only downside I can see with Hair Salon 2's layout is that there is no way to remove any dye you apply to your guest's hair. Otherwise, it is a fun creativity toy.
As with Toca Kitchen, the educational opportunities with Toca Hair Salon 2 is with the discussions you have with your children about the game. How would your child like their hair styled? What's a good look for a party or for going to work?
Toca Hair Salon 2 is available for both Windows Phone 8 and Windows 8 devices through the links below.
Overall Impressions
Toca Boca has done an admirable job of developing two games that let your children tap into their creativity and learn a few things along the way. Both titles can come in handy while on the road, waiting for a table at the restaurant or other times when you have time to kill. On top of providing an opportunity for your children to tap into their imagination, both Toca toys provides parents with the opportunity to discussion life lessons with their children. Lessons that range from food preferences to hair style tastes.
Graphics are good, interface very kid friendly and overall if you have younger children these two Hidden Gems are worth looking into. The biggest downside to these titles is that only the Windows 8 versions have trial versions. Until the Windows Phone versions receive a trial version, we recommend using the Windows 8 trial versions to get a feel for things before buying.
Toca Kitchen - Windows Phone 8 - $2.99 - Store Link
Toca Kitchen - Windows 8 - Trial / $2.99 - Store Link

(opens in new tab)
Toca Hair Salon 2 - Windows Phone 8 - $2.99 - Store Link
Toca Hair Salon 2 - Windows 8 - Trial / $2.99 - Store Link

(opens in new tab)
George is the Reviews Editor at Windows Central, concentrating on Windows 10 PC and Mobile apps. He's been a supporter of the platform since the days of Windows CE and uses his current Windows 10 Mobile phone daily to keep up with life and enjoy a game during down time.
Last day for Hidden Gems as we go on hiatus for the next week or so! Don't worry as we still have a few more big apps to cover in detail. In the mean time, if you missed our previous Gems, make sure you read those and leave a comment! We'll announce the winners of each post/contest after our next batch of apps. The only rule to enter is leave a constructive comment (doesn't even have to be positive) about the app we're talking about. Winner is chosen at random, so long as it's a real comment. Contest is open worldwide!

I love the idea of the hair salon app-solutley fabulous... Both games aren't cheap though at £2.99 & there's no mention of any of the dreaded in app purchases which is a license to print money in my opinion.

You guys have been burning the candle at both ends so you have my permission to take a few days off.

Sorry for replying to your comment Daniel,I couldn't findmy own previous comment since it's lost in these 250 comments and I'm late :p I think you wouldn't mind because you want us to help the devs so if the devs read this article,they'll have a good chance of reading my comment(which might be useful to them) since I'll go in-depth and in detail about their game. Like I have already said,I know that writing long reviews will not increase my chances of winning anything,I'm doing long reviews solely to help the devs,I hope no one minds scrolling through my comments :p NOTE:-Both these games were played on Windows 8.1,not Windows Phone 8.1 TOCA HAIR SALON 2 First impression and general user experience. Download size is 33mb which is extremely good for a game/app which has pretty good graphics and a lot of media content.Awesome. The splashscreen is kinda cute but it's slightly long,glad to find out that I could skip it with the spacebar button though ;) The app ran very fast and fluid on my W8.1 lappy,no problems here at all. Things I like about this app ​It has very good and cute graphics,definitely something kids would like. The background music is good as well. The amount of things you can do with your "patient" ;) Just wow! :D The simplicity.As it is meant for kids,it's a good idea not to make the menu screen complicated.Good thinking,devs! The tiles,all tile sizes supported on W8.1! (y) Taking the picture of your customer,quite a basic need for such an app and I'm quite glad they didn't miss this out ;) The simplicity even inside the app!The barber's table is not cluttered with items/accessories,instead you can just swipe across the screens to do all these things. The realism!No,I'm not talking about the items(hair-growing potion) and the hairstyles(I made one like Goku xD ),I'm just talking about the effects. :D Try showering the person's hair or blowdring it ;) Yay!It's universal! :D This app is hilarious.Both me and my 8 year old bro were laughing at the haircuts xD Things I don't like about this app ​No trial on Windows Phone :/ Very few people like to buy an app before trying it so that's definitely something you need to work on.Kudos for making it universal though. The first girl in the picture makes a weird sound when I click on the clock,like "Ehhh".Not sure if it's intentional or means something but it definitely sounds strange.Haven't tried it out on the other customers though. No confirmation that the picture has been saved when I take a photo.Could be useful to add a confirmation message in my opinion. Suggestions for Improvements ​Add a trial feature for Windows Phone ASAP otherwise you might lose a lot of sales.People would like to know how the app runs on their WP before they think of buying it just because of their experience on Windows. Maybe,just maybe,decrease the price a bit,it's currently too high for me.If you can't add a trial that is. Fix that weird sound :p Add a confirmation message when saving a picture please ;) Allow the kid to change the hair back to the previous click since it's pretty hard to make the hair back to their previous state.I know it is possible with the hair growing gel but it's too tedious ;) OVERALL REVIEW(9/10):-Definitely a well-done app that will keep kids entertained for long :D Good work devs!You rock! :D TOCA KITCHEN(Some features might be repeating in both games so I won't write them again) First Impressions and General User Experience Damn,another small 27mb download size,better than the first considering it has slightly more animations.Are you guys magicians or something? :D Yeah,it again ran very fast and fluid on my phone :D Things I liked about this app ​Minimalistic design of the app again,good work! :D Ah!The unlimited ways to create dishes,reminded me of "Cooking Mama" I played on my cousins's Nintendo DS 5 years ago. :D The realism.I liked the way the fish fried and the way I boiled the meat.Made me pretty hungry. The assortment of people(and animals :p ) who could eat your food!Though you could replace a cow with something more interesting,how about a DRAGON? ;) :D The sounds and expressions of our to-be fed customers are quite good and realistic. Things I didn't like about this app ​Points 1 and 3 from the previous review ;) Suggestions for Improvements ​Make the door of the fridge and the cooking utensils on the right more accessible.Had a hard time figuring out what to do with only a cat sitting in front of me but that's probably my own stupidity. :p Add more cooking utensils!Could definitely do with more cooking utensils. ;D Instead of just a dotted line when cutting the food and when frying it,I would like more animations like actually cutting it with a knife or flipping a saucepan or maybe a spoon to do more things instead of just using an unseen mouse click and swipe ;) Could do with more food options as well,the more the merrier ;) Add a trial feature to WP ASAP,but don't decrease the price of this one though,it deserves 3 bucks ;) OVERALL REVIEW AND IMPRESSION(9.5/10):- This game was definitely more enjoyable than the previous one for me at least.And no,I'm no Gordon Ramsey and I have 0 interest in actual cooking but I actually liked this game!On the other and darker side though,this game could do with more contents added in future updates.It definitely needs more :D Ok,so people,take a deep breath now,my review is over and you can scroll down to see more reviews instead of my long(and what some may consider boring and unnecessary) review. :P Sorry,and cheers,I'm out.Good luck with your reviews ;)

Both games are colorful,cute and simple
The universal thingy is also a great feature
Worth every penny i spent 8/10 for such kid-firendly games

I only download toca hair salon. It have awesome graphic but the charachters are low. Only six characters Bring more person to barber :-)

Hahaha two awesome games, i loved them ! so did my sister, she likes to cut and play with hair.
They both are pretty cool even tho i didn't understand the cooking one, they just say, haa ! uhmmm ! and meh !
anyway i think 2.99 for each is a bit expensive, but they worth it if you like to cut some hair or cook and feed people. overall 10/10 for sure !

These games are really original.. I'll have to try some out!

I am notr into games, but love these ones. My nephews and niece will love playing :) Love simplicity, very child friendly.

Love these types of apps! Perfect for my three year old!

Not sure if they should be charging so much for kids games. There are plenty of free games that are just as much fun for kids. Microsoft has a special selection for it in the store.

Amazing otimization! Runs so awesome smooth on my Surface (1)! Excelent work!

Cute games. I actually played Toca Salon on my sister's Kindle Fire, and even I admittedly had a blast playing it! It's super easy to get the hang of, and I'm sure kids would love it. Although there are a lot of items and might be confusing for children. Toca Kitchen is just as entertaining; these guys clearly know how to make children's titles.

Great games, nice graphics. Little bit confusing at first...

Very simple and a really good app for my children. Lovely animations and they put a lot effort in this nice game!

I think I may download them! So cool to see how many apps are coming on board with WP8.1

Seems like a child's app but it can be funny

Look like fun, quality additions for the little ones. Definitely an area I'd love to see fill out even more. Getting the younger ones attracted to the platform lends to longer term attachment.

Lol at the hair styles, gonna have to try this myself.

Graphics for this game are amazing which will ensure kids and even adults are engaged. That being said, the phone apps should offer a trial so that people know what they are getting into.

I'd like to let my daughter give them a try but not having a Trial is a deal breaker. I'd pay for them if my little girl got a try at it and liked it but honestly, she's only 4 and her attention span is almost non existent unless she really likes something.

The games seem kind of new. New games are generally buggy. Free trials to a buggy game is just not a good idea considering it can seriously hurt potential sales. A bad free trial experience means someone will probably not purchase it. Chances are, once sales start to slow or even drop, then they will start offering free trials to boost their client base. It takes months for a game to produce a free trial. There is work to do on the Billing, Subscription and User Account systems. This is so if you like the game, they can push your Trial Characters to a full account or so they can upgrade your account from Trial to full.

A very few games out there which allow the use of imagination and don't restrict in any way(time or points or levels). Nice to see more apps coming to WP as well...

Ouch, they really need a trial version for Windows Phone. There are already so many free games for kids that buying a game sight unseen for a child who may or may not enjoy it is a no-go.

Another (two) gems for parents :) These two apps look like they could keep children busy for a while. These look like well made apps and definitely belong to kid's corner. It's nice to see these are universal apps so you only need to purchase them once although i find it a bit strange that the trial is only available on the windows 8 version. Since these apps are for children, i would have to ask them what the think of the app but they look fine to me.

Toca has awesome apps on ios.. glad to see they are coming over to windows as well.

That's nice to know iPad isn't the only thing kids can play with

OK ill put my lil bro try this

They're great but would like to see trials added to Windows Phone 8. Yet they're worth it since they keep my cousins entertained.

Not for me but they'll make someone happy I guess.

Now i can throw my APPLE through the WINDOWS. Stay with Steve.

These are free on my kindle fire tablet. Why $2.99 for Windows ecosystem?

Now this is a good one. My daughter definitely will likes this.

Hmmm, a lot of 'gems' depending on your perspective.

I like the Hidden Gems series, but it seems like every hidden gem is an app for kids.

The price is high, but o think for a niche app that is fair enough. I like the art style. Steak!

Lets see if this app is fun. I like to install stuff just to see how it works.

Love the option for vegetarian food only & the cat remind me of our fat cat lol
The graphics are very cool too

Adding more kid stuff, cute.

This is fantastic, the kids love this on their iOS devices, hopefully soon we can get rid of the iOS devices altogether once few other major names hit the Store

The layout of app is simple and beautiful but it crashes.

I like this two games, and toca kitchen remember me of cooking mama. The graphic and the sound are great, nice work.

Seems like good games for creativity. Might have to let my daughter try. I know she would love the cooking one as she always plays with her kitchen toy set we got her.

These apps are ideal for the summer holidays perfect for my daughter...

I'm with some of the others. No trial mode is a bit of a deal breaker. It would have to be really popular with lots of reviews for me to trust it enough to buy it without a trial (I know, I'm cheap). It looks like it would be fun to play with my neices and nephews though.

What's this comment got to do with the apps in question? You are suppose to make a constructive comment not something random!

This is really great news, the very best of kids' games come to Windows. My girls can play these for hours.

These apps may would have made my childhood a lil better....
I find that the design is confusing sometimes in menus etc. (for a kid).
But overall I'm happy with it!

Haha.. Quite funny game.. Only if it had Xbox integration..

Not really my type, this app, but I must say that the graphics are really really smooth and candiesh. Gameplay also was better than expected. I can see kids liking it though!

These games are well laid out with high replayability.

I see the value in these games. Unfortunately they aren't for me in my current situation.

Make it an XBOX game and let me use my avatar in the games; that would be sweet. Other than that, nice, fun games.

Its funny that you say you can't remove the dye from the guest's hair. I think that is a life lesson about permanance of silly choices ;)

I think both of these toys are awesome for their look, function and more importantly, for their ability to facilitate a dialog about such large issue as diet and personal style. I'll keep both on my phone for the little one.

What's with the comment man, put some effort in.

My wife has some of the Toca Boca apps on her iPhone and I love these. Totally pump the creativity. My daughter really likes the salon(my seven year old son as well, but he wont actively admit it). Great additions to the store!

I'm so glad this is finally available. My 3 year old son loves this game. Can't wait for him to play it in the morning when he gets up.

I love the idea of toca kitchen, basically cooking mama for wp, but the food prep still seems too simple. The artwork is great though

Might have to try the kitchen app. My daughter likes playing in the kitchen, and this might be a good travel method.

Artwork and animations are great, there's been a lot of work in such a simple, kid-friendly, and educational game.