Today's Word updated with Lock screen and translucent Live tile support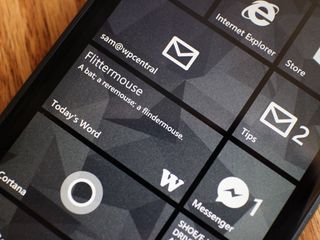 We've been covering the app Today's Word for a handful of months now. It's a great app that will help you grow your vocabulary every single day. You don't even need to launch the app since its Live tile will just teach you a new word daily. The app has been updated to version 2.0 that brings a host of new features. Let's check it out.
Head into the Windows Phone Store and you'll see version 2.0 of Today's Word. The following features are either new, updated or fixed:
Lock screen background
Add animation when loading word
Share Word as Image to various social media and any app that can receive images
Notification Sound (For Black update and above)
Ability to silent notification sound (For Black update and above)
Add translucent theme color to replace black
Redesigned App Bar
Bug fixes
We're all about translucent Live tiles now because of Windows Phone 8.1. Like the updated Vieather last night, be patient after pinning Today's Word to your Start screen. You'll need to go into the settings, navigate to the Live tile settings tab,select transparent as the Live tile color and click save down below in the App bar. Give the Live tile for Today's Word a handful of minutes to reflect the changes and show a translucent tile.
Also added to this update is Lock screen support, so you're learning everyday by just turning your phone on. You'll find the ability to share Today's word as an image to your favorite social networks. Now you can make the world a better place, one word at a time.
To grab this updated version of Today's Word head into the Windows Phone Store. Enjoy!
P.S. A lot of you are asking about my Start background image. Find it in this mega OneDrive folder. One of your fellow Windows Phone Central readers shared that link in the forums. I can't remember the exact comment, but it's in this thread. That thread also has a ton of other great Start backgrounds. Check it out!
Windows Central Newsletter
Get the best of Windows Central in your inbox, every day!
I know this isn't linked to the app... But what start screen background are you using?

I'll link in the post. Check in two mins.

I tried the link. Says it's been removed or i don't have permissions. I looked for low-poly generators, and found this great tool. It's like Polyscreen, but with all the controls you need http://matthew.wagerfield.com/flat-surface-shader/

Check post for link at the end.

Check post at the end of the link.

Awesome! A lot of wallpapers. Thanks!

Hey guys! I think I found the exact wallpaper used by Sam. It seems to be a different orientation though but the patterns match exactly. I also made some recolors for those who wish for a splash of color. If anyone wants a certain hue just let me know and I'll try to accommodate that. :) You can grab the wallpapers at my OneDrive folder - http://1drv.ms/1fePWIZ. I'll be making more wallpapers available whenever I have the time to do so but for now it only contains the wallpaper featured in this article plus the recolors. Enjoy!

With the way windows phone and windows phone market have been growing, there is no need to even receive android or apple apps. It seems that windows phone and its market has already grown into its powerful entity. -- Sorry if I am mean, I just dislike mean people! --

This is weird. Before long, I won't want any app on my screen that doesn't sport a transparent tile. This customization gives my Lumia 920 that wow factor again.


Yeap, same here, I "unpin" some apps that I used to love before, just transparent tiles now!

Wait wait wait.
Did 8.1 remove the need to open the app every 15 days for the live tile to keep working?

I noticed one app that had piss poor live tiles is now ALWAYS working. It's SOOOOOO refreshing to not have to open the app because it's only purpose to me is it's live tiles. Loving 8.1 <3

8.0 already removes this limitation.

Uh oh, now everyone knows your email, Sam!

That's not his email address, that's the name he's given to that particular inbox.

It is in my email address. You should can reach me anytime if it's Windows Phone related ;)

Facebook needs to be update to not giving the.... we're having trouble getting data...issue anymore. Beta works better but can't sync with phone or shows notification. Facebook fix this app for 8.1.

It needs a transparent tile..

That too but it isn't even working right. And I hate that the hub is basically gone from WP 8.1. I can't post to twitter and Facebook at the same time anymore. That's a bummer.

Yeah I'm not a fan of that one either... It was so convenient! I'll likely end up just not bothering to tweet anymore, now that I have to post things twice... Microsoft seriously needs to learn that newer software should NEVER remove functionality, unless you don't have an option. (for example, when you have to remove a feature from a third party app because the original service introduced a new restriction. Looking at you, YouTube...)

Check out wallbase.cc, that background is from the toplist http://wallbase.cc/wallpaper/2551827

The background option kills your battery life fast

I love Today's Word after the last update, when it had ironed out the few last remaining issues I had with it. Glad to see it getting a transparent tile too.

MoliPlayer updated here today :D improvements for WP8.1

I think I found a bug. If you open the app via the live tile, you don't see the three dots at the bottom right corner of the app. So you can't expand the application bar and go to settings, etc. However, I'd you open the app from the app list view, you see those three dots.

Hi the developer here, what you found is not a bug. You can't find the three dots because you are opening it from an ordinary word tile (the one pin from AppBar). FYI, that tile is static, it is intended to pin only that word. If you want to get the live tile, it's either pinning from App List or from App Setting. Oh, and thanks WPCentral and Sam for the coverage.

Aah, thanks for the reply. Maybe things can be made clearer a bit. Maybe this is why my live tile hasn't turned translucent yet?
Edit: Yes, that explains it. I just pinned it from the app list and out is now translucent. Thanks a lot.

Looking forward to transparent tile for WPCentral

WPCentral already has the translucent live tile... It has since the day the preview went live. There are specific rules you have to choose from to enable the feature. One of them is the "iconic" live tile, and I can't remember the name of the other one. I'm using the iconic tile, and it's beautifully transparent.

okay, it's okay to occasionally mistake translucency for transparency, but not in a a major title heading for a major website... titles are most commonly read so it'd be better not to perpetuate incorrect usage.

The link is broken, and there's a metric fuck load of pages in that forum. New link, please?