Top National Rail apps for your Windows Phone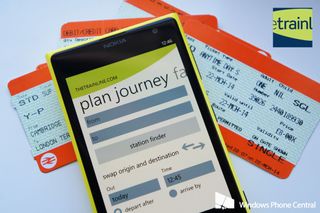 Windows Phone Central App Roundup: UK National Rail Apps
Here in the UK we have a great rail network, spanning nationwide to cover not only England, but Wales and Scotland too. To help passengers out in 2014 with smartphones as their most prized possession, a number of Windows Phone apps have been released with support for National Rail train times, tickets and more. As there are a handful to choose from, we thought it best to form a quick roundup to get you started.
The most important part about traveling is purchasing your ticket and finding the best deal in the process. Pricing can differ between networks (some offer "advanced" or cheaper fares when traveling with just that company), while other ticket providers add in admission fees and whatnot. We'll look at some of the National Rail accredited apps to begin with, which are available for paying out for your journey in advance.
thetrainline.com
You may have seen the advertisements on TV, but if not thetrainline.com (www.thetrainline.com (opens in new tab)) is an excellent ticket provider for rail travel within the UK. The Windows Phone app has been available for some time too, offering consumers the opportunity to make payments in advance before heading out the door, or better yet, purchasing tickets while on the move. Should you not wish to make the plunge there and then, one can even save journey configurations for later purchases.
The only issue with this app is the lack of updates since late last year and the lackluster design when checking ticket journeys and pricing. The overall experience is still pretty solid, however. Account login is present, as well as the ability to set a "home station" to conveniently search for next trains home when on a night out. It's definitely worth checking out, especially if you already have an account and use the service.
Red Spotted Hanky
Don't let the rather humorous name fool you, Red Spotted Hanky (www.redspottedhanky.com) is a serious ticket provider and is a personal favorite of mine, especially on Windows Phone. The user experience is as good as one would hope for, with effective use of the Modern UI and exclusive Windows Phone features. Unlike thetrainline.com, Red Spotted Hanky has a more esthetically pleasing ticket purchase/search system with different trains and fares available for configuration.
A feature that's pretty handy indeed is the display of tickets purchased through the Red Spotted Hanky app, perfect for those who have ordered for multiple journeys and can't keep track of everything through email. As well as this, barcode tickets (only supported on certain journeys) can be scanned from within the app. Matching the website design, the app eases frequent visitors into the mobile experience with little to no trouble.
Much like thetrainline.com above, Red Spotted Hanky hasn't been updated for some time, since 2012 in fact. Note that this app is built on Masabi, which also powers some of the operator apps available for Windows Phone. We won't add them into this roundup as they share the same functionality and layout.
When you're not wishing to purchase tickets, one has to ensure that his or her train is arriving on time. Not only that, but it's always best to know exactly which platform you're required to head to when arriving at the station. This is where a second type of app is available: journey planners. These companion apps help travelers remain on top of delays and any confusion when reaching unfamiliar stations. We previously looked at licensed National Rail apps back in 2011.
UK Trains
This is an excellent app available for consumers to check local stations on both departures and arrivals, as well as planning possible journeys. Utilizing National Rail data, the app is reliable and accurate with platform information to boot. It's possible to pin stations to the Start screen for convenient and instant access to that particular location, and filters are available to add in elements to a specific journey (filter to show departures that go via a station, etc.)
Here are some highlighted features:
List of nearest stations to current location
Map with directions to chosen station
Station departure and arrivals boards, including platform information
Show train live progress during the journey
Auto-refresh every 60 seconds, even under lock screen or when app is in the background
Show expected arrival time to discover when later trains arrive first than earlier trains
Allow to pin individual stations to the start screen
Show next departure information in live tile and lock screen (refreshed when app is running)
No need to manage favourite stations, recent items are remembered
The developer behind UK Trains has released a steady supply of updates since late last year, adding more functionality and addressing any reported issues. The best part about UK Trains is the app is completely free.
Rail Planner
A premium experience at a premium price, Rail Planner is a must-have for anyone who utilizes the public transport network on a daily (or frequent) basis. The app is powered by National Rail (using licensed data), hence the rather expensive price tag. That also makes it the more feature-rich app available on the Windows Phone Store. Not only are stations covered with departures, arrivals and platform information, but live progress reporting and more is included.
A neat feature of Rail Planner is the "upcoming" section, displayed when firing up the app. This lists all approaching journeys with information about the trains (if they're late, etc) as well as which platform you'll need to head to. Just like UK Trains above, one can also configure a home station for speedy access to routes home. Live Tiles are also fully utilized. While slightly pricey, Rail Planner is worth it should you be searching for a feature-rich experience.
Do you have an app or two that you prefer to use on your Windows Phone? Let us know your favorites in the comments.
Rich Edmonds is Senior Editor of PC hardware at Windows Central, covering everything related to PC components and NAS. He's been involved in technology for more than a decade and knows a thing or two about the magic inside a PC chassis. You can follow him over on Twitter at @RichEdmonds.
I suspect you're reading my mind, mate...I was precisely now looking for rail apps to use in England next month. So thanks! By the way, Chiltren Railways has a WP app too.

Do any of these work in Japan, Thailand, or South Korea???

You can download them there but they are aimed at British railways only.

Apps may work but trains will not

No worries :-) Where abouts in England you heading to?

India also have got nice railway apps their quality is extremely good on wp. 1st is ixigo and 2nd is NTES. I don't know when mobond services will update their m indicator which is a very much needed app here in Mumbai (India).

Suggestions appreciated. I will check them out.

Rail Mate also provide quality service and has nice UI http://www.windowsphone.com/en-in/store/app/rail-mate/e4eee1e9-2318-4b14...

Happy to see something like this for my UK friends. Would love to see a Boston MA commuter rail app. Some nice iPhone apps but none for WP8.

UK Trains is the best of all of these. The various train operators use the same application with different logos and to be honest are unintuitive.

Wanted to edit my comment but it wouldn't allow me to so I'll add it here. I don't think the use of "licensed" National Rail data is justification for the high price tag of Rail Planner anymore, since Network Rail now offers open data feeds to whomever may want them. I personally feel that they should reduce the price to say £0.99 or 1.49.

Prefer to use the First Great Western app, good design and has all the features you need. Plus it works with every rail operator in the UK, not just FGW.

HERE transit really needs to cover UK rail instead of just buses. In fact, the app is useless in most of the UK since it doesn't include rail.

I don't y here isn't expanding services to other countries.their maps are so good and accurate than Google maps

Its got the tube innit though

Here is created by nokia, so don't expect anything working properly. I don't know why Microsoft bought it.

Microsoft didn't buy the HERE division...

ÖBB Scotty for Austria and DB Navigator for Germany, both quite good apps :)

Yep, DB Navigator is a good one, covers even local transit that is not Deutsche Bahn (DB). Using this couple times a week.

i have to buy laptop by end of this yr...should i get the surface pro 3...and see if they come up with surface pro 4 or something...if they announce it by the end of the yr i can buy it early nxt yr also...suggest people

i need it for collage for 4yrs ...so should i get a proper laptop instead?

You forgot First Capital Connect: http://www.windowsphone.com/en-gb/store/app/rail-tickets/f85893a5-437a-471a-bda0-79e8cc95f22f And First Great Western http://www.windowsphone.com/en-gb/store/app/fgw/4f5bacee-a665-4628-aa98-bb6599c374d4 Surprised they were not both mentioned, as they're the most useful of all.

They run on the same platform as Red Spotted Hanky :-)

In The Netherlands we have 'trein' for WP8 and for Windows 8.1 'Treinplanner'. There are more apps but these are TOP apps.

Scotrail app for the win. The best free rail app in the UK.

The Swiss Federal Railways (www.sbb.ch) has a couple of great apps available in Windows Phone in English, French, German and Italian. Quite useful for traveling around Switzerland or to other destinations in Europe. It has the usual features of online ticketing, schedules, destinations, etc.

Have used the train line app from time to time, just to check train times. It has always been correct and is quick and easy to use.

Ugh, please nobody use thetrainline. It's a horrendously ugly app and they charge you booking fees, which none of the other apps selling tickets does (Red Spotted Hanky, Virgin Trains, Chiltern, First Great Western, etc) all of them sell tickets for all operators and stations and they're actually all made by the same company, but with slightly different ticket selection screen designs (and colours of the train company in question of course). There is literally no reason to use thetrainline over the other apps. UK Trains is very good for tracking delays and if you want to hop off the train at a station before your final destination. The lockscreen functionality is great too. If only Nokia could add an API to let apps update glance screens like this.

+930
The Trainline are an awful company, not only by way of costing you more money for booking fees, but terrible customer service too. Please please support the other companies' apps - I use CrossCountry Trains :)

This is one of the app in my most wanted APPS...Thnaks for info

Bought railplanner in the early days when it was pretty much the only app on wp. Its a great app, but now that it wont cost them for licensing the rail data, they should really drop the price

The trainline.com has been making a lot of noise in the UK with ads on TV & radio...

Both redspottedhanky.com and thetrainline.com are essentially the same company. Both are Association of Train Operating Companies. The ticket value is divided up as it would if you bought it at the station, apart from the fact they gain some comission. So basically it doesn't matter who you buy from because they'll get your money anyway.

I use the train line.com app and found that tickets are considerably cheaper via the app compared to going online and hunting for cheap tickets.

MICROSOFT OY.. Pushes update for NOKIA CARE & renamed it has LUMIA HELP + TIPS..
You can see the New version sitting at Version 3.2.4.2
By giving General Fixes for it

Scotrail is a great app. Don't have to pay the £1 booking fee like the others. Can buy tickets across UK with it not just Scotland.

London Travel is the best underground App by far. Very detail for travel planning and you can click on station for map directions. Includes buses, boat, overground, etc. Always gives you the fasted option depending on disruptions, you can even de-select mode of transport don't want included in your search. Also gives Oyster balance when you log in. Been using this app since WP 7. Can never live without it.
Windows Central Newsletter
Get the best of Windows Central in in your inbox, every day!
Thank you for signing up to Windows Central. You will receive a verification email shortly.
There was a problem. Please refresh the page and try again.