Licensed National Rail apps comparison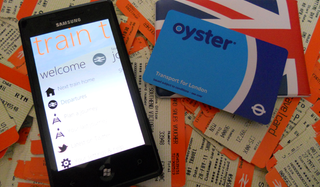 Britain's railway network is a love and hate relationship with us Brits, right? When it's working as it should and trains are on time it's arguably one of the most reliable railways in the world, but when there's a fault somewhere it turns into the worst within seconds. To help keep on top of timetable changes, delays and cancellations we've been using smartphones to aid us in our travels.
Windows Phone 7 has now two officially licensed apps in the Marketplace, which both share the same base functionality and high price (£4.99 – to be expected with licensing). The big question is what separates Rail Planner and Train Travel? Let's run through the nooks and crannies of both apps and see what functionality is missing in one that the other features and which is best worth the high price tag (please be aware that this article is intended for folk living in the UK, should you download these apps you may be disappointed if you abroad).
Head on past the break for the full two app comparison review (you can skip to the video at the end for a quick walk-through).
There are more familiarities between the apps than differences but when both of them are priced at £4.99, one has to go into more detail with what's different to come to a conclusion with which app is worth the cost. Both of the rail apps feature live timetables, GPS aided nearby station location, favorites support and journey planning.
Not only is the basic functionality present, but both apps are stable, fast and pull down the same information from National Rail. So what will enable us make a decision as to which is better? It comes down to three features that Train Travel features and Rail Planner lacks. Namely Live Tile support, journey saving/favorites and select stations via Bing Maps.
While Rail Planner does allow users to save favorites and it appears that recent journey plans are saved and displayed for easy access, Train Travel takes a more user-friendly approach. You save that journey plan and it's there next time (and the time after that etc). There's also no option to remove the background image in Rail Planner.
They may be little things that might not be a huge deal breaker for majority of users. For example, should you commute between two stations regularly then either app will prove invaluable, but for that added extra spark, Train Travel is the app for you. Check out the video below for a quick visual run through.
(I say in the video that Train Travel has favorites which is a major difference, I mean "Journey Favorites")
There you have it folks! I'd certainly recommend Train Travel as the best app for the buck with more features, which is perfect in a recession and for an app that costs an arm and a leg to purchase. It's still entirely up to you which one is best for you, but Train Travel provides slightly more customization. You can download Train Travel (opens in new tab) (Zune link) and Rail Planner (opens in new tab) (Zune link) from the Marketplace.
Rich Edmonds is Senior Editor of PC hardware at Windows Central, covering everything related to PC components and NAS. He's been involved in technology for more than a decade and knows a thing or two about the magic inside a PC chassis. You can follow him over on Twitter at @RichEdmonds.
Overall I agree with you Rich, only downside is that Train Travel has a ridiculous navigation structure which completely breaks the linear model of Windows Phone 7 when you start using the various features resulting in going to multiple screens. I really wish Avanade would fix that!

Thanks for the informative review. Nice to see someone in the area with a WP7 thought I was the only one lol! [Canvey Island, Samsung Omnia 7]

You using the I'm a WP7 app? :P

I am indeed ;) My Name is the same as on here.

...or you can look up the National Rail mobile website for free. Marginally less functionality, but saves you a fiver.

If either had the platform from which the train was leaving I'd buy straight away but as it stands I think I'll try before I buy this time.

Rail planner does have the platform number for arrivals and departures. I tried Train Travel and found a lot of the time it wouldn't display live info and Rail Planner always did, that's why i bought it instead. I really like it, it's never let me down yet.

On the c2c line (Essex) both apps only seem to provide station numbers for Fenchurch Street, understandable since most of the stations on the line only have two platforms but a good few have three or four. PITA.

My station (Kilwinning) has 4 platforms and Rail Planner indicates the correct platform for arrivals or departures. :)

the apps look good but since I only mainly use national rail trains between Fenchurch st and Westcliff it doesn't really seem worth £5 when I get email updates on any problems anyway. I use "Tube Map" app like mad though. nice review.

But Oyster is not a part of National Rail :-)

£5 is steep considering we subsidise the rail network to such a large degree, I think I'll continue using the website for times.

5 quid a bit steep, but big bonuses with Train Travel are 1) you can download a 10 go trial and 2) dig down into the live departures/arrivals and it shows current location of train.


I bought Train Travel based on this article and I must say that I couldn't be more disappointed. I found it to be rather buggy (like being unable to even select a departure station from the list - the app often just ignores all finger taps). It doesn't display useful information like platform numbers. Also while it is true that it claims to have Live Tile support I have never got this to work on my Omnia 7 - and checking out the reviews in the Marketplace it seems like many others haven't either.

I eventually gave up and switched to Rail Planner (and paying out another £5!!) but it was well worth it. Rail Planner has a much snappier UI and also has a great feature that isn't even mentioned in your review - the "upcoming" page! This is brilliant for me as I can set up the trains I take every day on my commute and the app automatically displays them for me on the home page. I use this feature every day!

My only complaint about Rail Planner is that they don't support the new mango features but I have emailed the developer who said they were working on it.

BTW WuzzoUK, both apps show the current location of the train in live departures/arrivals.

I agree with hellospencer - - TrainTimes is buggy and has an awful menu structure - - I'm going to pay all over again for Rail Planner too
Windows Central Newsletter
Get the best of Windows Central in in your inbox, every day!
Thank you for signing up to Windows Central. You will receive a verification email shortly.
There was a problem. Please refresh the page and try again.