Top ways to snap that QR code on Windows Phone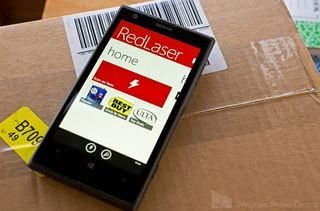 Those who grabbed Microsoft's Windows Phone 8.1 Preview for Developers have been greeted with a collection of new features and updates to drool over, but one of our past beloved features has also seemed to disappear. After downloading the Developer Preview, you will notice that Bing search has been replaced by the very capable Cortana, but the ability to scan QR codes has seemed to disappear along with her arrival.
The well-loved Bing Vision featured has not been removed, but simply placed elsewhere. We are going to show you how to access Bing Vision on your device running Windows 8.1, along with three alternative third party apps that can get the job done!
Bing Vision
The quick and simple to use Bing Vision feature still remains on your Windows Phone, but it has been bundled within the camera's "lenses" feature. Head to your camera app of choice (whether it be the default camera or Nokia Camera) and open the lens menu – there you will find Bing Vision.
The familiar app can scan a variety of barcode and QR codes and decipher their imbedded data. Users can also hit the "scan text" button to instantly translate visual text from one language into another. The "history" button allows you to view what you have recently scanned.
RedLaser
One of the most popular third party apps for scanning various types of barcode and QR codes is RedLaser by eBay. Simply launch the app and you are presented with a lightning button to begin your scanning. Like the Bing Vision app, RedLaser allows you to use the entire camera's view to scan codes.
Any items you scan will be interpreted for their data. If you have scanned a barcode of a purchasable item, RedLaser will show you where you can buy the product, along with reviews, and price comparisons. Anything you scan is automatically saved in the apps history for alter retrieval.
Interesting features of RedLaser include the ability to bulk scan codes (which I find useful to do while at a book store, so I can purchase them on my Kindle later), and the ability to store loyalty cards for your favorite stores. Lastly, you can scan items in wish lists to later share with friends and family.
The RedLaser app is completely free and can be grabbed from the Windows Phone Store for free by clicking here or, ironically, by scanning the QR code below (use Bing vision!).
Scan
This beautifully crafted app for Windows Phone is going to cost you $1.99 in the US. You might expect a bit of a feature filled app since the developers are not offering it for free, but you would be wrong. The application is extremely bare and minimal.
Opening Scan brings you directly to a full screen scanner to quickly scan barcodes and QR codes for their data. Anything you scan will be saved in your history for later retrieval. Scan is available on a variety of platforms and you can active a syncing feature, which may come in handy for some.
In the end, Scan is a minimal app that you are paying $1.99 for the ability to synchronize your scans to the cloud and to remove any and all advertisements. If you have heard of Scan before and live in the United States, you may have seen it on an episode of ABC's Shark Tank.
To download Scan from the Windows Phone Store for $1.99 USD, click here or scan (so many puns today) the QR code below.
QR Code Scanner
The last app on our list to possibly replace Windows Phone's built in Bing Vision feature is QR Code Scanner by Tap Plex. This simple and free app has an almost perfect Windows Phone Store rating of 4.5 Stars and pulls in a user interface very like the aforementioned Scan app.
Saying that the interface looks "slightly" alike may be a bit of a lie – they look exactly alike, except for a logo at the top of the screen that reads "QR Code Scanner". Simply swipe either left or right to access other menus including your history and settings.
The application does not contain any annoying advertisements, so if you are eyeing the design of Scan, but want to save some money and do not need the ability to sync your history to the cloud – QR Code Scanner might be the perfect solution for your Windows Phone.
It is important to note that this application does not have the ability to scan barcodes; it only scans QR Codes, so this will not be a perfect shopping companion for your next trip to the market.
To download QR Code Scanner for free from the Windows Phone Store, you can click here or scan the QR code below.
Conclusion
All three of the above third party apps and Windows Phone's built in Bing Vision experience provide a way to scan and find information for various barcodes and QR codes, but each hit the mark a bit differently. If you want the best experience to go shopping with, there is no doubt that you will want to check out RedLaser, with its excellent built in comparison tools.
We find that Bing Vision and Scan work very similarly, so we only recommend dropping the $1.99 for the Scan app if you find the ability to sync history across devices and to the cloud helpful. As for QR Code Scanner, it provides an excellent alternative to Bing Vision and Scan if you do not have a desire to scan store barcodes.
Do you use any of the above QR and barcode scanners or do you prefer to stick with Microsoft's built in Bing Vision feature?
At least there's one advantage of not being able to get cortana.

That's the positive spirit!

In the UK and Bing Vision is still showing in Bing, short search key press (try long hold on search key), but is also showing in the camera.

Hey Michael :)
even if you have our beloved Cortana, if you turn off location you can still use the old Bing search which has vision
you can simply make one of the action center's option "location" if you want quick access to bing vision :)

OMG that's a great tip. I was quite upset about losing that shortcut to Bing Vision and I only needed three of the quick settings, so location is now my fourth,thanks!

Yeah i use Vision quit a lot and my camera button was set for Nokia camera
but after playing with WP8.1 i found that Cortana without Location is turned off
and hey, no problem :)

If anyone of you uses uc browser, it has a qr code scanner which works pretty nice.

Thanks a milion Yousef... that helped me... Geez.. you don't know how happy I am.. I scan dozens of codes for a project I am busy with and to constantly click the camera button and than find the Bing vision lens was a real pain.

Bing Vision could've easily been placed with Cortana just like the Listening for Music button is there already. Now I need to wake up camera (good luck if you have a Lumia 1020 and set Nokia Camera as default. Hint, it'll be longer than with default stock camera app).

I really don't know why they didn't include a "look" button to tap when Cortana is active. Bing Vision recognizes a LOT more than just QR codes... barcodes, text, book covers, movie case covers, and more. "Cortana Vision" would be so much more useful than a Bing Vision Camera Lens.

you can simply turn off location and bing search will replace Cortana :)
just pin location to your 4 option in action center

Still way too many steps, just needs a button on Cortana.

yes but for now that's the simplest way :)

Just press the search button...its in there.

it's not there if you have Cortana

What's really bothering me is being unable to add cellular data in one of the 4 options on action center.
How annoying is that?

Just a tad, just use skinnery themes, cellular live tile or a shortcut tile app. Thanks to wp8.1 I have 42 apps pinned to me start screen (38 small tiles + 4 medium) and don't need to scroll at all.

Actually,if you disable location services,the full wp8 bing come back,because cortana without position don't work.So barcode scan again !

I don't know why they didn't just put a Bing Vision button right next to the Music Search button in Cortana. I don't really use QR codes much anyway, but still.

Someone should be able to easily make an app that goes directly to the bing vision app from ms. Like a shortcut. Its been done for other system apps.

This. I don't want to have to launch camera, tap ellipsis, tap lenses, tap Bing Vision.
No doubt we will see a shortcut tile sooner rather than later, or (preferably) see the functionality added back in to Cortana. I can't say I use it all the time, but having a single place to scan all kinds of barcodes as well as scan and OCR text was a killer feature I do NOT want to give up.

Love to try these out, but still no damn store

Buh-bye Bing vision! (just like a bunch of other features I liked)

Come on stop the whining if you listened to the Build it told you what would be available and where it would be available for. Not even the US has all the features but I for one feel like I have a whole new phone when I have at least another year to wait before I can get a new one - I also want to thank the guys who run wpcentral because it is the first place I go for information on either new equipment, new apps or if I forget how to make something do what I know it can do

I mentioned it in the review, it's under Microsoft Maps now.

what i do is disable location in notification center..so cortana is disabled from when u press the search button it opens the prev bing with the qr lens ... :)
no additional software require :)

Both Redlaser and QR Scanner only display the URL for the code, unlike Bing which will take you to the page. They seem to be very poor replacements.

It may come back. I remember when they removed the local hub. It came back after complaints.

check out imagebeamer .com for photo sharing via QR codes plus other options

So, we cant ask Cortana to "Bing Vision a QR code"?

I use the AT&T code scanner app in WP8, one tap and done. And it also takes you directly to the store (most of the time). Will see soon if works in WP8.1, upgrading tonight!

Someone has opened a feature suggestion, lets vote it up. http://windowsphone.uservoice.com/forums/101801-feature-suggestions/sugg...

Was just wondering about this. MS put it back! :D

Hmm... kinda lame they made the decision to hide things to make people use Cortana. Bing Vision and Local Scout were large tools that were used in the Windows Phone challenges, along with integrated Facebook. Really hope they think things through and just bring these back. Windows Phone is starting to become a launcher with a fancy home screen instead of a more streamlined experience.

I am not sure if I am just dumb... but how do I scan the QR code when already viewing the image on a page? Haha. I know most sites just put the link next to it, but some don't (believe meee) and QR codes are much easier to spot anyway. I wish I could just tap on the QR image...

I like ShopSavvy much better than RedLaser (it also has more reviews and a better rating). You can pin the scanner to the start screen and it launches very quickly.

What we need is for Microsoft to allow us to pin Bing Vision tile on our start screen.

hii every one..i have a prblm with notification and action center ..it is showing only phones messing app but not showing other apps such as facebook ,instagram etc...pls help meeee

People really should pay attention and understand fully what this means..... App requires contacts phone identity owner identity video and still capture location services photo, music, and video libraries microphone data services phone dialer web browser component camera HD720P (720x1280) WVGA (480x800) WXGA (768x1280) appointments maps photos library Proximity speech wallet wallet payment instruments camera If you don't know. You should find out. Then make a better informed decision. Apps like these do not need 95% of what is listed. People should be careful and not download apps that have unnessacary requirements.

You can install UC Browser and then when you call up Cortana, you can say UC Browser QR Scan, and she will say scan away. It will them launch the app and you can scan QR codes

Can't they just make the Bing Vision Lens available to pin to start? Office Lens, panorama, etc can be!

RedLaser looks good but also very intrusive .. Why does it need all those permissions ?? :-(

UC Browser y'all... use it.

So i asked Cortana to open "UC Browser Scanner" it give me two options UC Browser or UC Browser Which one to Choose haha

? No mention of my QR Scanner? OK, I see. It has to many features, to many settings, to good result handling and its to much FREE. If youre not afraid anyway, then just try it... http://www.windowsphone.com/s?appid=153780ce-aae5-4cb9-89c9-2f51899b843c
Windows Central Newsletter
Get the best of Windows Central in in your inbox, every day!
Thank you for signing up to Windows Central. You will receive a verification email shortly.
There was a problem. Please refresh the page and try again.