Top Rated Shopping Apps in the Windows 10 Store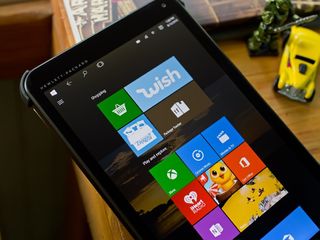 While shopping apps for our Windows Phones are great tools while you are on the go, there are plenty of shopping apps in the Windows 10 Store for shopping at home or planning your shopping adventures.
To continue our effort to expose those who may be new to Windows 10 to the top apps and games in the Store, we turn out sights to the shopping category of apps. We pulled a few of the top selections available in the Store to help you shop for merchandise, plan your shopping lists and track your shipments.
This roundup merely scratches the surface of the number of shopping-related apps in the Windows 10 Store. If we have overlooked your favorite Windows shopping app, feel free to toss out your recommendation in the comments below.
Shopping Lists +
There are numerous shopping list generators available in the Windows Store along with the option to use OneNote to plan your shopping adventures. These apps hope to replace the traditional "pencil and paper" lists with a more efficient, easier means to create shopping lists. For this roundup, we closed our eyes, tossed a dart at the computer screen and ran across an option that scores 4.5 stars in the Store. Shopping List+ has the foundation of being a decent shopping list generator and while there is room for improvement, we can see the appeal.
You can create multiple lists based on your particular need. Such as a weekly grocery store trip, planning a vacation, shopping for a birthday party or any other occasion you need to plan ahead before hitting the store. The main page will list all the lists you have created along with command buttons that run along the bottom of the screen to edit, delete and add new lists.
Clicking on an individual list you can add new items, edit existing (right click or tap/hold/drag down to highlight) and delete items. Shopping Lists + has a large selection of pre-defined items to select from that includes various poultry, beef, vegetable, fruit, drink and bakery items. There are hundreds of items to choose and add to your shopping lists.
You can scroll through the items or search by keyword. The downside to this large selection is that it is limited to food and drink products. Fortunately, if you type a keyword that isn't pre-installed, Shopping Lists + will add it as a generic item. You can edit the quantity of an item as needed by highlighting the item in the list (again, right click or tap/hold/drag down to highlight) and then choose the Edit command button.
The dominant downside to Shopping Lists + is that it is a standalone Windows app. There is no Cloud support or syncing between devices. However, if an independent option is your cup of tea, it should do nicely. I can see Shopping Lists + being a handy app to have installed on a 7" tablet to keep you on track as you cruise the shopping aisles.
Download Shopping Lists + for Windows (Free) (opens in new tab)
Wish
Wish is an online retail service that sells everything from clothes to gadgets. The selection of items includes trendy and unique items from international markets. Wish was one of our summer Hidden Gems and easily one of the top rated offerings for Windows 10.
Wish does require a free account that can be setup through your Facebook account or based on your email address. Once the account is established, the app will need to know the gender and age bracket you are shopping for. Wish will then use this information to generate a list of items based on that demographic. One could consider Wish as a personal shopper of sorts, but your shopping choices are not limited to the items that surface based on your demographics.
Wish has a broad variety of shopping categories that includes shoes, tops, bottoms, watches, underwear, electronics, home décor and more. The app offers you reviews of the items from customers, reviews of the merchant, size ratings and customer images of the items.
Pricing is competitive and shipping rates, while not free, won't weight you down. We have been impressed with Wish and a fantastic shopping app that is available in both the Windows 10 and Windows Phone Store.
Zappos.com
As you might guess, Zappos.com is the official Windows app for the Zappos website (opens in new tab). Zappos is a one-stop shop for a wide range of products that include clothing, electronics, home décor, home appliances and more. Think of it as an alternative to http://Amazon.com?tag=hawk-future-20&ascsubtag=UUwpUdUnU33381 but with a slightly smaller catalog.
The Windows app delivers the full Zappos catalog to your computer in an easy to navigate package. The main page is side scrollable, highlighting the various product categories and spotlighting some of the popular deals. App Commands from the hamburger menu offer you the options to browse an alphabetical listing of products, view any items you have tagged as favorites and view your shopping cart. Your most recently viewed items will also be displayed from the App Commands menu.
The Windows app settings will allow you to log into your Zappos.com account, create an account and email Zappos. The Zappos.com Windows app allows you to manage your account as you would from the website.
Product listings will offer you general information on the product, a host of photos and user reviews. Prices are competitive and shipping is free. If you are a frequent shopper at Zappos.com, the Windows app is a must have for your computer or tablet. I can see being a handy option for shopping from a tablet with the app being a little more user friendly from the smaller screen. The app is also available for Windows Phones.
Package Tracker
So you've made a bunch of online purchases and now you have a fleet of parcel delivery services targeting your address. Package Tracker is a fantastic Windows app for tracking all your shipments.
The Windows app has support for over sixty global carriers, push notifications and Live Tiles. You also have an integrated barcode scanner that can use your device camera (where available) to enter the tracking information for your package.
The interface is very user friendly with settings to filter out carriers you don't use, how you would like your packages sorted and the option to set up cloud synchronization to back-up your tracking data.
Once you have a package entered, the current status will be displayed on the thumbnail listing on the app's main page. Tapping on an individual package, you can view the full tracking history along with a map view of where your package was last scanned by the carrier.
Package Tracker is a really nice Windows and Windows Phone app. The only feature that may be missing is email notifications when a package tracking is updated. If you do a lot of shipping or ordering and want to keep track of all your packages, Package Tracker is worth a try.
There is a trial version with the full version running $1.99. Package Tracker is a universal app which means that you pay only once and can install the app to all your compatible Windows and Windows Phone devices.
Windows Central Newsletter
Get the best of Windows Central in in your inbox, every day!
George is the Reviews Editor at Windows Central, concentrating on Windows 10 PC and Mobile apps. He's been a supporter of the platform since the days of Windows CE and uses his current Windows 10 Mobile phone daily to keep up with life and enjoy a game during down time.
The how do u turn on windows 10 computer articles need to stop.

If by that you mean the help and how-to content for a brand new operating system, then sorry, actually not sorry, it'll be continuing. We like helping people.

These articles are a necessity as not everyone knows everything about W10. Please keep the articles flowing. They are really appreciated and as they cover parts of the OS, they are easy to ignore or read. Bite sized, informative and really helpful. Thanks :)

I find them very informative...

Yep the are a very useful article keep the good work guys!!!!

The whining needs to stop. It is strange to go out of one's way and read something of no interest.

It's very simple. Flick your finger, either on the little wheel in the middle of your mouse or on your touchscreen. It'll be gone in a second and you can cry no more.

No.. It's crucial to have those how to article. Confused people will go to Google to search for their problem, and when they found it and they went to this site for the information, it's profitable.

Press CTRL - W and the articles will stop.

Package tracker also syncs between computers when you connect it to OneDrive

Package Tracker has been my go to app for tracking all my online purchases. Couldn't see not having it especially during the holiday sales.

+1. I am a longtime user of Package Tracker. I always keep its live tile pinned to my start screen.

I also like Package Tracker very much. I use it on my Windows Phone and my computers. It's great that you can store your data in the Cloud, so each copy is up to date with the others.

I thought this was a list covering food shopping lists like Wunderlist, Cozi, Listonic, OneNote etc. Apps with a desktop component so you don't have to sit typing into a tiny keyboard. Just type it on your computer and it syncs with your phone.

What's the tablet in the picture ? Posted via the Windows Central App for Android

I got one of 7" HP Stream...very good device for the price

Excellent device I may say. Beats the hell out of my daughter's Tab 3.......But since Windows 10, it's become really unstable. Is it normal at the moment?

Hey! I was having a bunch of problems with my stream 7 on windows 10 until the update that came out yesterday. Seems all good now for me at least!

Can u make a small article on top 5 apps which provide good discount deals on services!!!

My guess is the list is retailer generic but the Amazon app is fantastic. Even if you don't buy from them the product reviews and pricing info are fantastic. I often will scan barcode in it while in retail stores.

I really like Package tracker - think that one's well done. Gratuitous plug for my own app - Shoppers Calculator. It's not on Windows 10, Windows Phone only at the moment, and is geared towards something you would have with you in the store as you go shopping, to help calculate the total before you get to the checkout. It can handle things like Sales Tax rates and real discounts that you might see in a real store like get 3 for $5, buy one get one half off, etc.2 big updates on the way - lists is the second. http://windowsphone.com/s?appid=92b8b7f2-6572-409e-b18b-0efb3ee752d7

It would be nice to read a follow up of this article and see after 6 weeks how many windows central readers have actually used these apps less than once a week, at least once a week, or more than once a week.

I like Package Tracker....some of the shipping companies I use are not there. I sent email to developer few months ago but no response or addition so far. Windows 8.1 could not run it in background but haven't installed it on Windows 10 yet. Hope that the limitation on number of apps run in background has changed!!!!

Zappos is not an alternative to Amazon. It is a wholly owned subsidiary of Amazon.

Really feel baised not seeing flipkart included in the list.

My feeling too.... That HELL "WISH" doesn't have even one genuine product and its mentioned in this article but Flipkart is not included.....!!!!!
Windows Central Newsletter
Thank you for signing up to Windows Central. You will receive a verification email shortly.
There was a problem. Please refresh the page and try again.