Top Role Playing Games for Windows Phone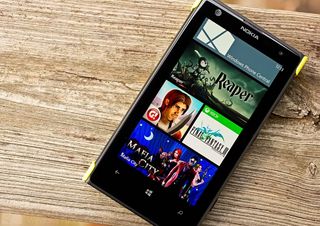 Windows Phone Central Gaming Roundup: Role Playing Games
Role playing games (RPG) can be an entertaining way to pass the time with and the Windows Phone Store has plenty of options to consider.
We sifted through the top rated role playing games in the Windows Phone Store and tapped four titles for this week's Windows Phone Central Roundup. The gaming titles cover taking on the role of a mobster to being a fantasy warrior. These games can be a fun way to escape reality and if you are not careful, they can be rather time consuming.
Rule The Kingdom (free)
Rule The Kingdom is a role playing game where you work to build a kingdom by overseeing home construction, troop recruitment, farm crops and defend your empire from trolls, skeletons and other monsters. It tosses in a little SimCity styled gaming action on top of the Dungeons and Dragons styled quests.
Rule The Kingdom Player Profile - Inventory
When you first launch Rule The Kingdom you will need to set your character's name and you will then be guided through a series of tutorials on game play. From there, additional tutorial lessons will pop-up when new gaming features become available.
Game play is launched from your kingdom's map that is lined with a lot of information, almost to the point of being on the cluttered side. In the upper left corner of the screen, you will find your character's gaming stats (experience level, health, etc.). Along the top of the screen, you will find your coin and gem counts (used to buy gear, upgrades, potions and the sort) and links to your friend listing, the game's shop and the game's combat quests.
Rule The Kingdom City View
Down the left side of the screen are icons to view your game quests, icons to build up your army. Along the right side are links to the developer's web site, a quick travel button to your home city and access to your character's inventory. Along the bottom of the screen, you will find any spells available and your travel mode (walking/running).
Rule The Kingdom Quest Information
Playing Rule The Kingdom involves traveling from quest to quest, visiting with the citizens of your kingdom and tending to their needs. You can use gems and food items (collected from the baker in your home city) to recruit and train troops to join you in your travels.
Combat is automatic as you approach the enemy and as you slay the enemy, gold and experience earned. You can also find gold, gems and other items in abandoned treasure chests that are scattered throughout the kingdom. You also have the option to buy gold and gems via in-app purchase.
Rule The Kingdom Combat
Rule The Kingdom is a fun role-playing game and while appealing, I could not help but think the game is better suited on a larger screen. It is an enjoyable game to play on your Windows Phone but the small print and graphics can be tough to follow. It would be nice to hide all the menu options to open up the game view a bit.
Luckily, if you become hooked on the Windows Phone version there is a Windows 8 version that can be installed on a larger computer screen. Unfortunately, your progress will not transfer between devices.
Rule The Kingdom is a free game and available for Windows Phone 8 and Windows 8 devices. You can find the Windows Phone version here in the Windows Phone Store. The Windows 8 version can be had here in the Windows Store.
Reaper (free)
Reaper isn't your typical role playing game. It combines RPG elements for character development with a platformer styled game play. The game has outstanding graphics and animations and the menu screen ranks amongst the best as far as appearance is concerned.
The story line has you playing the role of Reaper, a black swordsman tasked with traveling the lands and slaying thousands of enemies to restore all that is good. Along the way you gain experience, earn coin and upgrade your character and buy more efficient and effective gear.
Reaper Main Menu
As with all of the RPG games in this week's roundup, Reaper starts you out with a series of tutorials that guides you through the various aspects of game play. In a nutshell, you travel around a map and take on various quests along the way.
Reaper Map View
Combat is conducted in two-dimensional style with directional arrows at the bottom of the screen controlling your characters movement and a series of taps and swipes controlling the attack and defensive moves. Combat has an arcade feel and at times a very quick pace. The only downside to things is that once you are committed to a mission/quest and are defeated, there is not a way to back out of the mission/quest.
Reaper Combat Screen
At the completion of each combat round, you are awarded gold and experience. When you have earned enough experience to upgrade your character's skills a mask will flash on the map view to take you to the level up screens. When not flashing, the mask will take you to your profile page where you can manage the Reaper's gear. There are shops scattered about the map where you can spend your gold to buy better weapons and gear.
Reaper Level Ups
Overall, Reaper is a nice balance between an RPG game and an action-packed arcade game. Animations and graphics are impressive and game play challenging enough to keep things interesting.
Reaper is a free game up and you can advance your character to level 10. After which, you have a collection of in-app purchases to unlock additional gaming packages.
Reaper is available for Windows Phone 8 and you can download your copy here in the Windows Phone Store. If you are looking to play Reaper from your Windows 8 tablet, there is also a Windows 8 version (free) of Reaper that you can find here in the Windows Store.
Mafia City (free)
Mafia City offers you the chance to become a mobster, build your criminal empire and move up the ranks to become a Mafia Boss. Mafia City is an online, multi-player game that is more strategy oriented than on-screen action.
When you first launch Mafia City, you will need to register with the gaming server to create your gaming identity. The game will then launch an extensive tutorial that walks you through everything from hitting the gym to increase your character's strength to robbing other players for cash.
Mafia City Tutorial, Map and Combat Screens
Game play is centered around a city map with your player stats lining the top of the screen, activity links lining the right side of the screen and menu links scattered across the bottom of the screen.
Mafia City is an online game and requires a data connection to play. Being an online game, you have the opportunity to chat with other players, create your own mob family with friends and fight, rob and cripple other players online.
Mafia City Character Upgrades, Inventory and Casino Games
The city map has various destinations that include a gym to build your character's abilities, a mall to shop for gear, a real estate company to buy/invest in properties, and a casino to take part in games of chance to earn some easy cash.
Mafia City is a decent game but may not appeal to everyone due to the lack of arcade action. Fight scenes are more or less a series of sound effects and on-screen slashes that are done automatically. While most of the game is strategy oriented, you do have the casino for the times you need a little hands-on gaming.
Mafia City is a free game that is available for Windows Phone 8 devices. You can snatch your copy of Mafia City here in the Windows Phone Store.
Final Fantasy III (trial/$15.99)
Released just a short time ago, Final Fantasy III is the latest installment of the RPG gaming series for the Windows Phone platform. In this Xbox Windows Phone game, you are tasked with guiding your character, chosen by a magical crystal to journey out into the world and save it from the darkness.
Final Fantasy III Opening Mission
You start the game with one of the youths trapped in a cavern where he must fight his way to safety. In many respects, the journey through the cavern serves as a tutorial giving players a feel for the movement and combat controls. You also have the opportunity to gain some equipment from the stranded treasure chests you stumble across.
As you escape from the caverns, you find a large blue crystal that taps you as the chosen one. Your character is then transported out of the caverns to the surface where you visit cities, chat with town folk, take on various quests and build your party.
Final Fantasy III Map View
Game play is decent but can be frustrating with all the transition screens that you cannot tap past. For example, when you run into a monster to battle the screen will flash and the scene will pan across your opponents. It would be nice to tap past this transition and jump right into the fight.
Final Fantasy III Combat
Graphics are a little on the basic side and reminded me of something you would find on a Nintendo DS, which is not necessarily a bad thing. I just expected a little more pop out of the graphics.
Final Fantasy III does have a nice on-screen joystick to guide your player around the screen and the ability to save/load games can come in handy. Final Fantasy III can easily keep you busy for a marathon gaming session and with the ability to save your game, it can fill those shorter game time needs as well.
While an enjoyable RPG option for your Windows Phone, the biggest hurdle Final Fantasy III has to overcome is the price tag. There is a free trial version for Final Fantasy III and the full version is currently running $15.99 (ouch).
Final Fantasy III is available for both Windows Phone 8 and 7.x devices and you can find your copy here in the Windows Phone Store.
Best Break from Reality?
As the RPG genre transitions to the small screen, allowing for flexible game saves and mobile friendly controls these games have become an entertaining way to pass the time with on our Windows Phone. Based on Windows Phone Store ratings, the four titles in this week's roundup represent some of the best gaming titles available.
But is there a best amongst the best?
The answer may rest with personal preference. If you prefer the fantasy role playing titles, Rule the Kingdom probably offers the wider range of gaming activities. You battle monsters, find buried treasure, help build cities, and farm crops. It does play a lot better on the larger Windows 8 screens. The Windows Phone version just feels cramped on the smaller screens.
Reaper plays more like a platformer game on steroids with its RPG features to advance your character's abilities and upgrade their weapons. Final Fantasy III is another good (yet expensive) option to consider and has a slight retro feel to it, reminiscent of older RPG games.
Mafia City will likely catch the eye of those looking for a role playing game where a life of crime replaces a life of slaying orcs and goblins. Mafia City goes a step further and hopes to attract those who don't need arcade action with their RPG games. It is a challenging, multi-faceted game but lacks the visual pull at times. Personally, I see Mafia City as more of an acquired taste not only with the subject matter but the gaming style. Mafia City has its moments but the game may not have as wide of range for appeal as the other gaming titles
All four titles have a certain amount of appeal and if role playing games are your cup of tea, each is worth a try. As always, if we have missed your favorite Windows Phone RPG game, feel free to share in the comments below.
George is the Reviews Editor at Windows Central, concentrating on Windows 10 PC and Mobile apps. He's been a supporter of the platform since the days of Windows CE and uses his current Windows 10 Mobile phone daily to keep up with life and enjoy a game during down time.
Reaper should be an Xbox game. It's fantastic.

Good like Reaper and FF III :)

Rule the kingdom my favourite :)

Order and chaos? I'd say thats an RPG, even if its online. Also id appreciate it if you labeled the freemium games as freemium rather than free (such as reaper).

Order & Chaos, Spectral Souls, Final Fantasy I, Dungeon Hunter 4, Doom & Destiny, Chaos Rings. There are many really great RPG games available for WP.

is the top photo a l920?? may i know what cover case it has there? the one in yellow snatching the corners..

Agreed. I have the same cover on my 1020.

Its a 1020, you can tell by the top calling speaker.

Skulls of the Shogun? Zombie High Vols? SoulCraft? Dungeon Hunter 4? :/

Yes, Soulcraft. I had played it in Lumia 520 when I was still used the phone, but the game was very bad, Soulcraft I meant, everytime I play it, after finish one mission, it hangs, can't be stopped, I should press volume button and Windows logo key to make it restart. Soulcraft was not updated.

Soulcraft worked perfectly well on my 620

Not all this game available on the store. Maybe on us store. Always us store got the advantage. Why is that? I believe another country have more share market on wp than us. Wpcentral should make a fair list than this One. I want to play rule the Kingdom and FF too. Don't make me jeolus. Sorry for my unfluent english

change your region to U.S; restart the phone... and you're ready to download the games that is not available in your region. but don't forget to change back to your original region setting after you've downloaded stuff from "U.S Store"...

It works with free games. You need to have US credit card to buy payd ones.

Is it not possible to use PayPal? I remember when WP7 came out and I wrote the app to Region Change the Marketplace for people outside of the US that some could use PayPal to make purchases.

Dragon's Blade is our favourite in the market. Hours and hours of gameplay, active developer, its own forums, wiki help and the list goes on. Plays a lot like a combination of Ultima and Final Fantasy. Available for Windows and Windows Phone with save game sync between the two. Did I mention that there is online play as well? Best in the marketplace. In our opinion.

YES. Dragon's Blade beats everything.

Dragon's Blade is available since WP7, it is impressive. Maybe the graphic is not everyone cup of tea, though not anything near bad. I play Heroes of Larkwood. I think Dragon's Blade 2 is on beta.

Absolutely! Dragon's Blade - Heroes of Larkwood has made significant improvements over the original. We don't care about graphics, it's all about the game play. Never heard about the beta, glad to hear Nate is still creating new games!

Well it's embarassing, i play Heroes of Larkwood because the ad is smaller than Dragon's Blade.

Buy it and support the dev! It's not expensive to begin with and for the amount of gameplay, it's a steal!

Yeah, Dragon's Blade is an awesome game. It was the first game that I played for almost 2 hours.

Mafia City, another game not avaiable in Portugal. This BS is realy starting to get in my nerves... Yes, i know i can dowload some of these by changing the locations settings but i shouldn`t have to, besides that, several times i`ve done that just to discover it wont work anyway, like that xbox video crAPP.

I can't even pay for XBL gold and we've been in the EU for 10 years. It's ridiculous.

I recently migrated to UK and now Microsoft accepts my money for some services, but still not everything is avaliable. I should apply for Microsoft CEO to teach them good marketing strategy. "Take money from whoever wants to buy and don't wait for those who don't"

@triniti: some services like Netflix, don't depend on MS, but licencing issues.

Exactly mate. I agreed with u completely. Why we have to trouble ourselves to change the region.

Doom & Destiny is my favorite. Story is all tongue-in-cheek, wonderful control scheme, and good game play strategy. Available for both WP and W8, looks great on my Dell.

If only Dark Avenger ia available in WP :(

How much should it be spent on Reaper to, put it in some way, "complete" it? does it has a proper ending? or is just an IAP sinkhole with no end?

The very first collection is the only you need to spend in order to unlock full level. The rest packages are for other modes and some fancy stuff for your character. Reaper isn't an IAP hooker, it's just like trial game with IAP to buy full game.

Cool, thanks for the reply!.

Hangs after every level, it is the most poorly made game I have played on WP.

I love doom and destiny :)

Is there any way to tell if a game like FFIII can backup saves? I know it doesn't have a Win8 version, so cross-platform resumes are out. I just don't want to start a huge game like that, only to be forced to start again when I update my phone. It'd be nice to know whether Microsoft has a cloud save option in the works, too, (or if this will always be the developer's responsibility)...

It's the developer's responsibility. Unfortunately, Square Enix still doesn't seem to understand where cloud saving is needed most. They have it for FF7 and FF8 on Steam, but not for anything on phones! And it doesn't look like they're going to do it anytime soon, if ever.

Reaper is amazing!! Some reason mafia city says its not available for my device?? I have lumia 820?? Region??

That is TCG and on card game section.

I can't stress this enough people, please try BATTLELOOT ADVENTURE. Best Rpg in my opinion.

How can you not mention Doom and Destiny? That game is hilarious and fantastic! It plays off of a ton of old RPGs (both video game and board games), and even if you are not familiar with them there is plenty of other side-splitting ridiculousness in there to keep you interested. Also, the FF1 port makes for some good classic RPG game play. I am not a huge fan of the FF3 chibi remake.

Also, a bit of a stretch, but Wizard's Choice is a choose your own adventure book style game with some near RPG elements added to it. Great fun, decent writing, and a good challenge.

Not a stretch at all! We love choose your own adventure, heck, I can remember buying CYOA books...just dated myself, I guess. Zombie High and Detective's Choice are great as well.

These are the games id buy immediately if made/ported to windows phone: breath of fire 3, grandia 2, shining force 3, tales of destiny. I would have dropped $15 on final fantasy if it had cloud saves. Besides being stuck in useless traffic, losing games saves is a big pet peeve of mine!

Are all of these really RPGs? I'm surprised Chaos Rings didn't make the list!

Doom and Destiny is definitely worth a shot!

I'm really surprised FF3 made the list over Chaos Rings. They are both great games, but Chaos Rings is definitely the better of the two. I also don't think I agree with Rule the Kingdom or Mafia City being on the list. They're good games, but there are much better rpg's out there (and ones that represent the genre better).

I'd arguenthat Final Fantasy 3 aside, none of the other games are actual RPGs in the classic electronic gaming sense. But then again, the RPG genre has been stretched and used for so many things that it's far beyond recognition at this point. In the classic sense, almost all games could be called role playing games anyways.
Reaper is plenty good, though I'd rather call it action-adventure or sidescroller with RPG elements.
Never played Rule the Kingdom, but from the looks of it seems to be more of a simulation game with toned down RPG combat element.
Mafia City is plain strategy with adventure elements.
How do you define it? RPGs, in the classic sense as defined by console games of the NES era, involved story based games with no action elements (which relies on player reflexes and whatnot), which follows a protagonist character or a team of them with clear objectives and an arc-like story.
Elements wise, it goes with turn based battles, npcs, spell/job/power evolution trees, inventories, shops and whatnot. But again, the main characteristic is that it is story based.
Contrary to popular belief, lenght isn't a requirement, but it is pretty common as it's needed for story and character development.

Is to make the site in Portuguese of Brazil? The website is very good, and do not use English fluently, it would be helpful to the Brazilian people who also admires the Windows Phone and other platforms too!

As I recall, Rule the Kingdom was a P2W (Pay2Win) and as far as RPGs go, FFIII is the best on that list but Reaper is a damn fine game, the last final boss was so difficult to kill. Sad though it never properly updated.

What an odd selection. FF is the only game in this roundup remotely worth playing. The free to play crap is awful

As I read this article, I found myself wondering why Chaos Ring didn't make the cut. Neither did Dragon's Blade or its sequel, Heroes of Larkwood. Both were fantastic games. Soulcraft is another one that i really enjoy playing. Its cool that a lot of these apps are available on both Windows 8 and and Windows Phone. On my tablet, i play Dungeon Stalker 2, Doom & Destiny, and Soulcraft. On my phone i play Dragon's Blade and Futuron (Hope they port this to tablets soon!). Anyone else play Dungeon Stalker 2? It reminds me of Elder Scrolls between, graphics, and story mode with the quests.I think the replay value is good. Anyone know any updates on Futuron?

Great games, i have 3 of them, but dungeon hunter 4 is awesome to

Hey i have an problem.... i play Rule the Kingdom, i have lvl 18 but i'm dissapointed because i can't use the PVP Battles( this button is grey) in my WP8.... another friend of mine with Android OS play this game too and he had access to PVP... what i have to do in this case? Maybe an update from Game Insight will repair that? Please someone who know to answer me asap!

I'm not a fan of ff3 and chaos rings is just a dungeon crawler. I would like to see final fantasy 6 and some dragon warrior games come to windows phones. Companies are slacking with RPGs on mobile devices. Square enix, could be making a killing with some old classics.

Age of sorcery is also best
Windows Central Newsletter
Get the best of Windows Central in in your inbox, every day!
Thank you for signing up to Windows Central. You will receive a verification email shortly.
There was a problem. Please refresh the page and try again.