Top Travel Planning Apps for our Windows Phones
Windows Phone Central App Roundup: Travel Planning Apps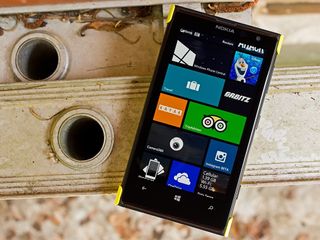 Summer is upon us and the vacation season is quickly moving into high gear. Many will be planning vacation getaways and there are plenty of Windows Phone apps available to help you plan your trips.
The focus of this week's Windows Phone Central roundup is travel planning apps that will help you find hotels, flights and even rental cars all from one app. These one-stop shops make travel planning convenient and in many cases stress-free. Along with these multi-faceted apps, we will also toss in a few apps that have a singular focus for hotel reservations, flight bookings or rental cars.
Orbitz (Free)
Orbitz.com (opens in new tab) is a popular travel website that provides resources to find competitive pricing for your travel needs such as booking flights, hotel rooms and rental cars. The Orbitz Windows Phone app delivers these resources to the small screen of your phone while you are on the go.
The main page of the Orbitz app has options to search for hotel rooms, flights, rental cars and vacation packages. You can also check on a flight's status and log into your Orbitz Rewards account.
In the upper left corner of the main page is a drop down menu that will have similar shortcuts and is accessible throughout the app. It is a nice touch and makes navigation a little simpler and convenient.
Hotels can be searched by location (address, city, point of interest or airport) and you can use your Windows Phone location services to find a hotel nearby. Hotel information covers the basics such as amenities, photos, reviews, dining and other attributes. Pricing is broken down by room type and you can make reservations directly through the app.
Airline flights can be searched by round-trip, one-way and multi-city schedules. Car searches include options as to where you need to pick the rental car up at, where you want to drop it off at and the dates you need the car. By default, car rental and air flight searches pull results from all available providers but you can specify a preferred provider if desired.
The Vacation package is a nice option that will plan your flight and hotel room in the same search. Just enter your departure and destination location, dates of travel and a few travel preferences then Orbitz will generate a travel package for you.
Overall, the Orbitz Windows Phone app is a nice option to consider. If you are an existing Orbitz.com member, the Windows Phone app is a natural fit. I did find navigation to be a little quirky with pages not loading completely. Nothing too detrimental but don't be surprised if you have to hit the Back button every so often and re-enter your search information.
Kayak (free)
Like Orbitz.com, Kayak.com (opens in new tab) is a popular travel website to help you book flights, hotel rooms and rental cars. The website has a simple, straightforward interface and the Kayak Windows Phone app shares that simplicity.
The main page of the Kayak app has options to search for hotels, flights, rental cars, check out price alerts, track flights and access your Kayak.com My Trips feature.
Searches for flights, hotels and cars share the app's simplicity. The hotel search has a nice feature (the compass icon in the upper right corner) that will pull up cities in your area. Tap a city to automatically fill in the city field of the search engine. This can come in handy when traveling and you are not exactly sure which city you're closest to.
Everything else is fairly straightforward. You enter the destination city information (and departing city for flights), dates of travel, and a few other travel variables (guests, rooms needed, round-trip, one-way, etc.) and Kayak will search hundreds of travel sites for the best deals.
Hotel information will include detailed information about the facility (location, contact numbers, rates, etc.), reviews and photos. You can also pull up a map view of the hotel.
The only thing missing from the Kayak app is a home button that will send you back to the main menu. As is, you will have to tap the Back Button several times to get back to the main menu. A home button would be convenient and improve an already feature rich travel app.
Otherwise, the Kayak Windows Phone app is a well designed, easy to use resource for your travel planning needs.
Travel (free)
Travel is Microsoft's contribution to the travel planning apps category. The app was originally titled Bing Travel and while we aren't sure as to the why, the "Bing" was dropped around the time the application left the Beta stages.
As with other apps in this week's roundup, Travel will let you search and book flights and hotel rooms but lacks the rental car features. While you may not be able to rent a car through Travel, the app makes up for this missing feature by providing a well-rounded, easy to navigation, good looking Windows Phone app. Characteristics we've come to expect from a Bing app.
The main pages of the app include:
Hotel information is returned by the closest, most popular, lowest price and highest class of hotel. Individual hotel listings will offer the customary rate information, amenities, photos and reviews.
Flight searches can be conducted to find the lowest price, shortest time, earliest departure and fewest stops. You can also search for one-way flights.
The only downside to Travel is there were times the app took a considerable amount of time to return search results. It wasn't a consistent delay but at times a little on the frustrating side. Nonetheless, if you have the need for a travel planning app for your Windows Phone, Travel should be on your short list.
The inability to search and book rental cars may be an issue with some but overall, Travel is a good addition to the Windows Phone travel app library.
TripAdvisor (free)
As with most of the Windows Phone apps mentioned in this week's roundup, the TripAdvisor app provides you with mobile access to a travel website of the same name (TripAdvisor.com (opens in new tab)).
The Trip Advisor app is designed to help you find hotels, restaurants, and attractions for your destination. The app does lack the ability to search and book flights or rental cars but does a nice job of providing you dining and entertainment information.
The main pages for TripAdvisor includes an Explore page where you can search for hotels, attractions and restaurants; a page listing hotels, attractions and dining options near your location; and a My Saves page that will list any places you tag as favorites.
Hotel information will provide you with the customary details on that particular establishment that includes location details, reviews, photos, amenities, etc. You can also have Trip Advisor search for the lowest prices from partner sites.
TripAdvisor is more scaled back than the other Windows Phone apps in this week's roundup but it does a nice job of things. If you already have a way to get to your vacation getaway and need help with finding a place to stay and where to get a good meal, TripAdvisor is a Windows Phone app worth a try.
Best of the bunch?
All four highlighted apps do a decent job of helping you plan a flight, book a hotel room and, for some, find you a rental car to use once you get to your destination.
Orbitz offers a nice range of features to help you book flights, hotel rooms and rental cars but the navigation didn't feel as smooth as with the other options. TripAdvisor does have hotel, restaurant and attraction search features but lacks any flight or car rental features. While everyone may not miss these omissions, without them the app does take a backseat to the other apps in this week's roundup.
Kayak and Travel offer the best layout and feature set but Travel may be hindered by the lack of a car rental feature. Again, this may not be a great loss to everyone. Between the two (if car rentals aren't needed) it's a coin toss as to which is the better option. Both are free, so it won't hurt to try them both out and decide for yourself.
While the highlighted apps tend to multi-task to help you with your travel plans, we have a few additional Windows Phone apps to mention that are more single-tasked oriented in finding a hotel, booking a flight or securing a rental car.
Official Airline Apps: We have seen this category of apps grow over time to include several major airline companies. While features may very slightly, most of these apps will let you search for flights, track flights, access your premium accounts, check airport layouts, set parking reminders and more.
Official Rental Car Apps: As with the airline apps, we have seen a nice showing of rental car companies release Windows Phone apps. In general, these apps will allow you to look up pricing and availability, reserve car rentals and locate drop-off locations. While Hertz and Thrifty both have Windows Phone apps, neither receives good reviews. Here are the top rental car company apps based on their ratings.
Hotel Apps: There seems to be as many hotel finder apps in the Windows Phone Store as there are weather apps. There are a few official hotel chain apps worth mentioning and two hotel finders that covers all your lodging options.
Lastly, we have two general travel planning apps worth a mention. There is My Trips that is a TripIt.com companion app for your Windows Phone and MakeMyTrip, which is a companion app for India's leading online travel provider, MakeMyTrip.com (opens in new tab). Both come across as capable, feature rich Windows Phone apps to help you plan your travels.
We have covered a lot of ground with travel apps in this week's roundup and if we've overlooked your favorite trip planning Windows Phone app (or travel app in general), let us know in the comments below. And if you're hitting the road or friendly skies this summer, we'd like to wish everyone safe travels and a relaxing vacation.
Get the Windows Central Newsletter
All the latest news, reviews, and guides for Windows and Xbox diehards.
George is the Reviews Editor at Windows Central, concentrating on Windows 10 PC and Mobile apps. He's been a supporter of the platform since the days of Windows CE and uses his current Windows 10 Mobile phone daily to keep up with life and enjoy a game during down time.
ixigo is a decent app.. :)

TripAdvisor has not been updated in over 2 years. They are not interested in the Windows platform.

Just fyi, that Virgin Atlantic app isn't an official one

Thanks. Will make the distinction.

Might also be worth pointing out that the Virgin and Orbitz apps are just wrappers for the mobile websites (I think).

Hopefully in the near future we'll be able to just use Cortana to plan journeys. Even if just by voice commands supported by these apps.

Cortana to plan the quickest flights for you would be great.

I would be happy if only Cortana gathered my flight info from emails. -_-

From what I hear, Cortana will get flight information from your email if you use services like Orbitz. I tried Orbitz, but had errors trying to book my flight, so I went directly to the airline site to book my flights. The email they sent was in iCalendar format (*.ics) and Cortana can't seem to read this data. Whatever the case, Cortana is not finding my flight information. I wonder if anyone else having better luck with this.

Cortana recognized my southwest flight emails. Asked me if I want to keep track of them

+1. Was pleasantly surprised when Cortana did this for me the other day for some flights that had been in my calendar a while. I think this is new functionality that has been added in the recent update.

Blackberry travel does that very well. I'm hoping windows phone brings that type of integration in an 8.1 update

TripIt. Not a planning app as such, but it's the best thing I've found (on any platform) at organising your plans when you have made them.

Yes, trip it is one of the best pieces of tech available in the travel industry. It removed one of the biggest headaches from travel. Unfortunate they don't do a great job of pushing the "forward your plans to plans@tripit.com" enough and the best feature goes unused

Apps? Speaking of apps, has anyone heard of OfferUp! It's a growing in popularity buy/sell service, similar to Craigslist, that has apps available for iDroid, but say's that they don't have plans to make a WP app... This service is seriously gaining popularity, and could knock CL out!... Please leave them your thoughts about not supporting WP...
........................
https://www.facebook.com/offerupnow
........................
http://tinypic.com/m/i4q1ki/1

I thought that Microsoft bought Kayak like years ago. Not the case?

So, this is what happened, in regards to that.

There is an official Hertz app too http://www.windowsphone.com/en-us/store/app/hertz-car-rental/c953f36c-78ee-4458-86df-59ca0d859996 I find that Kayak crashes a lot but is a really well made app; just needs an update.

Next week ai go on holidays :D

All of these seem to center around flights. What about the great American road trip?

A Route 66 app would be awesome.

Brazilians have the great Decolar.com app!

Brazilians have the great Decolar.com app!

I love Travel. I pin my favorite cities to my start screen just for the pictures.

Alaska Airlines official app.

The United app is really good - too bad the airline sucks.

There's also a Lufthansa app: http://www.windowsphone.com/en-us/store/app/lufthansa/64137064-021f-4ef5-bf5e-df07713a4aae

Wish booking.com would make an app too...

As usual the store links are not available! :(

Foursquare is actually pretty cool to use when you're in a new location, to see what is around you.

MyTrips is a great Tripit app. Much better than the official Tripit app. Always use it when I travel. I suppose that's more trip management than planning, but still a great travel app.

I would like to recommend wipolo for trip planning. It is similar to mytrips but it's free

For us in their area, Alaska Airlines has an app now for WP8

WorldMate is the best itinerary manager I've found to replace Blackberry Travel. Once you've booked and got your confirmation email, it captures all the info automatically and saves it for you.

I second this and am surprised it was excluded from mention. It works better than kayak for wp because u don't need an internet connection to view your itinerary.

What about SkyScanner? Lots of my friends in Europe use it.

Skyscanner it's great and the Malaysia airlines app works pretty well to even though some may be way of flying that these days

I don't think the Hilton App is official either. Both the Android and iPhone apps are developed by Hilton Worldwide and have links from the Hilton site. This one is by Ole Mole.

AMTRAK is a great app to use for those that travel by train whether for business or leisure.

too many apps in this field. confusing. hope they will all fuse to just one travel app with universal travel search and here maps integration.

Love your reviews and round ups. I felt here you missed a the global view. Sixt is a rentacar app also you misses British Airways, Lufthansa and KLM official apps.

Like this post....... Turkey tour packages from India

YOu can also check this site Travelwithsmile.com out its a very good travel site with some best and cheap deals on hotels.

Get best deals for independence day vacation packages near delhi. We as http://resortsneardelhi.in/weekend-getaway.html , offer you the best in class and economical holiday packages and discounts on the booking of Hotels and Resorts near Delhi. So don't miss out this opportunity on this occasion to Enjoy, Relax and Explore life in a different way.

New year packages for Resorts near Delhi and Hill stations, book now.

Get best packages for Hill stations near Delhi for family vacations........