Top Windows 10 Photo Editors for Tablets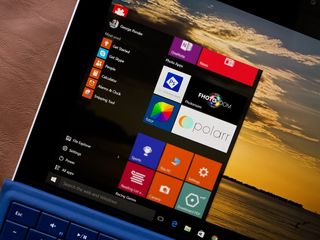 As the quality of our Windows Phone cameras continue to improve, the need to carry around a stand-alone camera seems to be fading. While our ability to capture quality images has become more convenient, the need to edit those images on the fly has increased.
We have a host of quality photo editors in the Windows Phone Store to fine-tune or adjust your images from the small screen. We also have a nice selection of photo editors that can be used from the larger screen of a Windows 10 tablet. At the request of a few readers, this week's Windows Central Roundup revisits photo editors available in the Windows 10 Store that won't weight your tablet down too much and have a user-friendly interface. These photography apps go beyond applying effects filters, offer a broad range of editing tools that can appeal to any level of photographer and are well suited for tablet use.
Keep in mind that we are focusing on photo editors available in the Windows 10 Store and will not include some of the more popular Windows Phone editors, such as Fantasia Painter, that are not available for Windows 10. Some of the titles highlighted do have Windows Phone counterparts, and we will include those links as well. In the event we missed your favorite Windows 10 photo editor feel free to sound off in the comments below.
Fotor
Fotor is a solid photo editing choice for your Windows 10 tablet. Fotor not only offers a healthy photo editor, but also an attractive collage creator as well.
Let's start with Fotor's photo editing feature. Controls are nicely laid out down the right side of the editor with your photo taking center screen.Here you can adjust the basics (exposure, contrast, saturation, temperature, etc.) as well as crop your images, add effects filters, add borders and add text boxes.
You also have a tilt-shift tool and thirteen preset scenes that can be applied to your photos. The presets are simple and quick ways to dress up your images. The presets include Backlit, Darken, Cloudy, Shade, Sunset, Night, Flash, Fluorescent, Portrait, Sand/Snow, Landscape, Theatre and Food options. You also have a 1-Tap Enhancement that lets the editor pick the best settings for your photo.
Fotor has support for RAW file conversion, along with the ability to resize images. Compared to other Windows 10 photo editors, Fotor has more horsepower than Adobe Photoshop Express but considerably fewer editing tools than Fhotoroom or Polarr.
The collage generator has three different modes; template collage, photo stitching and shuffle collage. The template collage is fairly straightforward in that you choose your images and Fotor populates a collage frame with them. You can choose a different template layout and shuffle your pictures around.
The free style feature provides you with a blank canvass and you position your images to your liking. While you might think photo stitching is a tool for building panoramic images, it is more of a film strip creator. The end product reminds me of the old picture booth film strips.
Fotor is available from both the Windows Phone and Windows 10 Stores. Fotor does come in as the heaviest of this group at 35.4 MB, but most tablets should be able to handle that installation footprint. All in all, Fotor is a quality photo editor to consider. It has a respectable amount of photo editing tools delivered in a user-friendly package.
Adobe Photoshop Express
When it comes to digital photo editing, Adobe Photoshop is an industry standard. There are several installments of Photoshop available and Photoshop Express is Adobe's mobile editing solution. It is available in both the Windows 10 and Windows Phone Stores. While you may expect a powerhouse photo editor, Photoshop Express is surprisingly scaled back. It does contain some handy editing tools and while I like Photoshop Express, it is a little underwhelming.
Photoshop Express has the ability to edit existing photos stored on your computer, edit images stored on Adobe's Revel cloud storage and edit photos captured from your devices camera (where applicable).
Editing tools covers the basics rather nicely and include:
Cropping
Adjustments for Contrast, Exposure, White Balance
Apply dozens of special effects filters (referred to as Looks)
Red-eye Reduction
You can make adjustments to your images manually or tap the Auto-Fix button and let Photoshop Express make the necessary adjustments. Additional add-on components are available through in-app purchase for noise reduction tools and additional effects filters.
Adobe Photoshop Express is a nice, basic photo editor worth considering for the times you need a quick fix. However, if you are looking for more pro-styled editing tools, Photoshop Express may be too basic for some. Adobe Photoshop Express does have a small footprint, requiring only 10MBs of storage, making it decent option for tablets.
Polarr Photo Editor
Polarr Photo Editor is the new kid on the block and offers a pro-style photo editing experience with a teeny-tiny footprint. From the basics of cropping to the adjusting tones, Polarr will appeal to all levels of shutterbugs. It also takes up a smitten amount of storage space, requiring slightly under 5MB to install, making it very tablet friendly.
Polarr has support for importing and opening the most commonly used image files, such as .JPEG and .PNG, as well as support to open three RAW image files (.CR2, .RAF and .NEF). Images can be imported from your local hard drive or cloud services such as OneDrive and Dropbox.
Here is a brief listing of Polarr's editing tools.
Color: Here you can adjust the image temperature, tint, vibrance and saturation.
Light: This adjustment category has a wide range of controls that include exposure, brightness, contrast, highlights, shadows, whites, blacks and a diffuse and dehaze tool.
Detail: Fine-tune your images clarity, sharpness, color and luminance here.
Optics: Tools include adding vignette to your images, adjust the grain of the image and add or compensate for any distortion or fringing.
HSL: Here you can adjust the Hue, Saturation and Luminance for individual colors within the image.
Curves: Edit the color curves for RGB collectively or the Red, Green or Blue tones individually.
Toning: Adjust the color highlights, shadows and balance with this tool.
The layout of the editor is user friendly with adjustment controls running down the left and right side of the screen. Polarr does have live preview for your adjustments to let you see how your fine-tuning will look without the need to tap an "apply" button.
Polarr comes across as a very competent photo editor, well suited for Windows 10 devices that may have limited storage space. Some will balk at the price tag ($14.99) but with all Polarr offers, it is very reasonable. Polarr does have a thirty-day trial period to let you try things out before you make the investment.
Download Polarr from the Windows 10 Store (Trial / $14.99)
Fhotoroom
We have been following Fhotoroom since it first landed in the Windows Phone Store and it has evolved into a solid photo editor. Along with being a photo editor, Fhotoroom also includes a social network for sharing your photos and a respectable camera app.
The editing aspect can handle file sizes up to 41MP files with full EXIF and GPS metadata support. You also have RAW support for 150 file formats along with JPEG, PNG and TIFF files.
Editing tools are extensive and include your basic editing tools (exposure, saturation, contrast, cropping, etc.). You also have a collection of presets to add effect filters to your images.
Fhotoroom also has a set of Pro Tools that helps bolster this Windows 10 photo editor's appeal. The tools include:
Filter Brush: Selective apply filters for exposure, saturation, soften, denoise, sharpen and red-eye with the stroke of a brush.
Tilt Shift
HDR Filter: This is an adjustable HDR filter that allows you to adjust the Gamma, Strength, Smoothness, Detail and Mood of the HDR blending.
Tiny Planets: This is a neat tool for creating some interesting photographs. If you aren't familiar with Tiny Planets, this tool twists your image around into a circular pattern. Creating a planetary design.
Color Splash: Here you can adjust the various color channels such as red, blue, green, etc. and the color threshold.
Lens: Adjust the curvature, scale, chromatic aberration, perspective and displacement of the image.
PanoRotate
Denoise
Light Leaks: Twenty-seven light leak filters.
Keep in mind though, many of these Pro Tools will require an in-app purchase to unlock (HDR Filter, Tiny Planets, etc) but you can try each before buying. You also have a large selection of effects filter collections that are available as add-ons. Some are free, while others require an in-app purchase. You can purchase/install only the add-ons you want or buy the complete add-on collection at a discounted price.
Overall, Fhotoroom has evolved into a solid photo editor that is well suited for the small screen of your Windows Phone and coming in at only 22MBs it will not be too big of a burden on your tablets storage space. Again, the core app is free and offers you plenty of editing horsepower. There are several in-app purchase opportunities to choose from the will open up Fhotoroom's editing abilities further.
Final Thoughts
With most roundups, I leave the final thoughts on the apps and games spotlighted to you guys but here I sense the question, "What is the best?" will be raised. I think deciding what photo editor is best boils down to personal preference. All four of these titles are very capable editors, but you may like the layout of Fhotoroom a little better than Fotor.
Personally, I find myself bouncing between Fhotoroom and Polarr depending on my needs. Both support RAW images, which may not be important to everyone, and have user-friendly designs. I like Fhotoroom's Pro Tools and use the HDR tool a lot. Polarr gets the nod for its live preview with adjustments and both have the ability to create custom filters. Even in paying for the add-ons with Fhotoroom or the price of admission for Polarr, you are still coming in considerably less than what you would pay for a copy of Adobe Photoshop Elements ($99). All the while getting almost as many features.
Speaking of which, I still use Photoshop Elements as my workhorse for photo editing from my main computer. I do keep Polarr on my HP Stream 7 where memory is at a premium. Both Fhotoroom and Polarr are installed on my Surface 3, where I have a little more wiggle room for storage.
The biggest disappointment is with Adobe's Photoshop Express. Having Photoshop Elements as the primary editor on my laptop, I was surprised how scaled back Adobe's mobile editor was. I really wanted to like this editor and it is a nice option for the times you need a quick, basic edit for your photos. I just expected Photoshop Express to be more like what we have with Polarr).
The nice thing about all these options is that most are free or have a fully-functional trial version. This allows you to see for yourself which editor fits your photographic needs the best. One size doesn't fit all and let us know which editor you have found to be the best when used from a Windows 10 tablet.
Get the Windows Central Newsletter
All the latest news, reviews, and guides for Windows and Xbox diehards.
George is the Reviews Editor at Windows Central, concentrating on Windows 10 PC and Mobile apps. He's been a supporter of the platform since the days of Windows CE and uses his current Windows 10 Mobile phone daily to keep up with life and enjoy a game during down time.