Top Windows Phone and Windows 10 Apps of the Month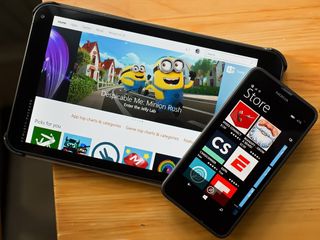 During the course of a month, we look at a lot of apps and games from the Windows Phone and Windows 10 Store. Through reviews, the AdDuplex HERO App posts, the myAppFree deals and other posts Windows Central covers a heaping handful of apps and game.
For today's roundup, I'm pulling together a handful of apps and games that stood out from the compilation of titles we have covered over the month. There is no rhyme or reason to this list beyond the fact that I found these Windows Phone and Windows 10 titles to be entertaining, useful and would easily recommend them.
If you have tried any of these titles, let us know in the comments below if you agree or why you disagree.
Runemals
Runemals is an Xbox gaming title from Game Troopers reminiscent of the Pokémon games. You are tasked with building a collection of creatures that possess elemental powers, which you train and send into battle.
You begin the game choosing between a fox-like creature, a gecko and an octopus creature as your runemal. Game play centers on a map of the Rune Islands where you search for treasure and other runemals to capture or battle.
Combat is turned based and is a little more involved than you would find with Pokémon. Before each round of combat, you have a match-three styled puzzle to master. You have ten seconds to create as many matches as possible and your performance determines your attack energy. Battle sequences are done in waves with you facing off against a series of lesser runemals before going up against a boss runemal.
If you like turn-based combat games with role-playing elements, you need to give Runemals a try. Graphics and animations are well drawn up, battles are intense and overall Game Troopers appears to have yet another hit in the Windows Phone Store. The Windows Phone game does require a data connection and does support low-memory Windows Phones.
Download Runemals from the Windows Phone Store (Free)
Prune
Prune is a beautiful game that has you growing and cultivating a tree. Available from both the Windows Phone and Windows 10 Stores, the goal is to prune your tree to promote growth. Growth that needs to avoid a few dangers and eventually reach the sunlight.
Prune launches with a brief tutorial that shows you how to start your tree's growth and how to prune the branches. You have a patch of fertile soil that you swipe up on to start the growth. Your initial growth will follow the direction of your swipe. For example, swiping at a slight curve to the right will cause your tree's growth to head in that direction.
Swiping at a branch will trim it and allow the tree to grow a little quicker. You can manipulate the direction of growth by swiping branches to the right or left to have the tree's growth head in that direction. Prune is a level based game and to successfully advance through the levels, your tree will need to reach the sunlight and bloom.
Graphics and animations are well drawn up, game play challenging and overall, Prune is an enjoyable, somewhat relaxing game to pass the time with. Prune was recently awarded Time Magazine's Best Video Game of 2015 and we can see why.
Meme Generator Suite
Meme Generator Suite first crossed our radar back in September as one of the AdDuplex HERO Apps. It surfaced again this month when the developer offered the Pro Version free for a day.
What Meme Generator Suite offers is an easy, fun way to create memes from your Windows Phone. The interface is simple to navigate and there are tons of meme backgrounds to choose from. Key features of the app include:
Online access to 100,000s of memes (powered by memegenerator.net) plus the ability to generate memes from your own pictures.
Generate KEEP CALM posters and Jo Baka memes.
Move, resize and change the color of the text.
Includes an Offline Collection with more than 300 memes always ready to go!
Manage your Favorite memes and add or remove images from your Offline Collection.
Upload your images directly to Imgur (limited).
Share your creations online in your social networks (Facebook, Whatsapp, Instagram, Twitter, etc.).
You many not dabble with memes often but if you do, it doesn't get much easier to create them than what Meme Generator Suite offers. The Windows Phone app is a free, ad-supported offering. In-app purchases are available to remove the ad-support, unlock unlimited Imgur uploads and pick up the Pro Version (removes ad-support and limits to Imgur uploads).
Oh… and if you want to dabble with memes from the larger screen, Meme Generator Suite is also available from the Windows 10 Store.
Digfender
The Windows Phone Store is packed full of tower defense games. Digfender is one of the latest offerings for this genre and hopes to catch your eye with its unique approach to defending against the enemy.
You have a castle to defend from wave upon wave of angry monsters but instead of battling above ground, you take the fight underground.
Digfender has two gaming modes, a 60 level Story Mode and a Survival Mode. You dig beneath your castle in search of treasure to fund your defensive units and in the process, stir up a host of goblins, ghouls and other creatures.
There are plenty of upgrades for your defenses that include ice, fire, lightning and magical weapons. I like the Dig-Dug feel of the game that allows you to set the path your enemy takes. It adds another element of strategy to the game.
Graphics are nice, game play challenging and overall Digfender is a fun Windows Phone game to pass the time with. So far the only downside I can find with Digfender is that it lacks support for low-memory Windows Phones. Still, it's a fun game and if you have given Digfender a try let us know what you think of things in the comments below.
Download Digfender from the Windows Phone Store (Free)
Windows Central Newsletter
Get the best of Windows Central in in your inbox, every day!
George is the Reviews Editor at Windows Central, concentrating on Windows 10 PC and Mobile apps. He's been a supporter of the platform since the days of Windows CE and uses his current Windows 10 Mobile phone daily to keep up with life and enjoy a game during down time.
I really like Digfender, got so addicted to it already lol

I'm wondering why it requires access to the phone library.

I cant play it on W10M on my 535 because navigation bar just doesnt hide in WP apps. Only in W10 universal apps it hides.

Still no Facebook UA for WP.

Twittone is a great Twitter client

Halo Spartan strike is the best. I've never been so entertained. Not to mention asphalt 8. These games are games of every month and year in their respective category.

The Crimsonland game is on offer for just $ 3.99! 60% off!

When did wp 10 rels ... Tell me the perfect date ..

Thursday when the 950's were released. I've read you can officially add it to your phone (not the insider program) next month.

It's long since a nice game or app launched for windows phone. I phone is getting lot of them

Hope those apps will not ne pulled in future Posted via the Windows Central App for Android

Prune is priced at 1.99 USD right now.

Well I am using windows 10 mobile insider on L930(India)its 1.99 USD(₹132) on my phone, bought it today. Checked on windows 10 store(by web page,as when I open the store since I own the game price is not shown just that i own the game and to install) it's still 1.99 USD. Maybe its the region.

Not region..its the os!
Feel sad as I should have waited..i bought for 3.99 :(

Ok thank you for explaining.

Regarding Meme Generator, thz one you're talking about is Meme Generator Suite. There's another one called just meme generator, which is ok too, but they're different

Speaking of windows 10 apps, I haven't been able to find subway surfers on the 10 mobile store. Been searching since a week here, India, not that I need the game but just curious why it's not listed on the w10m store. Asphalt 8 too can't be installed on my 10 preview Lumia due to RAM limitation though it was a 512 Mb RAM enabled title on wp 8.1. Curious as to whether this is an app strategy or store error.

I downloaded and updated Asphalt 8 from Windows 10 store on my Lumia 630, so I guess it's just an odd error.

I know sometimes Windows 10 store shows odd errors like Chronology cannot be downloaded because my phone Lumia 930 doesn't support 720p or higher display????, well to cut long story short maybe the app doesn't support the OS coz even when i downloaded the game, it refuses to go beyond the mechanical spinning wheel to denote its loading.

I know games are technically apps, but game shouldn't be included in an "app" list. I clicked thinking I could find some useful application for my everyday life, and the first thing they list is a game, oh well!

grr, why can't Digfender be on PC, or at least on 512mb RAM devices, god damnit, stupid Lumia 630 only has 512mb.
Either way, why don't I buy another Lumia that has 1gb of RAM?
Windows Central Newsletter
Thank you for signing up to Windows Central. You will receive a verification email shortly.
There was a problem. Please refresh the page and try again.