Top Windows Phone apps for the Microsoft Band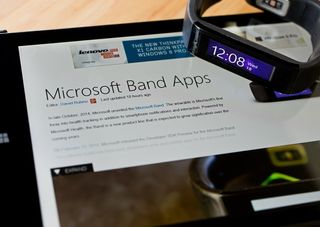 While the Microsoft Band is still somewhat limited in availability, the number of Windows Phone apps with support for the Band is growing at a decent pace. Sure, most are customization apps but being able to have the Band fit your personality and style is not a bad thing.
While we have a Windows Central page dedicated to Microsoft Band apps, we thought it was time to highlight some of the top Windows Phone apps designed for the Microsoft Band in this week's roundup. Plus, seeing that the Band is becoming available outside the U.S. as well as through Amazon.com, Best Buy and other third party retailers we expect more of our readers will be curious as to what apps are out there.
fanband
While there are a host of home grown sport team related wallpapers in the Windows Central Band Forums, fanband is a Windows Phone app that not only delivers sports team themed wallpapers to your Microsoft Band but also modifies your Band's tile colors to match that particular team's colors.
The app is laid out much like the other Band apps, very simple. You choose the Group or sport of your team (football, basketball, baseball, etc) and then the Theme (this would be the particular team). A preview of the wallpaper and tile colors will be displayed at the bottom of the screen and once you find your team, tap the save button and the app syncs to your Microsoft Band, customizing your wallpaper and tile color.
In addition to a huge selection of sports teams, fanband also offers a few non-sports related themes that include:
TV and Movies: Breaking Bad, The Dark Knight, Storm Trooper, etc.
Technology: Windows Central theme, C Prompt theme, etc.
Fun themes: Halo, Hello Kitty, etc.
Miscellaneous themes: Formula One, Harley Davidson, etc.
All in all, fanband is a nice collection of Microsoft Band themes to have in your Windows Phone library. There is not a trial version available with the full version of fanband running $.99. The developer, Liquid Daffodil, has a strong portfolio of Windows Phone apps that includes such titles as Locksider, glƏƏk!and Outsider. We see fanband as being another quality app from Liquid Daffodil and well worth the price of admission.
Download fanband for Windows Phone ($.99)
Pimp My Band
Pimp My Band is a simple to use Windows Phone app that let you customize your Microsoft Band with any image or photo you want. The app has grown significantly since its first release adding a host of features to help you personalize your Band.
The interface is rather simple. You have pull-down menus for your choice of wallpaper and color theme just below the preview image and options to tweak a few tile colors, change the language and view other apps for your Band completing the main page of the app.
Wallpaper choices includes a local photo from your Windows Phone Pictures Hub, Bing's Picture of the Day and a monochrome option that will let you choose a solid color as the wallpaper. The color theme offers options to use the dominant colors in the wallpaper or choose custom colors for your tile and accent color.
The color tweak option will let you override the main color theme for a handful of tiles and have their color match the brand colors. These tiles currently include the Facebook, Messenger, Twitter and Starbucks tiles.
Once you have your wallpaper and theme set to your liking, just tap the save button at the bottom of the screen and your creation is synchronized with your Band. Pimp my Band is a staff favorite and a fantastic way to personalize your Microsoft Band.
Download Pimp My Band for Windows Phone (Free)
Band Sensor Monitor
The Microsoft Band has several embedded sensors that monitor your heart rate, UV index, step count and several more that are hidden from view of the Microsoft Health app. The Band Sensor Monitor is a Windows Phone app will monitor all your Band's sensors, even those that are not directly exposed by the Health app.
The Band Sensor Monitor will monitor the following:
Heart Rate frequency
Skin Temperature
Galvanic Skin Response
Ultra Violet Index
Ambient Light sensor
Movement sensor
Step sensor
Battery sensor
The Windows Phone Band app will also chart the results in real time and offer a history of all collected data.
Remote features include monitoring all the Band sensors, the ability to send direct messages to the Band screen and vibrate the band. This will allow you share your sensor readings with friends and allow them to message you or vibrate your Band remotely from their Band Sensor Monitor app. And if all that wasn't enough, you now can stream your Band sensors to the web for online viewing.
At first the app can seem a little overwhelming but after you tinker with things for a little while, the Band Sensor Monitor app comes across as a rather nice alternative to the Microsoft Health app. There is a trial version available for the Band Sensor Monitor that gives you unrestricted access to the app for one week, after which, the app will cost you $1.99.
Download Band Sensor Monitor for Windows Phone (Trial / $1.99)
Me Tiles
Me Tiles is another personalization app for the Microsoft Band that offers you the ability to customize the Band's wallpaper and tile colors. The app will tap into Bing Wallpapers and offer a variety of background images ranging from cartoons to nature to gaming themes.
The interface isn't as clean as other Microsoft Band apps but that's not to imply that you'll stumble around the Me Tiles app. A small button bar sits in the upper right corner of the screen to pull up the wallpaper themes and a series of control buttons line the bottom or the screen to control:
Toggling on/off a text overlay to act as a preview of sorts for each wallpaper
Default Tile button that resets your Band to its factory appearance
Set Me Tile which delivers the custom tile to your Band
View Theme button that lets you customize the color patterns of the theme
Me Tiles also has a menu hidden up under the three-dot menu that gives you access to the app's settings, a link to review the app in the Windows Phone Store, view the About screen and view more apps for the Microsoft Band. Settings are singular and offer the option to turn on/off an auto synchronization feature.
You can change the color theme without changing your wallpaper. Once you have the colors set, tap the waffle button (kinda looks like a Windows button) at the bottom of the View Theme screen. That will change the theme colors without affecting the wallpaper.
All in all, Me Tiles joins the growing ranks of quality Windows Phone Band apps in the Windows Phone Store. The app is free and ad-supported.
Download Me Tiles for Windows Phone (Free)
Clear My Band
While we already have a Venetasoft title in this week's roundup (that would be Band Sensor Monitor), I want to briefly mention another Band app from the Italian group. Clear My Band is a simple Windows Phone app for clearing all your Band notifications with one click.
While the Band notifications are priceless, it can be a bitch to clear all of them out. Unlike the Windows Phone notification center where you can swipe to the right to easily clear out old notifications, with the Band you have to go tile by tile. I know... life can be so rough.
The Clear My Band app can be pinned to your Windows Phone Start screen for easy access and take care of wiping out all the notification numbers from your Band Tiles. Once launched, just tap the center button and all the old notifications go bye bye.
Clear My Band is a free Windows Phone app and might make life a little easier for some. Give it a try and let us know what you think.
Download Clear My Band for Windows Phone (Free)
Now it is your turn
Before you break out the pitch forks and torches, we did not include the Microsoft Health app in order to focus more on the efforts being made by independent developers. Microsoft made the SDK for the Band available to developers and we wanted to highlight some of the work that has been done thus far.
In tinkering with each of the apps in this week's roundup, all do a fantastic job interacting with the Band. As far as customization apps, it's just a matter of finding the right Windows Phone app that matches your style. The Band is a fantastic device and these apps only adds to the device's appeal. Now if we could only get a water resistant model (hint, hint).
We've shared a few of the top Band apps and now it is your turn. If we've overlooked your favorite Microsoft Band app, feel free to toss out your recommendation in the comments below.
Oh and if you have a favorite Band wallpaper that you want to share or are looking for a sharp looking wallpaper for your Band, head over to the Band Wallpapers discussion in the Windows Central Forums.
Windows Central Newsletter
Get the best of Windows Central in in your inbox, every day!
George is the Reviews Editor at Windows Central, concentrating on Windows 10 PC and Mobile apps. He's been a supporter of the platform since the days of Windows CE and uses his current Windows 10 Mobile phone daily to keep up with life and enjoy a game during down time.
What do you mean it's my turn? You want me to make an app? But.. I don't.. Okay..

We're expecting big things Wael, don't disappoint us!

Yes! We believe in you Wael! You can do it!

6. Find My Band 7. Torch For Band 8. UnBand (Desktop app) 9. Band Translate 10. Send2Band

11. Band Sunburn 12. Sound Band

Thank you!!It'll be helpful as I preordered a band in the U.K.!!

What is hilarious is the first line says "somewhat limited" lmao....ok MS throws a bone to a couple of EU countries and Best Buy
.
......*Ms Marketing: So...Mr. Nadella....we got the world by the balls with our distribution methodology.
...
*Mr. Nadella: That's great news....,but I need to put my head into the cloud for a minute for I cannot see the forest for the trees...Bravo and keep making more fantastical bullshit we don't know how to use, implement, market, or much less sell....oh wait.... The cloud tells me to let our competition run amok with our ideas and improve them....great....then we can implement their ideas about two years later.......

Nice... Why wont MS make this band available in all regions. Must the US market determine sales? For god sake, if and when such a product launches in Africa, say Nigeria, it will be a big hit with the rise of mobile usage. Till date, the surface pro 3 isn't available in Africa. A great device that many growing institutions would benefit from.

I'm guessing supply is an issue

Indeed I don't know who makes the band(factory) but maybe it can't handle more atm. That and fear of failure 10k sold doesn't mean world wide success.

Curious slightly related question, will the Band be updated to Windows 10?

This is really nice, but how can i download it when i tried to download anything, it says , microsoft account service is unavailable???? Really. Does someone has the same problem?

I have been having that issue as well on a new Lumia 635 I just got. I was beginning to think there was a problem with the phone.

Really sucks right? Try to access live.com site and you cant as well. I think live has the main problem. I tried to sync my account in microsoft at email+accounts, but it didnt let me sync and failed.

Try changing the date and time, sounds stupid but if it's the same problem as mine was then it should fix

Also they should make a section in the store just for band/health apps!!

And put an os inside zombie band

Fanband is an awesome app! The dev is very quick to respond too. I requested a theme for the Arizona Cardinals yesterday and he responded back in less than 10 minutes and had it set up. Definitely a 5 star app to me with excellent support to boot.

Agree, Scott at @ LiquidDaffodil has been super responsive to theme requests. He even emailed me back to get my reaction on my request and changed it when he felt it wasn't what I had in mind to something even better. Must have app if you have a Band!

YES! I love how responsive they are. I bought the app and didn't have a single team supported. Now they have all of my Detroit pro teams, plus the University of Michigan and they even added my little alma mater, Kalamazoo College! Then as an ex Marine, I was excited to see the USMC included. Now I soooo many choices! I love it!

Is there an app, that manages loyalty cards and displays qr and bar codes (similar to the Starbucks app)?

Been asking for the same thing. Hope to get an app for it soon. This is whats holding me back from getting the band over an android smart watch. I'll wait just a little bit.

Yeah wish we could buy the band directly from EU. At least one online store from where it could be shipped all across EU.

Amazon UK will have it and they ship to Europe.

Band Translate! Band Translate is missing from this list! :-)

Yeah, Band Translate is missing! Hopefully in the next version it will be there! You can use it to Translate straight from your Microsoft Band
http://www.windowsphone.com/en-us/store/app/band-translate/3acce9a4-d158-48f1-936f-a192e6fdadd8

I saw that on another site and went to snatch it up, but it doesn't work very well for me. I constantly get errors.

Perfect timing, I ordered a band earlier this week. I got notified that instead of having to wait 4 weeks, it'll arrive this Wednesday. Woohoo!

Hi George, Thanks for reviewing 'Me Tiles'. I'm the developer of the app and I am most humbly interested in your feedback on how can I improve the interface of the app? I'll be very glad if you can spare a few minutes. Thanks again for reviewing the app.

I have ordered mine today. Will give feedback as soon i got it. It's nice of you to check WCentral.

I want an app that interprets the data and then gives me suggestions on how to adapt my lifestyle to be healthier. For example reminding me to move more if I have been inactive or to tell me to go to sleep earlier based on my sleep data. I get all the data from the health app but don't know what to do with it.

Eat healthy, be active, and get enough sleep. There! Now send me 99 cents...

You really need someone to tell you to get moving???

What about sound band? http://bit.ly/1EzylqP a great whip cracking app.

An app for band from Rudy and venetasoft would be great.

Add Torch for Band to the list of runner ups :)

Should have mentioned Send2Band

Whle the Band ecosystems looks to have some life, I am still not going to get one anytime soon 1) There are so many bands/watches right now, and not all of them are going to survive 2) Unless I see news of a Band 2.0, I will keep to the sidelines in case Band goes the way of the Zune. When I see Apple and Android fan boys clamoring for the Band, then maybe I will believe. 3) I will wait to see if this just a fad or if it truely be part of our health systems going forward. I was talking to an architect at a big health company most of last week at a conference they say they don't know. According to them Comcast may be delivering something that may be a bigger hit because it connects you directly to your doctor.

And that noise you hear is the weekend passing you buy!

I buy my tech based on my requirements not on whether it's just a fad or not so I'll be getting an MS Band.

For devs: help users find the best apps for their Bands :) https://www.nuget.org/packages/BandCrossPromotion/

This Band is way cool! You got to get one!

Are you got app for Windows pc

The one thing I wish the MB adds in the future is a hand washing app/reminder. Smartbands can beat the "be healthy" drum all day...but dirty hands kill...literally. I work in healthcare and its a technology that is the next big thing. IntelligentM is the provider that's pushing it.

Hey! Wash your filthy hands! Now send me a dollar for apparently saving your life!

There needs to be a golf app that uses the GPS to show your position on the course and the distance to the hole!

I second this suggestion!

Hi guys. Maybe it'll sound weird, but I'd like to know a good replacement device to Microsoft Band, that works equally great with WP apps. Here in Brazil we can't find MS Band, and even if we could import that easily, the taxes would turn that prohibitive. Maybe there's a similar in function and quality we could try to pair with a L720, for example. Thanks for suggestions. BR.

Just want to add that the fanband developers are really quick to respond to requests. I saw my team lacking in the soccer section (Nottingham Forest) and asked if they could add the team to the selection. One day later, it was there. Great support!
Windows Central Newsletter
Thank you for signing up to Windows Central. You will receive a verification email shortly.
There was a problem. Please refresh the page and try again.