Toshiba's president resigns following false reporting of $1.2 billion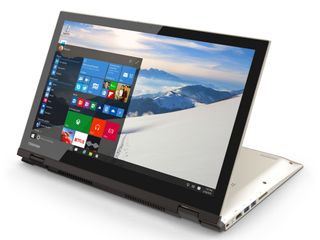 Toshiba, one of the biggest Windows OEMs in the world, is in crisis at the moment. The company admitted last week that it had falsely reported a total of $1.2 billion in profits over the last several years. As a result, the company's president Hisao Tanaka has resigned, along with its Vice Chairman Norio Sasaki and adviser Atsutoshi Nishida.
An independent audit of Toshiba's books discovered the false earnings. Bloomberg reports:
The company says it is considering selling off some of its assets in order to raise the money needed to stay afloat. Toshiba just launched its newest Satellite-branded laptops and hybrids for the back-to-school sales season, which will include a dedicated key to activate the Cortana digital assistant for Windows 10.
Source: Bloomberg
Windows Central Newsletter
Get the best of Windows Central in in your inbox, every day!
Money have changed from man to company.

Oh come on japan .... It seems future is going to be all about Samsung , LG and insert random Chinese company here

Naughty naughty very naughty...

Actually this is the aftermath of the crisis. Toshiba's stock actually rose significantly today as the business world was aware of the issue for months and was waiting for the fallout.

Topcon (of which I believe Toshiba are the majority share holder) stocks also rose well today.

Guess I won't be buying a Toshiba for my nephew for school Posted via the Windows Central App for Android

Why not? Anything with their hardwares?

Maybe some people don't like fraudulent actions?

Basically Posted via the Windows Central App for Android

If you make your buying decisions based on Fraudulent actions then you won't be able to purchase any products from any American company.

Now that's quite overdramatic now, isn't it? Posted from the Nexus 6, Nexus 5, or Surface Pro 3

No their hardware is great. My house had 2 TVs and a Laptop and a tablet. However, this concerns me the future of the company and I rather deal with other companies that are "more transparent" with their numbers. Posted via the Windows Central App for Android

Build quality from 2 years ago to now sucks. My girlfriend has a 2 year old Satellite, and a friend a 2 year Qosmio, and its quality is simply awful for the price. Current models have a slight improvement, but still have some design flaws that shouldn't exist

My father had a Toshiba PC for almost 10 years, they make great hardware

I have a 5 year old, still kickin...

I have a Toshiba Satellite laptop about that old as well... Still runs great! Even with the latest Win10 build

This is why you don't lie, kids.

Sad stuff. They'll probably fire a few hundred low level employees who had nothing to do with this so they can come up with his going away money.

This concerns me the most. All upper management and finance should be let go who was in on this Posted via the Windows Central App for Android

What about cfo or is one of the three considered a cfo?

It would be a shame to see Toshiba fold. I think my next laptop will be a Toshiba. Maybe that will help.

To add context to this, this had nothing to do with their PCs or anything. Just like how Sony is in weird businesses like selling insurance, Toshiba is in some kind of nuclear power business (I think they manufacture the plants) and when that nuclear reactor blew up in Japan, it cost them a lot of money. They've been trying to cover it up as long as they could so investors wouldn't think their entire business was screwed. That's why their stock is trading so high today: The disaster isn't as financially bad as many thought.

I have a Toshiba television. I use it to play Xbox and watch television. I don't even have to switch HDMI inputs because the Xbox has HDMI-in. It's pretty sweet.

This is relevant to windows?

Last I checked, Windows' OEMs are relevant to Windows and its livelihood. Toshiba, Dell, news on them, all the above. Yes, that is a Windows topic. How can that not be relevant? ;)

Why does someone always question the relevance of these articles. Toshiba makes Windows products so yeah it's relevant. It just is.

That's.....pretty bad. lol. Oh well. Hence why I don't buy their laptops anymore.

They needed to make it look like ChromeBook is living up to the hype, and adding $1.2B to the bottom line helps that.

Usually, in the Japanese corp. culture, if a guy is caught doing things like these, well, the guy kills himself...
Windows Central Newsletter
Thank you for signing up to Windows Central. You will receive a verification email shortly.
There was a problem. Please refresh the page and try again.