Toshiba's newest portable PCs are 'Windows 10 ready' with Cortana buttons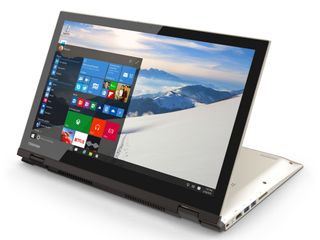 Toshiba has just announced their new lineup of laptops and hybrids for the back-to-school sales season. While all of them will ship with Windows 8.1, Toshiba says they are "Windows 10 ready" for the upcoming free upgrade. As previously revealed, all of them will have a dedicated key for using Windows 10's version of Cortana.
In case you are wondering, the Cortana key on Toshiba's laptops doesn't look like its circular logo. Rather, it can be activated with a key on the top Function line that looks like a search logo. One of the new PCs is the new Satellite Fusion, which has a display connected on a hinge that rotates 360 degrees for five specific positions. It's on sale right now for $649.99. Toshiba says:
Another new hybrid that is launching is the Satellite Radius, which will go on sale June 21 exclusively at Best Buy's stores and on its website. It also has a display that can flip 360 degress. Toshiba is selling three versions: The 14-inch Satellite Radius 14, the 15.6-inch Satellite Radius 15 and the 15.6-inch Satellite Radius 15 4K Ultra HD Edition that has a 3840x2160 resolution display. Toshiba says:
Prices start at $584.99 for the Satellite Radius 14 and $842.99 for the Satellite Radius 15. Toshiba is also launching new versions of its Satellite C, Satellite L and Satellite S notebooks.
Source: Toshiba
Looks a lot like Lenovo yogas. Normally I'd say I would want the better version aka yogas but with that Lenovo scandal maybe a Toshiba isn't too bad :D

Look at that screen.
There's no visible frame to image depth.
I'll pick this one.

I like toshiba, their display qualities are among the bests.

So the new "Cortana" key looks like a search logo on one of the function buttons... So in this case I guess pretty much every new laptop and keyboard already come with a "Cortana" button... My first generation Surface Pro already has a "Cortana" button and it came out two years ago!

Should've been a Cortana logo and not a magnifying glass :/

Doesn't make sense, what about where Cortana isn't available? And what about people that doesn't know Cortana at all? My mom should look at that circular logo and suppose that is a Search key?

But it might pique many's curiosity for those that don't know what it is and compel more people to press the button. More discoverability! ;P

Yes but it's really bad when you press a "new" button and it's just the "search". Cortana isn't in the whole world and it's bad :(

Good feeling about Windows 10 devices!

Obviously you've never tried to use it, then. I think it is the worst version of Windows I've ever used. Most of the time it feels broken and I can't see that changing in the next five weeks.

Well, I'm using since December. And yes, the last build 10147 it's the best Windows I ever used. Of course it feels broken, because it's not ready for people like you, it's unfinished, and supposed to be bad sometimes. You should stick with Windows 7 until it's released, or forever.

Compared to even the first Dev Preview of Windows 8, this is much, much worse and only a few weeks out from RTM. Even if they manage to get everything working 100% by July 29, it will still be the worst version of Windows ever, mainly because it will offer less functionality than the version it is meant to replace. Specifically, W8 is a brilliant, fluid and intuitive OS for tablets and other touchscreen PCs, W10 is little, if any, better than Vista on a touchscreen. That might be OK if it had improved anywhere else but the desktop experience is pretty much the same as any previous version of Windows. All they seem to have done is to alienate one group of users in order to placate another, instead of trying to accommodate everyone. I cannot think of a single feature in Windows 10 that feels like an improvement over Windows 8. Not one. obviously you can't, either, or you'd have mentioned something to back up your argument.

Well your argument could be valid, IF Windows 8 was a success and it wasn't.

The validity of my argument is in no way dependant on the success or otherwise of Windows 8. For all anyone knows, Windows 10 could be an even bigger flop. I think they are smart duping users into signing up before they have a chance to see how bad it is. You'd also think that if they had any real confidence in it, they wouldn't be giving it away for free.

Toshiba kicks some sweet arse. I'm getting this one when it releases

This is great. However, Toshiba Philippines should also make available their 8" win8.1 tablets with stylus.

Wow. No picture of keyboard. :|

There should be a cortana key right beside the start key. And it should have the cortana logo. :) If it doesn't have a cortana logo, it's not a Cortana key :P Right now I have Windows 10 on my Lenovo Y500 and there are few hot keys on my keyboard and one of them does activate Cortana in listening mode directly. So, I already have the dedicated Crtana key.

Yeah, I was going to say, I thought it was going to be a key with a Cortana logo on it, which would've been a huge coup d'etat for Microsoft.

What's the point of a button for a feature that will only work in three countries in the entire world?
Windows Central Newsletter
Thank you for signing up to Windows Central. You will receive a verification email shortly.
There was a problem. Please refresh the page and try again.