Toshiba announces the super-affordable 7-inch Encore Mini Windows tablet for $119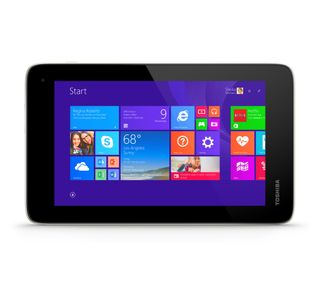 Toshiba has today announced a new Windows tablet at IFA 2014 as part of Microsoft's push to compete against the collection of cheap Android tablets flooding the market. Priced at just $119.99 and available today, the company is offering the full Windows 8 experience at a more affordable price point. The Encore Mini contains the basic features one requires to power through various tasks, but it's the price that will attract customers to the mobile Windows-based product.
Being a 7-inch tablet with a screen resolution of 1024x600, the Encore Mini is powered by an Intel Atom processor, has Bluetooth 4.0, 16GB internal storage and microSD support. It's not the most advanced tablet available on the market, but for this price point you'll not be expecting everything.
Check the press release below and head on over to the Toshiba website for more details on the Encore mini WT7-C16.
Toshiba's Digital Products Division (DPD), a division of Toshiba America Information Systems, Inc., today announced the retail availability of its Encore® Mini, a value-driven 7-inch Windows 8.1 tablet developed through close collaboration between Toshiba and Microsoft Corp. Priced at $119.99 MSRP, the tablet delivers a full Windows 8.1 experience plus a one-year subscription to Office 365™ Personal and one terabyte of OneDrive storage, offering consumers the convenience of having Windows in their pockets for work and play.
"With Encore Mini, we worked hand-in-hand with Microsoft to deliver a high-quality small-screen Windows 8.1 tablet at an entry-class price point," said Philip Osako, senior director of product marketing, Toshiba America Information Systems, Inc., Digital Products Division. "Our product portfolio of Windows tablets continues to grow, enabling us to deliver more screen size choice to consumers at a lower price point, while still maintaining a consistently high-level of quality and features for a greater value."
Sleek and Slim Design
Featuring a textured back panel in white, Encore Mini is designed for an easy one-handed use. Weighing just 12.5 ounces with a slim 0.43 inch profile, the device is highly portable and small enough to fit in a backpack, briefcase or purse.
A Full Windows Experience on a 7-inch Screen
From Encore Mini's 7-inch 1024x600 resolution multi-touch display, consumers will be able to take advantage of a broad range of capabilities enabled by Windows 8.1. Ideal for browsing, book reading and staying entertained on the go, this small screen device also offers an optimized view of the Windows 8.1 start screen, desktop mode and Office 365 apps.
Ready in an Instant
Powered by a quad-core Intel® Atom™ processor, Encore Mini offers snappy performance for quick browsing, content streaming and more, while maintaining plenty of battery life. InstantGo technology ensures everything is up-to-date even while the system is in standby mode. The Encore Mini features fast and reliable Wi-Fi® performance with 802.11n and Bluetooth® v4.0, making browsing, streaming, downloading and connecting additional devices a breeze.
All the Essentials
Encore Mini includes a front webcam and microphone as well as a 2 megapixel back camera for picture-taking and video capture. Additionally, the tablet comes equipped with 16GB of internal storage5, a Micro USB port and a microSD™ Card slot capable of supporting 128GB SDXC cards, ensuring that users have plenty of room to store all their digital files, apps, games, videos and pics they love.
Pricing and Availability
The Encore Mini is now available for purchase for $119.99 MSRP at major retailers, e-tailers and direct from Toshiba on toshiba.com/us.
Windows Central Newsletter
Get the best of Windows Central in in your inbox, every day!
Rich Edmonds was formerly a Senior Editor of PC hardware at Windows Central, covering everything related to PC components and NAS. He's been involved in technology for more than a decade and knows a thing or two about the magic inside a PC chassis. You can follow him on Twitter at @RichEdmonds.
It also comes with Office 365 Personal, which is £59.99 om its own. I might have to buy one.

That's pointless, you mean. I have a Toshiba Encore with 32gig internal SSD (wimbooted) and that's a small space to work with since MS only allow apps to move to SD card on Phones. It is banned on tablets (prolly for unfathomable 'security' reasons again...) so 16 gig will be just enough to allow Windows to run and handle updates (which do not get Wimbooted) and almost nothing else. 32gig is the practical minimum on a Windows tablet. This device is pointless.

I install programs to my SD card all the time on my Asus tablet with 8.1 on it. You may be thinking of windows RT.

Agreed. All for reducing the price through adjusting components, but not with that. If we were talking about RT that would have a different result, but with Win8?

I had so much trouble running win8.1 on 32gb that I sold it and bought a 64gb version. I cannot even imagine 16gb. I don't think it would even run! This might blow up in MS's face with people buying this cheap stuff and then being frustrated to hell for not being able to run anything on it. 16GB for full win 8.1? Seriously?

You saw it had SD slot right?

Yes, which is totally useless other than for media and documents, and general file storage. You cannot install metro modern apps to the SD card. Windows also needs space on the C: drive to download and install updates, some of which are huge... applications will use the c: drive to store it's own files, it leaves no space for restore points, so you cannot use those, it will also need lots of space for a pagefile since 1GB RAM is totally puny, temp files can be redirected to the SD card, though it will slow down overall system performance, so those are best left on the internal 16GB, and also the default libraries will be pointing to the C drive, so by default, any music, videos, or other downloads will automatically go to the C: drive. And though the library locations can be changed, it is not something the average user will know to do, or ever attempt to. Same with the Onedrive folder, it will store it's files on the C: drive, and any files locally synced to your tablet will take up space on that tiny 16GB drive. You CAN move the onedrive location, but again, this is a very advanced operation that the general user will NEVER attempt, or even think to attempt. 16GB is so brutally inadequate to run windows that it's almost unacceptable. YES, you can fit a CLEAN install onto 16GB, but from that point on, it will be PAINFUL. And that is the experience most users will have. I even find 32GB to be difficult to manage. This is gonna hurt windows. Sorry, I really think it will.

You can sync OneNote to the SD. You can move your media to SD. Store apps are the real kicker. That does seem a tad awkward. But dont forget, unlike an Surface where you will do real work and play games. This is likely to be a consumption device? For some people this Kindle Fire price point might seem attractive. 16GB does seem a little stingy.

Hey there, how do you move the Onedrive location? Have Onedrive on the SD card.

CallingAndy's comment gibberish. You're obviously not aware of the work Microsoft has done with Windows 8 in getting it run on 16GB of storage not to mention SD card support.

Very much. I have the Encore 2 with 32 and 0 issues. Posted via Windows Phone Central App

Wow... I'm really coinciding this one

Correct me if I'm wrong but with this being full windows...you should be able to install android apps on this using an emulator no?

You probably could but I wouldn't want to try it with only 1GB of ram to play with.

it's a low-end devices. You can but don't do that. Even on my surface pro 2, these emulator still buggy and overheated.

I'd put that on my list of "things NOT to do" on such an underpowered tablet. It would be a horrible experience and not worth it.

I put that on my list of "things I'd be insane to do on ANY device". Why would I want to puke Android onto my Windows device, regardless of how powerful the device? Good grief.

I know we're all Microsoft supporters (and some fan boys) here, but let's be realistic, Android has a surperior app ecosystem in comparison to Windows when it comes to small consumption use device.

You'd get a nice WIndows device, and put the brown stain of sh*t that is Android on it? Oh dear. Epic fail. Goodbye privacy, hello battery drain.

Yes yes. I hope Acer and dell had a budget tablet. Dell will really nice.

Tether, or pay for a higher spec tab.

Is it windows RT or not? Not sure what"full" means

It's 8.1, not 8.1RT; besides it comes with a free year subscription to office365 (RT comes with Office 2013 RT)

Intel processor will mean full windows where as arm processors like snapdragon or nvidia tegra would mean windows RT.

It means it runs MS windows 8.1, not the stripped down version of RT

Full windows mean, w8.1. If you don't see "rt", then it runs desktop programs.

i wonder how this thing will perform.. I dont see the point of having a full windows on 7 inches, u cannot really use it with your fingers because the icons are so small.. Hopefully, those tablets make more sense as soon as winRT and WP merge as also the performance of a full windows on atom processors is probably tiring slow..

Metro does make sense for touch. This is the bit the desktop'tards always miss. No, Win7 is not good on a device this size. Yes Metro apps are. Its the future ;)

Not a great resolution, grainy at that ppi. These really need Office Gemini finished and at least 32GB on board.

I'm curious about the screen resolution, I thought the minimum screen height supported by metro apps was 768 pixels. When did that change?

Same curious, minimum 1280 by x, 720 by y, afaik...
...googled it, 768, u right.

Yeah, not sure when/if that changed. I have a 10x6 HP Slate I wouldn't mind putting 8 on.

Does this mean 8.1 will work on old netbooks now? Obviously wouldn't be a speed demon, but would be interesting to try on ones of the billions of cheap unused netbooks.

I have run some tests as recently as last month and no, it is still a non-option on old netbooks. You can install Windows 8.X but numerous apps, including Microsoft's own, will not run due to the screen resiolution. In fact, Micorosft broke the work around specifically in Windows 8.1 so you can't even trick it through a registry change.

Unless something has slipped in without announcement, it hasn't changed. The resolution is below the minimum for running various Modern apps. Of course if they have a work around, I am sure it will show up on the internet within weeks of release, which would make users of old netbooks happy. Microsoft broke the Windows 8.0 registry mod that allowed the OS to open Modern apps on netbooks. The device itself would appear to be a bad joke but I am curious on that front. I honestly could see someone buying one simply to take the registry apart....

from PC World thread... "Toshiba worked in alignment with Intel andMicrosoft to implement a custom scaling solution that allows the tablet to present a 1280 x 768 view on a native 1024 x 600 panel in order to meet minimum
resolution required. The Windows display property has been set to 1280 x 768 to enable the full modern UI Windows experience and the ability to run modern Windows applications. This solution results in an easy to use and navigate small-screen Windows device."

16gb? Wonder how much is available? 8gb?

I fear the answer is much closer to 0 GB. Remember the available storage size complaints when the first Surface bottomed out with a hair over 16 GB available out of 32 GB?

Do we need like SD card and external hard disk all the time?

This is most likely using the newer Windows SKU dubbed Windows with Bing. basically its still full Windows BUT many of its components are compiled in their respected images. In other words only the bare minimum are first installed (users wont notice) unless they need features for work environment, get me? I heard with this new SKU on 16GB there is almost 12GB left of space. Now add Office to that and it brings it down to about 8GB. still not bad for 120$

They could be using the new complicated build of W8.1, which should give you about 12GB available, but another chunk will go to Office365, which cannot go on an SD.

This is exactly what I've been waiting on

Is that screen resolution true? Last time I checked Modern apps in Windows 8 would not run if you did not have at least 768 pixels in height! Have Microsoft changed the requirements? If so then my old 720P plasma screen at home can finally be used to run Windows 8!

And now imagine a 1520 running full W8. You see? You CAN imagine it a lot better now than you could a few years ago. Waiting for the first W8 Tablet with phone capabilities.

Eish, why are they taking so long to release tablets that can make calls

This is a tablet that can make calls. It has a camera in front. Install Skype and call away!

It would definitely be interesting but would be good to see MHL support with that then that would be very interesting!

I liked the first Toshiba encore was a good cheap device, would be nice to see a smaller one and see how an even smaller device could run windows and how useful.

My Surface 1 lags like hell, I can only imagine this would be equally bad.

Nope surface 1 was really a device Microsoft replay didn't bothered about.

With only 1GB of RAM and full W8 this thing will probably lag like an old Android from 2010.

It will be super smooth, unlike an Android from 2014.

Imho Toshiba pc hardware are the most durable. :) I have a Satellite...


This tablet should be distributed to all mncs in the world. It's good and cheap and has office 365 subscription what they all need while working. It's a cheap productive tablet.

Just 16GB of internal storage. Wondering how much memory is available to the user.. Atleast a Gig or so...

wow the wait is over ahaha

Great tablet. Nice job Toshiba

This is super tempting if they would allow you to make the sd card act as internal storage again. Even now, with my 2520 I'm always out of room.

I found a Dell Venue 8 32gb at Amazon for just $189, and this Dell have much better specs. Anyway, its good to see another cheap windows 8 tablet one the market.

That makes it an Android tablet. Dell Venue Pro 8 is the Windows tablet.

A few weeks ago I saw Toshiba's 8" 32 GB Win8.1 (not RT) tablet in Best Buy for $199.

I saw the 32GB Venue Pro for $199 at Office Max yesterday.

Will this tablet be sufficient for browsing and light office usage? It's supposed to be able to do all that right?

Yes, any windows tablet, rt or not, can do that. Efficiently at that!

Well I guess I'll be buying another Toshiba to replace my Toshiba then.

I've got to get me one of these!

I haven't owned a working computer aside from my smartphone in some time. MicroUsb to USB adapter, I might finally be able to scrape something together and afford this puppy. Quite exciting :)

Wow! I might actually buy this even though I already have a Surface. Just for reading and browsing and saving photos on the go :-)

How many USB ports does it have? Does it have HDMI ?

One of these might have to be purchased, just for Smartglass and the Division game when it arrives.

Not bad. I'm gonna buy one.

Holy smokes, isn't one year of office 365 almost $100? If you were going to get office 365 anyways, this is an incredible deal.

one year of Office 365 at $99 covers four people. I'm guessing the subscription with this deveice is only for one person.

Wish it had 2gbs of ram but considering the Intel atom and 10 by 6 screen it's not pushing a lot of pixels it shouldn't be that bad Posted from my Samsung galaxy S5

Win 8 runs quite well on Atom. I've got it installed on my 3yo netbook.

Yea u can buy this at diff places but not India. I don't wana order online I like buying it on elec shops

Are the specs enough for browsing on internet and watch some videos?

Features wise its a steal for the price....but what's the ram like??

Big horns, hairy, walking on a mountain somewhere.


Please Microsoft let us install Windows apps on microsd cards

I can do that on my phone (1520). Can't do it on tablet?


might pick one up just to use it when at the gym.

until you can install apps on sd cards, 32gb tsblets will continue to be useless, we was going to buy 12 surface 2 last weeks for family members but the lack of ability to install apps on sd cards meant we passed on the chance. MICROSOFT STOP BEING FUCKING USELESS AND PATHETIC

I thought with Windows 8.1 that was already possible? Posted via Windows Phone Central App

No...in fact, the hack to install on MicroSD was taken out of Windows 8.1...16GB is going to be miserable...I struggled with 32 on the Dell Venue Pro and had to return it and get the 64GB. You CAN install Windows Desktop Apps on the MicroSD but even 16GB with the OS is barely enough for the "modern" apps...

So you're seriously saying we can do that with Windows Phone 8.1 (like I do on my 1520) but we CANNOT do that on full Windows 8.1?? That sounds ridiculous!

As ridiculous as it sounds, yes...cannot load Windows Store apps on MicroSD...this needs to change of 16GB tablets are going to be useful...

When have selling in Malaysia?

I might buy one as a Christmas gift for kids

16gb is tough...32gb was tough enough...

And in Germany for 199€... :(

Running Opera browser has a point. I bet it would even run the ole Zune software which would make a great point. There are lots of programs that aren't too resource heavy but run in desktop environment. I'm not sure "pointless" is the right word. Maybe you just meant "not for you"?

Hahaha oh man, so funny when all we've ever heard from people was "not worth it if it doesn't have full Windows on it" when discussing RT tablets. Just like Obama, MS just can't please some people no matter what they do.

Wait, 1024 x 600 resolution, so the newest Windows 8.1 Update now supports that resolution to run Modern apps? Well old-time netbooks will be useful again.

This is the beginning of the END of Android.

Gotta agree unless Android can do a major revamp to their OS instead of just being an iOS rip-off. That's the reason I chose Windows Phone when I defected from Apple, different feel and experience. I don't understand people that switch from Apple to Android...it's like a cheap version of what they just left.


Yep.. Getting one. Will be a good device to test the low end of hardware and resolution.

This is exactly the price I was looking and the specs what I was expecting.

Question: If I already have Office 365 until February 2015, would this purchase just trigger an extension?

Interesting question....I believe this Office 365 is the lighter, $69 a year version...so if you have the $99, doubting it will....

I've got the Dell Venue 8 Pro with 32GB. At that storage capacity, it's a challenge just finding enough room to perform system updates. With full Windows 8.1, I don't see how it will be possible to do anything with this tablet on 16GB. Microsoft needs to change the way they restrict loading things onto the SD card.

Supposedly these devices have more optimized space.

Agreed...but if this is Windows 8.1 with Bing, isn't it a little more scaled down with perhaps just as much free space on it as a 32GB model? Just curious...

WIMBoot will shrink Windows size to 4GB.

Nice I would like to have this for sure

That price ...wow. Low specs but its nice people have a super cheap choice.

So, not long until I can get a Windows 8.1 Pro phablet as my next phone. Woohoo!

This looks like the perfect tablet to fit in my car, currently have a Nexus 7, but I would change it for a Win8 tablet in a second, finally one at 7 inches is available! Xbox Music will be way better on this for my car mount. Says available right now in major retailers but can only find it at Toshiba.com... also shipping till Sept 17... so not available right now...

I'm curious to know how you mount your tablet(s) in the vehicle.

Man, if they release a 10" version for $100 more I'd be all over that. Hard to justify a 7" tablet when I already have a 6" phone (1520)...darn.

Great price but im worried about the screen quality.

Could I technically install an older version of PhotoShop, like Cs2 or Cs3?
Windows Central Newsletter
Thank you for signing up to Windows Central. You will receive a verification email shortly.
There was a problem. Please refresh the page and try again.