TP-Link reveals Wi-Fi 6E routers and smart home tech
TP-Link aims to lead the way in networking hardware.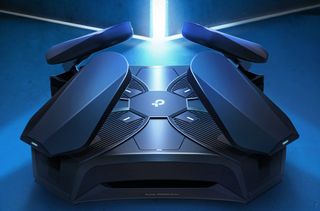 (Image credit: TP-Link)
What you need to know
TP-Link unveiled a range of products including routers, mesh Wi-Fi, and smart home devices.
Archer AXE200 Omni is the first-ever Wi-Fi 6E router with mechanically rotating smart antennas.
TP-Link's Tapo smart home line, including home security cameras, is being introduced to US markets.
Network hardware specialist TP-Link announced its latest offerings at this year's Consumer Electronics Show (CES). The leading global provider of consumer and business networking, TP-Link has a range of new cutting-edge technology that it's proud to unveil. From routers with automatic rotating antennas to a plethora of smart home devices, its hardware is better than ever.
Routers
Image 1 of 3
Leading the pack is the CES Innovation Award honouree TP-Link Archer AXE200 Omni (AX11000). It's a tri-band Wi-Fi 6E router with mechanical antennas that intelligently rotate to capture the strongest wireless signal. With a 6GHz band supporting speeds over 10Gbps, the AXE200 Omni uses its rotating smart antennas to adjust to specific devices and give optimal performance. Under the hood are a 2GHz quad-core CPU, one 10G port, and an extra 2.5G port for flexibility. The Omni is a powerhouse flagship router with a yet-to-be-announced release date.
The first-ever quad-band router from TP-Link, the Archer AXE300 (AXE16000) is a Wi-Fi 6E router with a 6GHz band delivering speeds of up to 16Gbps. It's the second router featuring a 2GHz quad-core CPU, but with a 10G WAN/LAN port and a second 10G port, the AXE300 has network performance in mind. With more Wi-Fi bands than ever reducing Wi-Fi congestion, each band can be assigned to individual users. Ideal for streaming ultra-HD 8K video, next-generation gaming, and the fastest network-attached storage (NAS) setups, the AXE300 is the fastest Wi-Fi 6E router set for release in Q2 2022.
Providing the best performance for the price, the Archer AXE75 (AXE5400) Wi-Fi 6E tri-band router supports up to 5.4Gbps speeds. Compatible with TP-Link OneMesh range extenders, this affordable hardware equips homes with super-fast connections without breaking the bank. A 1.7GHz quad-core CPU sits inside, ensuring it can handle any heavy-duty network traffic and will release as soon as March 2022.
Mesh Wi-Fi
Image 1 of 4
Stepping up as the flagship Wi-Fi 6E mesh network system for TP-Link, the Deco XE200 (AXE11000) tri-band delivers wireless connections up to 11Gbps with 1024-QAM and a 160GHz channel. The set includes a 10Gbps port, 4.8Gbps backhaul, and 4.8Gbps single-band Wi-Fi, delivering unparalleled mesh Wi-Fi performance. Available as a two-pack covering up to 6,500 square feet or three-pack reaching even further, the Deco XE200 will provide the absolute best Wi-Fi signal for over 200 devices in your home. It releases in Q2 2022.
The Deco XE75 (AXE5400) tri-band Wi-Fi 6E mesh system aims to be the best for everyone, featuring three 1 Gigabit ports and delivering speeds up to 5400Mbps. Using the latest 6E technology, the 6GHz band offers faster speeds and more bandwidth around your network, reducing latency to near-zero. Set for release in March 2022, this is an affordable mesh system offering from TP-Link.
AI-powered networking provided by the Wi-Fi 6 Deco X55 (AX3000) mesh system learns your home environment to provide the best wireless signal. Its dual-band setup delivers speeds up to 3000Mbps and includes three 1 Gigabit ports like its 6E counterpart, the Deco XE75. The Deco X55 is a fantastic way to introduce mesh networking into your home and is due for release in January 2022.
Dust and water-resistant for outdoor use, the IP65 rated Wi-Fi 6 Deco X50 Outdoor (AX3000) are rough and ready to expand your network to the garden and beyond. The dual-band mesh system offers speeds up to 3000Mbps and two 1 Gigabit ports for wired connections. The Deco X50 is perfect for covering your whole property with reliable internet access and is set for release in Q2 2022.
Network adapters
Image 1 of 3
Supporting tri-band network extension, the Wi-Fi 6E RE815XE range extender (AXE5400) features 160MHz channel bandwidth for the fastest mesh network coverage. With range extenders positioned around your home, you can move from room to room and stay connected via seamless roaming without sacrificing speed. Get ready for up to 5400Mbps with the dedicated 6GHz band, preventing interference and congestion within the network. This product will be available in Q2 2022.
Providing Wi-Fi 6E and Bluetooth 5.2 wireless technology, the tri-band Archer TXE75E PCIe network adapter (AXE5400) is a great way to connect a desktop PC to your wireless network. OFDMA and MU-MIMO ensure the best possible connection with WPA3 security, keeping your traffic secure. The 6GHz band provided by Wi-Fi 6E supports speeds up to 5400Mbps, a 5GHz band at 2402Mbps, and a 2.4GHz band at 574Mbps. The Archer TXE75E is perfect for a desktop otherwise restricted to LAN connections and will be available in March 2022.
If PCIe expansion is not an option, the Archer TX20UH USB Wi-Fi adapter (AX1800) is a dual-band Wi-Fi 6 network adapter that connects to USB. Fast speeds of up to 1201Mbps over 5GHz and 574Mbps over 2.4GHz provide reliable internet access to devices that otherwise have no wireless connectivity. As with the TXE75E PCIe adapter, this USB offering provides the same OFDMA and MU-MIMO features with WPA3 security and will release in Q2 2022.
Tapo smart home range
Image 1 of 5
TP-Link is doubling down on smart home technology and home security under its new Tapo product line. Compatible with its Kasa range of smart home products, these latest offerings include a variety of IoT-compatible devices.
Innovative new security cameras such as the C220 with pan and tilt, C320WS wired camera, C720 outdoor floodlight, and C420 outdoor battery-powered camera all improve home security. All four cameras support 2K UHD resolutions and night vision.
Two new smart light products include the L930 LED strip and L535E smart bulb. Both offer 16-million color combinations and compatibility with Apple Homekit, Google Assistant, and Amazon Alexa for remote control.
To connect all of these new intelligent devices, TP-Link also introduced new hubs, switches, and sensors. The H100 smart hub features 2.4GHz Wi-Fi at 922MHz for connected devices. It can be used to control switches and sensors such as the T100 motion sensor, T110 door/window sensor, and TS200D smart button. The new P125 smart plug and P306 smart power strip can also be controlled remotely, keeping electronics safely connected to power.
As of now, not every product that TP-Link has announced at CES 2022 has a confirmed release date.
Get the Windows Central Newsletter
All the latest news, reviews, and guides for Windows and Xbox diehards.
Ben is the channel editor for all things tech-related at Windows Central. That includes PCs, the components inside, and any accessory you can connect to a Windows desktop or Xbox console. Not restricted to one platform, he also has a keen interest in Valve's Steam Deck handheld and the Linux-based operating system inside. Fueling this career with coffee since 2021, you can usually find him behind one screen or another. Find him on Mastodon @trzomb@mastodon.online to ask questions or share opinions.