Need to track a package? Try the new universal Windows Phone app 'Doorstep'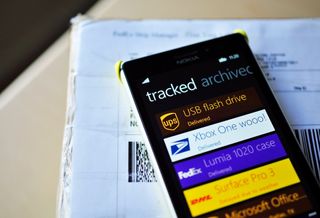 If you order a lot of items off the internet, especially for Amazon Prime members, tracking packages is practically a full-time job. Doorstep is a new app for Windows Phone 8.1 that will also be picking up a companion app for Windows 8.1 in the coming weeks (it's in final stages of development).
Doorstep is a lightweight app, coming in under 1 MB in size. It also has all the necessary bells and whistles to make it worthy of your time to check out. Here are some of the features.
Doorstep for Windows Phone 8.1
Free unlimited tracking
No advertisements
Push notifications, live tiles, and badge notifications
Auto-detection of carrier
Automatic syncing with the Windows 8 companion app (coming soon!)
Doorstep is nicely laid out, and I like the Settings page, which lets you customize how the app looks and functions. Currently, Doorstep is limited to only eight delivery services, including UPS, FedEx, USPS, DHL Express, Royal Mail, Canada Post, LaserShip, and UPS Mail Innovations. More carriers are coming in the future, and the app can auto-detect who the carrier is just by parsing the tracking number. Neato.
Doorstep has some stiff competition including the popular Package Tracker app, which has more carriers and a Windows 8.1 version with cloud syncing going back to 2012. However, Package Tracker costs $1.99, whereas Doorstep is free.
Give Doorstep a try in the Store here and let us know below what you think of it. We'll follow up when the universal app for Windows 8.1 comes to town.
Via: Reddit
Daniel Rubino is the Editor-in-chief of Windows Central, head reviewer, podcast co-host, and analyst. He has been here covering Microsoft since 2007 when this site was called WMExperts (and later Windows Phone Central). His interests include Windows, Microsoft Surface, laptops, next-gen computing, and for some reason, watches. Before all this tech stuff, he worked on a Ph.D. in linguistics and ran the projectors at movie theaters, which has done absolutely nothing for his career.
I was looking for one of these the other day, great app! Thank you.

You should give Package Tracker a shot. It's awesome and sync between devices.

+1 for Package Tracker. Syncs via OneDrive to PC as well.

There is a Windows 8.1 version of Doorstep coming out in the next few weeks which will include free data syncing between devices as well!

Package Tracker is a much better app for worldwide use.

Damn, wish this would've appeared before I got suckered into buying both versions of package tracker.

Not really suckered. dev support helps

I prefer Tracky because it's simply a free mobile site. You just pin the site (trackyapp.com) to your start screen send an email with the tracking info in it to track@trackyapp.com. Simple, easy, & nothing to install!

That is cool, but I prefer apps that are integrated with the OS. Package Tracker nicely uses the notification center and supports live tiles.

Hmmm this is a great idea to add a website as well. I'll throw one together if you think it would be beneficial!

It would be a benefit for me since I do not have WP 8.1 :-) But, being serious, if I can forward an email to a tracking email and then sync with my phone, it is easier than copy and paste from some emails that are sent from retrailers. This would be huge during the holidays. Forward emails to your service and then sync with my phone app and I can easily keep track of all my packages.

I was using Tracky prior to Package Tracker. It was nice, but Package Tracker is a lot better

A lot better how? In what respect?

I love package tracker. I bought it for both Win8 and WinPhone quite a while ago. Will still give this a try to see how good it is compared to PT.

Nice one!!! The developers read my mind!! Wuhoooo!!

I'm still s package tracker guy since it also is on Windows, but it's nice to see alternatives, especially free ones.

I'm currently working on the Windows version as well (which will also be free with data syncing)

Windows 8.1 and Windows 8.1 RT?

Yup! It will be in the Windows App Store!

Package Tracker (trial) is enough for me)) awesome app!

I was just playing with this app. These guys seem alright. Very clean modern design. Excited to see what else they come up with.

I use package tracker. Makes it simple to track and it syncs with my Windows 8 computer too so I'll be sticking to that. Cool app though.

I will try this being an Amazon, WPC marketplace junkie...

I also really like Package Tracker...It works perfectly and it goes on sale for $.99 frequently...A must buy if you use Amazon a lot like myself.

I use package tracker because of the barcode scanner - I can take a tracking number on my work Win 7 PC, plug it in to a QR generator, and scan it into my phone. Zero typos ever.

I prefer Package Tracker, even with the cost.

I just bought package tracker last week...works really great!

Terrible app, so far. I entered a USPS tracker number and it listed it as UPS. UPS tracking numbers are totally different. It doesn't even allow you to manually select carrier if you want to. Needs a lot of work.

Could be UPS Mail Innovations

Interesting point, it's actually SmartPost by FedEx.

Yeah, Bing gets confused by smartpost numbers as well. If the dev is using Bing as a backend, then Cortana integration is an API away from flawless.

Would be great if this could read tracking numbers from my emails so I wouldn't have to enter them manually. Better yet, have Cortana read tracking numbers like she reads travel itineraries.

That was exactly what i was thinking when i read the article. Outlook.com can read the info and sort email into categories based on it, i dont see why cortana couldnt pull the info to give you alerts like she does for all of my flights. maybe it will be in a new feature introduced soon.

Definitely submit all of your ideas to the uservoice at sociallytied.uservoice.com and I'll take each into consideration!

I sent a package from India to Texas, US and I entered the DHL tracking number and it was unable to retrieve the details. Does this app not work for packages sent from India or am I doing something wrong?

Currently there is only support for DHL Express but not DHL Global (I know, it's confusing). This is on the top of the feature list

See google is copying our tiles concept and apples notifications pattern. Google is looking ugly

I've been using Shippin' Buddy for the last couple of years and been quite pleased with it, especially the notification options. Would be hard to switch since I already paid for it, but I'll probably give Doorstep a look anyway.

The UI looks drop-dead gorgeous!!

Only problem? Needs a donation link lol. This is pretty nice and its free which is always better.

This is great! Picked up my FedEx info right away, but not picking up a USPS delivery using the tracking number provided in eBay. Any one else?

No other tracking app does it better than Package Tracker.

Entered a USPS tracking number and it said UPS. There is no way to manually change it either. The numbers aren't even close to being the same. Not happy so far but will keep the app and hope it gets better. Maybe adding a setting to not have it auto select the carrier would work better.

Same here. My USPS tracking number was detected as a UPS pkg with an option to change it to Canadian Post I believe. I've emailed support this morning (a couple hours ago to be fair) but no response yet. I wondered why Package Tracker didn't auto recognize carrier by tracking number but probably more difficult with all the carriers that it supports. Update: I hadn't noticed but the dev had responded to my email almost immediately. Then a second email a few mins later indicating he had made the correction and would be pushing it out soon. So lets wait and see.

Has anybody tried "Where's my courier ?"

I bought package tracker back in the days of WP7 and bought it for Windows 8 as well. Well worth the money. Have been happy with it ever since. But glad there is competition, especially a free option. And may I say it looks good.

This is going to be great for when I am not at my computer to track a delivery

Package Tracker has been great so far.. But I like the UI on this one. I'll try it.

Oh wait, 8 carriers only? Sorry, Package Tracker kicks ass.

Made for US only, apparently it doesn't know to track in Europe. I entered DHL no# it automatically selected FedEx o_O

post.nl needs a Windows Phone app... They have it only for iOS and Android. Not surprising, cause it's Netherlands...

Beautiful name for this app.

Package Tracker is awesome but it's good to see a free alternative/competition.

Been using Package Tracker. Nice to see more free options become available. I do wish Package Tracker auto detected the carrier.

If I type doorstep into the store search ummm, this doesn't show

States not available for my device?!? Lumia 1520.

I received a notice that said "This item is no longer available." 1520 also.

This is a really slick app, but it's mis-identifying the tracking # I put in from Woot. PackageTracker picked it up with no problem. Still I'll give this app another shot when I order something else.

I like the design! Really nice... But the the app still seems to be buggy and DHL Germany is also not supported. I will have look on it after some further updates. I still love ❤ the package tracker app! But doorstep is on a good way to become a cool and free alternative!

WHy cant cortana take care of this problem

Yeah I would love to see a package tracker feature provided by Cortana!

I UserVoice'd for Cortana to track packages from email confirmations like it does flight info. I wonder if apps like this can interface with Cortana.

I was all ready to defend PackageTracker as the one true shipping app... But this is really pretty, and I like the toast frequency slider. Eagerly awaiting the desktop companion.

Thanks for the great tip Daniel! I just downloaded this app and immediately was able to track 3 different inbound packages to Thailand via USPS and DHL. It was easy to set up and in fact much easier to use vs. many web sites as you only need to enter the tracking number one time for Doorstep to track. App ran well with no buggy behavior...am looking forward to using this for all new shipments!

I'd love this but it requires 8.1. I'd like to think I'll remember to get this app when the updates roll out but might not. It'd be better if they allowed for both platforms or released 2 since there could be a good number who don't upgrade.
Windows Central Newsletter
Thank you for signing up to Windows Central. You will receive a verification email shortly.
There was a problem. Please refresh the page and try again.