Traintiles for Windows Phone - solving puzzles to keep your train safe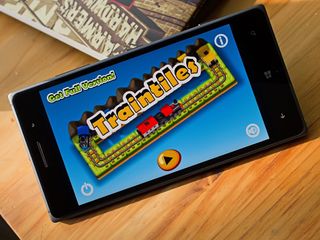 Traintiles is an enjoyable Windows Phone puzzle game where you have straighten out a series of train tracks to allow the locomotive safely travel from one side of the gaming screen to the other. If you cannot sort out the twists and turns, the locomotive will crash and burn.
The Windows Phone game has forty-five puzzles to solve, some with multiple trains and train styles to steer in the right direction. Graphics are nicely sketched out and game play can be somewhat challenging. Available for low-memory Windows Phones, Traintiles comes across as a fun time waster of a game.
Before we jump into the game, I do have one housekeeping note to share. We were tipped on another gaming title that is identical to Traintiles. The game concept has appeal and while Traintiles has been available for some time, we opted to go ahead and review the original game instead of the knock-off.
Now back to the game.
Traintiles has a simple main menu with options to jump into game play, view the About screen and mute button. Game play is spread out across three worlds with forty-five puzzles to solve.
The puzzles have a collection of railroad tracks that span the screen connecting two tunnels. There are several sections of the track that are disconnected and it is your job to rotate these track puzzle pieces (just tap on them to rotate) so they complete the path, connecting both tunnels. While this sounds simple, the train will be traveling down the tracks adding a sense of urgency to your puzzle solving skills.
The first puzzle is rather simple to solve and as new gaming mechanics comes into play, a brief tutorial will appear before the start of the puzzle. You will also have to contend with multiple tracks and trains. The trains will be colored and you will need to guide them to the tunnel with the corresponding colored arrow next to it. The ride side of the gaming screen will display your train tallies to let you know how many of each train color you have left to deal with.
Some paths are more direct while others may make you send your train around in a loop in order to create the right connection. Your sense of timing will also be tested when multiple trains are involved and the same track puzzle piece comes into play for both train's paths.
Overall Impressions
While Traintiles is somewhat dated, we are glad we received the tip and discovered the original version of the Windows Phone game. It is not an overly complicated game but the puzzles can be somewhat challenging. Graphics are not terrible and the pace of the trains will keep you on your toes to solve things before the trains de-rail and crash.
The trial version gives you access to the first five puzzles with the full version of Traintiles costing $.99. The only downside to the game is that there are only 45 levels. It should also be noted that searching the Windows Phone Store by keyword "Traintiles" will find the copy of this game. However, if you follow the link below or scan the QR Code you will be taken to the original listing.
Download Traintiles for Windows Phone (Trial / $.99)
George is the Reviews Editor at Windows Central, concentrating on Windows 10 PC and Mobile apps. He's been a supporter of the platform since the days of Windows CE and uses his current Windows 10 Mobile phone daily to keep up with life and enjoy a game during down time.
Game has not been updated in 2 yrs! Which is the biggest problem with windows, not complaining but i wish games nd apps were update at same as android nd ios!

It's been updated recently...

On my phone its showing-10/5/13

Post news for windows phone 10 new build!

This is a cool way to pass time

Gotta love that knee slapping music in the video. Feel like letting out a good old fashioned Yeee Haaaa after watching the video. Good game though.


Woah. I had a game just like this for the Sinclair zx spectrum called Locomotion. This brings back memories

Your review is absolutely wrong. Traintiles, by Mobiteos, was last updated 5/10/2013 and it doesn't even show in Store when I search for it on my phone. The updated, and 100% free version of it is Happy Train Town, by Drag Tiles, released on 5/30/2015 — it's 100% identical!

This is why the article said: "Before we jump into the game, I do have one housekeeping note to share. We were tipped on another gaming title that is identical to Traintiles. The game concept has appeal and while Traintiles has been available for some time, we opted to go ahead and review the original game instead of the knock-off." Reading is hard.

It's not a knock-off, it's IDENTICAL. It definitely is the same code, compiled w/o the restrictions, but with added ads.

You're arguing semantics, knock-off vs direct copy of the code. Regardless, it doesn't make the review "absolutely wrong."

It's NO COPY of the code, it's the SAME CODE, because it's THE SAME DEVELOPER UNDER A DIFFERENT ACCOUNT (this happens in Windows Phone Store as on other platforms too)! The article is wrong because there is a high chance the old app will be unpublished from the store in a couple of months. The NEW app is quite recent and, while IDENTICAL (with a lot of ads added), it has 120 levels. That's a clear sign that the older app has been ABANDONED, most likely because of the low revenue generated. The developer now tries to earn from the ads instead of sales. I have f-ing tested 1,100 WP apps (one thousand and one hundred windows phone apps, yeah), so I had all the opportunities to see apps dying, apps being reborn under a different account, apps being copied, apps being unpublished, all kind of stuff. I was not born yesterday. When a new, IDENTICAL app is just released with more levels (and a different monetization model) more than one year after the last update of an old app, this is a clear sign that the old app has been abandoned. If Traintiles is unpublished in the next weeks, who the f- is going to regret for not having reviewed Happy Train Town instead?

Looks great, however one issue... Microsoft's Store still doesn't have/allow us to gift an app to someone (children who will ofcourse not have an payment option)
Windows Central Newsletter
Thank you for signing up to Windows Central. You will receive a verification email shortly.
There was a problem. Please refresh the page and try again.