Translator With Speech for Windows Phone supports more languages in latest update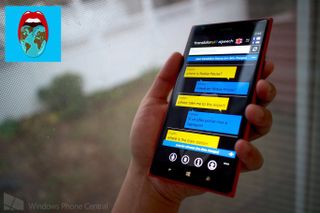 When you travel, it's handy to have a translation app on your phone. One app you might want to install before leaving on your trip is Translator with Speech. It is usually listed among the top-paid and best-rated language apps for Windows Phone. It has also just received an update to version 2.2, adding more languages.
Head past the break for our hands on video and walkthrough.
Using Translator with Speech is very straightforward. There are two flags on the upper right corner that you can click on to change languages. Pressing the arrows switches their positions. You can use the text bar to type what you need to translate, or tap the microphone to input with your voice.
After a few seconds, the translation appears in blue and gets played via your phone's speakers.
There's also offline translation available if you don't have connectivity. There are a few hundred popular tourist phrases like, "What do you recommend," or, "Where's the toilet." 10 language files are already pre-installed and you can download the rest as needed before your trip. Translator with Speech currently supports 54 languages, recently adding voice recognition for Afrikaans, Arabic, Hebrew, and Malay in version 2.2 (for Windows Phone 8 only).
To save on roaming or data charges, your previous translations are also saved for later playback.
There are several other things you can do with the translations. Press and hold the translations to see the options. You can post translated text to social networks like Twitter and Facebook. You can also send the text via message or email. There's also an option to copy the text into the clipboard.
Developed by Brillisoft, Translator with Speech is available at the Windows Phone Store for $2.99. There's also a free trial available. Is this your favorite translation app for Windows Phone or do you have something else in mind? Let us know in the comments!
Windows Central Newsletter
Get the best of Windows Central in in your inbox, every day!
Awesome looking icon. I'm grabbing it.

How could an app with such an ugly icon be any good?

I think the icon is rather artful. But you cant judge a book by its cover.

This seems really reasonably priced! Cool!

This app is great except for the fact it doesn't allow you to uninstall the pre-installed languages. In my case, all of them useless for me...

Works for me. I am already speaking loves quotes in Albanian to my Albanian girlfriend. This App is great very useful right here at home in the Bronx NY. Thanks

I use Bing translator, worked pretty good for me.

Will use it to translate some of the comments left on WPC.

In the picture, the translation from Finnish asking to see the menu at a restaurant is funny. It means a menu as in a computer program / phone OS.

Bing and T-Translator much better.

Nice to see an app that can Speak Thai that isn't Google powered. Even better it let me download Thai. Those are two things T-Translator doesn't have.

Good app but it is paid.. Go for free google translator unofficial app at the wps which is much better..

There's a free Microsoft translator app (called translator) that uses Bing translate. Unlike Bing itself, it actually works pretty well... Has optical recognition, speech recognition, and offline languages.

Does that guy have the worlds smallest hands or is that a monstrous phablet?

Nice..... I am a big fan of Windows phone...

The arabic audio is in Persian. Even if I downloaded the arabic audio, it is still in Persian.

I downloaded it when all brillisoft apps went free for a day.

Hi Mark, thanks for sharing such an useful blog. Ya, translation apps are a great help while travelling. SpeechTrans also provides most advanced translation apps for its users.
Windows Central Newsletter
Thank you for signing up to Windows Central. You will receive a verification email shortly.
There was a problem. Please refresh the page and try again.