Trouserheart for Windows Phone 8, battle enemies of the kingdom to get your pants back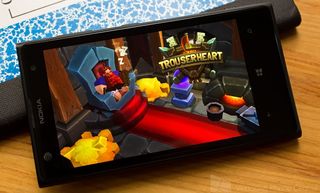 10Tons Ltd is a fantastic Windows Phone game developer and their latest offering doesn't disappoint. Trouserheart is a Windows Phone 8 game where you play the role of a King who has had his pants stolen.
Clad in heart print boxers, the King must travel the kingdom battling a wide variety of goons and bosses. All in an effort to find his stolen pants and restore order to the world.
Graphics are on par with all of 10Tons offerings (great), game play challenging and overall Trouserheart makes a very nice first impression.
When you first launch Trouserpants you'll have two choices of game difficulty, casual and hardcore. You also have the option of permanent death. If you choose this option and die in the game, you start from scratch. Don't choose the option and game play picks up where you left off when your King is resurrected.
Once you choose your difficulty level, a little monster runs on to the screen and steals the King's pants while he sleeps. From there you travel from neighboring castle to neighboring castle in quest for your pants.
You have on-screen game controls in the bottom corners of the screen to control movement and your attacks. Up top you'll find your health meter (three hearts) and your gold count. Gold can be collected as you slay your enemies, find treasure chests and defeat bosses. Lastly, when you're visiting a local realm, a map of sorts will be displayed at the bottom of the screen. It will show your progress through the castle as you approach the Boss.
When you are in the King's throne room there are a few stations he can stop at to upgrade his weapons with the gold he collects and rejuvenate his health. Just stand next to the station and strike at them with your sword. The health stations will also appear throughout the adventure.
Game play is simple. Wander the lands and kill all the monsters. You'll run into barrels and treasure chests that you can hack into splinters to collect the gold within. As you get closer to the Boss monster, the enemies get a little more aggressive. Some monsters steal items and some rooms have hidden traps that will ruin your day.
Settings are accessed by pausing game play and cover sound and music on/off, have the controls "float", view your achievements, and reset the game. The floating controls removes the stationary joystick and attack button. Movement is controlled by tapping/sliding along the left side of the screen and attacks are controlled by tapping the right side of the screen. Coin toss as to which is better.
In just tinkering with Trouserheart for a short time, it falls in line with all of 10Tons' games. It is an entertaining, well drawn out game. The only downside so far is that you only have ten bosses to defeat.
Trouserheart is available for Windows Phone 8 and a trial version is available to let you play the first two levels. After that the full game will cost you $1.99. You can find Trouserheart here in the (opens in new tab) Windows Phone Store.
George is the Reviews Editor at Windows Central, concentrating on Windows 10 PC and Mobile apps. He's been a supporter of the platform since the days of Windows CE and uses his current Windows 10 Mobile phone daily to keep up with life and enjoy a game during down time.
i like a game that can make fun of itself.Cool

Lumia 820 with dev. GDR3. Latvia. After installation game starts, i see 3d animation and no menu. After first start game icon turns in to Unity symbol. Game does not run.

I also have dev GR3. Im going to check to see if this is a problem for my 822

It's a bug in the game. A fix has already been submitted. If your regional format uses a comma instead of a dot for values, this bug appears.

And also you should move, because it's better to live somewhere where it's a dot.

I read the name of the game to be "TrouserShart"

Pants are totally overrated. All those signs that say "No shirt, no shoes, no service" say nothing about pants.

So brave our little here are, I will call him Braveheart. :P

Also have a peoblem with it, shows the logo of the game engine as it's tile/icon.

This has been fixed in the update as well. Should arrive soon, as it has been submitted yesterday already.

Waiting for a update. Just can't play. Too much bugs. Controls in the top of screen, king running faster than Usain Bolt, and running out of screen (than screen goes black). L920 w/ update 3.

Ten tons? Here, take my money,

Same bugs as dpiranda. Unplayable.

I found the two demo levels boring and repetitive with the gameplay restricted to that one narrow corridor there wasn't much to do.

I dropped the two bucks on this, the game was very repetitive and a major click (touch?) fest, but it was enjoyable for the time it took to complete it. There are issues with the ingame acheivements resetting and it is on the short side, but still, I got a good few afternoons of fun from it and I may reinstall at a later date to have a crack at the one life mode.
Windows Central Newsletter
Thank you for signing up to Windows Central. You will receive a verification email shortly.
There was a problem. Please refresh the page and try again.