TrueCaller update adds Persian language support, blocks installing to SD cards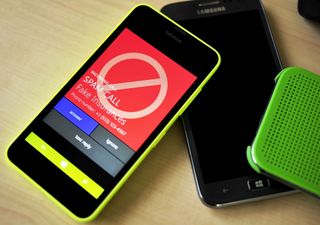 Following its big update to 5.0 earlier this week, TrueCaller has picked up another that brings Persian language support and blocks installing the app to an SD card, along with the usual helping of bug fixes.
Here's what's new in TrueCaller version 5.0.2:
Added Persian language
Fix to block installing on SD-card since that will cause Caller ID not to work (system limitations)
Small Bug fixes
Earlier this week, TrueCaller was bumped up to version 5.0 in a massive update that brought real-time spam detection, an improved caller ID, Live Tile notifications, and much more. While today's update may seem relatively minor in comparison, it's nice to see a whole new language being added in the wake of such a large update. If you'd like to snag the latest version of TrueCaller, you can do so from the store link below.
Thanks to everyone for the tips!
Download Truecaller from the Windows Phone Store (free)
Dan Thorp-Lancaster is the former Editor-in-Chief of Windows Central. He began working with Windows Central, Android Central, and iMore as a news writer in 2014 and is obsessed with tech of all sorts. You can follow Dan on Twitter @DthorpL and Instagram @heyitsdtl.
Which they would make it work with the Nokia Lumia icon

I had an HTC 8X that would tell me when I had a spam call come through on the older version. I think this is like everything else where the carrier can block useful stuff.

I have an att m8 for windows and my phone wont tell me where or who the number is. Sad times.

I love HTC, have a M8 droid, and REALLY wanted to get the WP version until I found out what you said, and you can't just block numbers like you can on other phones. I think it's one of the most used features of phones now and should be included.

I've never blocked a number. I just want to know where the number is from lol

I've heard that it doesn't support it because verizon is blocking that functionality. I'm kind of saddened

Anybody know if TMoUS is blocking it? Won't work on my Lumia 925..

Since the win10 tp update, Truecaller no longer works on my device...

Like most apps that a linking into the system.who would have expected thst

So why are these apps being prevented from installing to SD card. It seems like I constantly getting apps that are changing.

They disabled installing to the SD card because it wouldn't function properly unless it was on the device itself.

I guess that is his question. Why do they not function well enough. Cant be the access speed

Limitations of the Windows Phone 8.1 API prevent it from handling Caller ID from the SD Card. It must reside in phone memory.

Got a Persian friend..... She's hot. Really hot. Like, standing on one hand in yoga pants hot...
........
You would NOT want to block her number.

Ask her to cook you rice with saffron. Trust me that is hotter than the friend.

Saffron with rice and with chicken. That's the common (and unbelievably delicious) combination here.

haha!:D
nice to see persion food lover!:D

Here its hot girls in yoga pants

Well, I made out with her once... Over ten years ago....... But, it still counts.

XD XD XD well mate, that counts nice one hehehehehehehehehehehe

you must ask her to make you some Persian food. its the best food you will ever have. if she does not cook, ask her mom or tell her to take you to a Persian resturant in your town. My wife LOVES Persian food more than any food out there, ever since she tried it. Every time we go to California we go to few Persian resturants there, and she tells me she never had food this delicious in her life. You MUST try it. My wife loves Kabob(chicken and beef) with rice, Ghormeh Sabzi, Ghaymeh, Fesenjan, Shirazi salad, Ghaymeh Bademjan,(all with basmati rice and saffron)................ well, mention these dishes and see, which one she can make for you. They all take a LONG TIME to make though, but you will be in heaven eating it (if she is a great cook of course).

WOw :D
U know some of deliciousest Iranian food;) and make me feel hungry:/ I want fesenjan right now!:D
come here u can find another interesting things ;)


Never thought about Persian food.... Sound delish.

That is why I married a Persian girl. Smart and can cook like the heavens. I rub her feet and got 3 kids just to make sure she ain't leaving lol.

I'm Persian I'm happy for seeing these comments :)

Do they sell high end devices in Persia❓

Yes. I currently have a Lumia 1520.

Cool. Me too... How do you feel about the next 1520 being smaller than 6"❓ I'm not too excited about it at all.:-\:-\:-\:-\:-\

5.7" to 6" isn't bad BUT i want following specs: Snapdragon 820, 4K Super AMOLED screent 4Gb of Ram, 32Gb internal storage with SD Slot, 25Mp rear and 8Mp front cam, 4A non removable battery (phones with non removable batteries looks better.), Sense ID and Retina scanner, N-Trig Pen,

Retry it if you installed to SD, it may work when not on SD.

Still asks to click in discovery on numbers you already have.

Nice, Its first time I see a topic with 'Persian' word in it :D

This is the first time I visit a Persian in Windows Central.
Glad to see you Farshad.

yeah me 2!:D
:surprisd:D
Omid bakhshe;)

I paid a lot for my htc one and with the lackof w10 tp support and lumia-exclusive featues it feels moe like flagship hadware and nothing else moe by the day.

Doesn't this app know my phone number and the phone calls I receive?

Reviews in store are pretty bad

Windows phone community is really aggressive if compared with other communities.

Must be much older reviews from when Truecaller didn't have Caller ID. Look at "most recent" reviews.

I'm AsLaNoV in the store comments :D

And by the way, the app on my 520 still not working like they say
So I'm not changing my review for now

Watching a Persian vampire movie right now. Installed this app and waiting to see how it treats the spam calls.

Now it truly works....I've tried it out and it did really worked

The app still has a bug, i cant get it to install on my 925 and i had it before. mayne

Same here can't able to install on L620 showing error (Attention Required) at last moment of installation

Won't work on windows phone 10 preview.

Whenever I am downloading this app from Version 5.0 it always show error while installing at last moment. Even I downloaded truecaller.appx and tried to install manually, even that time it show error on last moment of installation process. Is there anyone facing same problem :'(

Won't work on windows phone 10

same problem here on my l520.... tried almost 10 times...

wp10 problems and crashes (ye know test sys)

Great app, works like magic here in Sweden.

Thank you For Supporting Persian ;) good app

80073cf6 error while installing.... someone plz help... on my l520

Not able to download..
N the star sports app is also showing some error while downloading.....
Windows Central Newsletter
Thank you for signing up to Windows Central. You will receive a verification email shortly.
There was a problem. Please refresh the page and try again.