Tubecast Windows Phone update brings back some popular features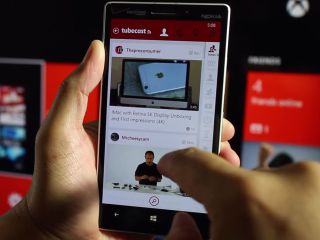 The popular YouTube third-party app Tubecast has an update for its Windows Phone versions, which brings back a number of features that have been missing in previous versions.
Here's what's new in the 3.0.8.2 update:
Subscriptions newsfeed, recommended videos and channel videos are back in a good way (time ordered)
Search filters are back too
Suggestions are back in the comment textbox
Annotations handle the seek function now
DLNA fix for downloaded videos for some Samsung TV
UI & bug fixes
As we previously reported, Tubecast supports the new YouTube v3 APIs that went live earlier this week. The same updates should also be available on the Windows 8.1 version of Tubecast.
Thanks to everyone for the tips
Download Tubecast from the Windows Phone Store - (Free with optional in-app purchase)
Download Tubecast Pro from the Windows Phone Store - ($2.99)
Windows Central Newsletter
Get the best of Windows Central in in your inbox, every day!
Nice, thnx for the heads up.

It's best youtube app for WP that I used so far.

I also agree with this statement. I even use it on my Windows 8.1 desktop at home. Then I can have it partially up on my second monitor and still have desktop chat program open as well on the second monitor. This frees up the main screen for gaming or whatever else =). Its a great app and runs great on phones and desktops! =)

Waiting for "mytube" and "metrotube" comments. :P

Just remember, MetroTube was the FIRST. There's some of us that cling to it. I'd rather use the XAP from microsoft's YouTube app, but its going to be phased out like the rest of them.

True that, myTube being my second favourite. Glad there are multiple third party youtube apps which work just perfect, and often compete with each other!

I actually prefer myTube for the UI, layout and functionality. I only use Tubecast when I want to cast videos on the TV.

Same, I am forever hoping the developer of myTube can eventually add the ability to cast videos.

They need to add auto play for playlists, as well as shuffle.

Tubecast has AutoPlay.. Just see it in the options.

They need to let me search for months, days, weeks and year my only problem with the app

How the developer can walkthrough the v3 limitations?!!

I think the question should be, will be there a risk of YouTube block this app because of the work around the limitations of v3 API?

It's... Complicated. I know the developer of myTube is working on a custom home brew solution that manually fetches then sorts the info required for Subscriptions list and such. It uses more data, but also gets around the API limitation. I imagine the Tubecast developer developed a similar workaround.

Probably uses another way of getting that info, like using something they made aside the API

What is the difference between Tubecast and Tubecast Pro? I did pay for TubeCast for phone casting...

There is a limitation on the num of videos u cn cast in non-pro version. I dnt recall the the exact number.

If your phone has "Project my screen" in the phones settings, you don't even need to cast from the App. The phone will mirror everything once its connected to the display.

True, but that'll also be lower quality and likely more stuttery.

Pro is only for WP7.x people because there was no such thing as in-app purchases. So you had to have 2 versions of the app for free and paid. Now Tubecast can enable features in Pro with an in-app purchase via WP8.x.

Ahh, ok, thank you =). It makes sense now.

Also one added benefit I didn't notice, This app supports annotations. This is useful especially when a video links to another video using annotation.

Metrotube or Tubecast?!? Who the best app?

Tubecast. And it is universal. ;)

And in Dutch, also. Love that.

Motha effin' Tubecast son!

TubeCast has a better Ui but Metrotube are smooth+fast.

TubeCast is by far the best

Sweet, gonna switch this back to being my main YouTube app. I've been jumping back and forth between this and MyTube since it launched, both apps are too good.

Lol! Know that feeling, mate! :P

Exactly the way it's going for me right now.

Metrotube vs tubecast both are top notch YouTube clients however for features ie (chrome cast,appletv DNLA) go with tubecast.

It's alot better than touch tube.. Made the switch that was a no brainer lol kudos to the dev!

Great app, however sadly still not showing the account activity/Liked unless is shared publicly unlike other YouTube apps which I hope they address soon along with Live Tile working on the actual app's own tile rather than pinning one from inside the app which is confusing the customers we set the app for.

I just can't scroll inside a video in this app, its so not precise, that's why I keep switching back to mytube because scrolling is insanely good. The scrolling mechanism has spoiled me forever.

Any one remembers that we can't save videos in the phone like mytube does,or is just me ??

Not sure what you talking about but there is an option for preload.

I can't save videos into the phones memory so i can watch them without using the app or send them to my pc using a cable

U can't save videos in phone memory in tubecast.

Yes i have to use the app to watch them but i prefer the videos to be in the local memory of the phone so i can watch them with VLC even after uninstalling the app

But don't save in SD card

This is officially the best youtube app ever! I hated all the other apps on the market so I continued to use the browser youtube (which is still incredible) but this app is cool. All I'd still like now is a better bar menu (on the right hand side).

They broke the portrait view again for Samsung ATIV S.

Argh, sorry, could you contact us via the support, I could identify the ROM you use by this way. Thx you. (By the way, it's a firmware bug - with a workaround luckily -)

Can anyone tell.me what the difference is between unlicking the free version for 2.99 and paying for 2.99 for the pro version?

You will find all the answer here : http://tubecast.webrox.fr/tubecast-faq.html

Needed download option to videos folder.. Nice app though

Roku support would be awesome

All I get is a black screen with tubecast pro on wp10

It appears that the search filter option for date does not work, often no or just one result is given. The other options like relevance etc. do seem to work ...
Windows Central Newsletter
Thank you for signing up to Windows Central. You will receive a verification email shortly.
There was a problem. Please refresh the page and try again.